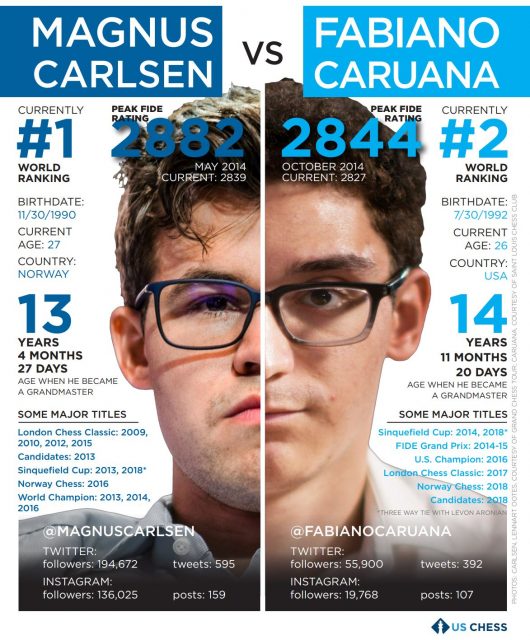 The highly anticipated
World Championship match
between American challenger Fabiano Caruana and reigning champ Magnus Carlsen begins tomorrow, Friday November 9th, with Fabiano starting with White. The mainstream media has been very active in previewing this match in the past week, and especially the last 48-hours. The cascade began with a New York Times article by
Pia Peterson on November 3rd, titled "Searching for the Next Bobby Fischer, the U.S. Finds Fabi." 
Time was right behind with a profile by Sean Gregory
on November 6th, which revealed some specifics of Fabiano's training program.
To prepare for his match against Carlsen, Caruana spent some time this summer training at Sinquefield's country home in Missouri. Besides playing hours of chess with fellow grandmasters, he jogged and shot hoops and played tennis to keep in peak physical shape. "Chess requires a lot of stamina," says Caruana. "You're sitting down and you're playing six, seven hours at a time. You're burning a lot of calories and you can easily get mentally tired. If your physical form is not good, then you're likely to crash at some point." Caruana doesn't stick to a strict diet, though he does try to avoid excessive sugar, to avoid the high and inevitable come down. In the weeks leading up to the World Chess Championship, Caruana has trained in Spain, where he's done yoga and swam in the Mediterranean to keep his head clear. He's also played games for up to eight hours a day. "The goal is get you thinking about chess 24/7 in preparation for the match," he says.
The Guardian published
"How Yoga and Hip-Hop Helped Fabiano Caruana Challenge for the World Chess Championship", on November 7th. 
Also on Nov 7, Sports Illustrated posted a video preview of an intensive look at Fabiano Caruana's race for the crown. https://www.instagram.com/p/Bp4yzTkg3KV/ The full piece is behind SI TV's $4.99/month paywall, but there is a free 7-day trial. SI TV is also on Amazon Video and fuboTV.  Select segments will also be shown on
the Today in Chess broadcast with GMs Yasser Seirawan, Maurice Ashley and WGM Jennifer Shahade of US Chess.
In
the accompanying article, SI captured the import of this match to American chess, which naturally resonated with our Executive Director.
https://twitter.com/carolbmeyer/status/1060525974448693248  
One of the most colorful pieces was in Deadspin,
by Ben Tippett, who also wrote an
in-depth profile on Fabiano Caruana,
prior to his victory in the Candidates.
It's a phenomenal time to be a chess fan. We can follow live action from thousands of games all around the world on our phones, from elite super-tournaments to the smallest club competitions. Freely available learning and training resources by far supersede anything the famed Soviet system could ever have offered. The world champion streams his one-minute online games while drinking beers and talking trash with his mates.
FiveThirtyEight jumped into the action with an
excellent article full of stats and stoires by Oliver Roeder
, who is frequently on the chess beat and will continue to cover the match.
Here's an old Caruana family legend. While traveling in Europe, years ago, Caruana and his parents boarded a plane — one of many planes that he's boarded in his young life. Once seated, he immediately pulled out a little chess set and began to play the game that has come to define him. The plane taxied and accelerated and took to the sky, cruising high above the earth at hundreds of miles an hour toward their destination. A rapt and oblivious Caruana kept playing, transfixed. Eventually he looked up, turned to his father and asked him a question. "When are we going to take off?"
Jonathan Tisdall wrote a lyrical preview for chess.com,
13 Things to Know About the Carlsen vs Caruana World Chess Championships.
While not a mainstream venue, this piece stood out for its personal, quirky touches.
Magnus, with his fashion modeling and celebrity chums, has given chess a cool factor that no one could have dreamed possible. The crown must be heavy indeed if it might outweigh the fun he's been having.
This website
posted a preview by Grandmaster Ian Rogers, "The Couch-Potato's Guide to the World Championships",
which rounded up various viewing options online.  
CLO, which you can now bookmark at uschess.org/clo.
https://twitter.com/dsmerdon/status/1059989935761973248 IM Eric Rosen will join the party with social media takeovers starting with round three. Since it's Throwback Thursday, today we looked back at one of Eric's happiest photographs featuring Fabi. https://twitter.com/USChess/status/1060548382714945536 According to our followers, it's all Fabi. Join the conversation
@USChess
using the
hashtag #CarlsenCaruana 
If there is mainstream or local venue you think should be covering the match, feel free to pass on our official US Chess media kit, which includes the lead infographic comparing the two young men set to battle in London.
Worldchess.com is the tournament website.
The Today in Chess broadcast daily starting at 12 Noon ET  will feature a star-studded schedule of interviews. Full list of viewing options in our Couch Potato guide.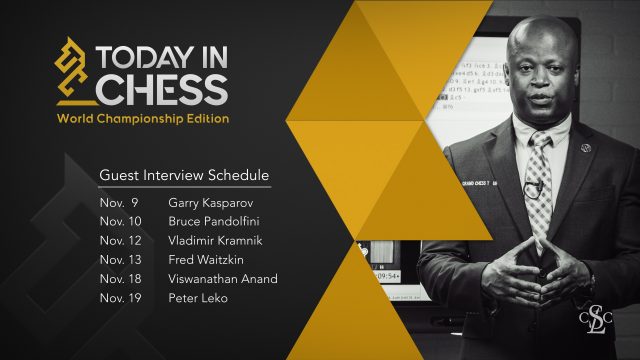 Full interview schedule