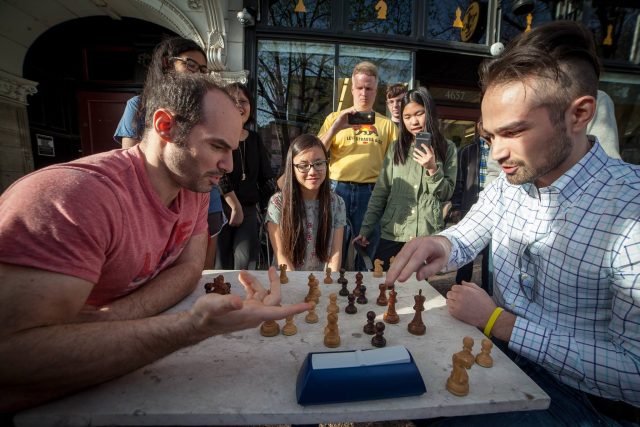 IM Greg Shahade playing blitz without a board against GM Mesgen Amanov, with Apurva Virkud, Emily Nguyen and Carissa Yip watching, Photo Eric Rosen
The #4 article in Best of US Chess 2017 #4 is
Ten Things We Learned from the 2017 U.S. Championships by IM Greg Shahade.
Greg counted down the most memorable highlights from the 2017 US Chess Champs, starting with one of the best chess stories we've ever seen,
Sabina Foisor's
powerful and emotional rise to the crown.
If you asked people before the tournament "Who do you think will win the U.S. Women's Title", there is no chance that Sabina would be mentioned as even one of the top four names. She was rated 6th in a field of 12, and had never had an especially impressive performance in the event before, despite many appearances throughout the years. When you combine her underdog status with the personal tragedy she endured with her mother's unexpected passing, her win against all odds was even more awe inspiring. The moment when she officially became the U.S. Women's Championship and embraced with her fiancé, Elshan Moradiabadi, was the most emotional scene I've ever seen in my career in chess.
https://twitter.com/USChess/status/851199578271608832 Greg Shahade is the founder of
the PRO Chess League
(formerly the US Chess League), and
the US Chess School
. You can follow
Greg on his blog
and
twitter feed
.
The 2018 US Chess Championship
will take place from April 18-30 in Saint Louis, MO.
The Judges Sound Off  
IM Shahade shares his impressions from the US Championships, ranging from the personalities of the players to the most critical games (both brilliancies and blunders). This summary wraps up a lot of happened in 11 rounds over a fortnight in Saint Louis, and includes a few behind-the-scene scoops.-  
Michael "f-pawn" Aigner
This story concisely captured some of the amazing stories in American chess this year, a spectacular year for chess. Stories such as Sabina Foisor's brilliant triumph and highlighting the diverse strengths of our American players touched the hearts of many readers, myself included.- 
Dan Schultz 
This was a nice recap and opinion piece.  Always nice to replay the events from one of the most important tournaments of the year.  [Big shoutout to Sabina Foisor, who is one of the sweetest and most genuine people I have ever met.]  Greg Shahade always pays attention to the details and I appreciate how he tells it like he sees it. 
Jennifer Vallens