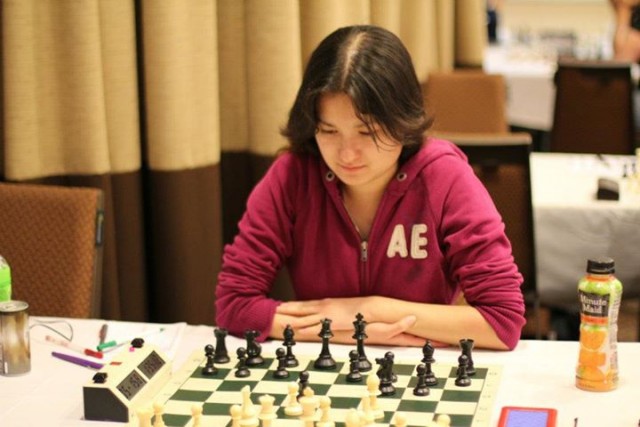 Vanessa West
The #2 article in Best of US Chess 2018 is 
Should Women's Chess Titles Be Eliminated?
by
Vanessa West. 
Vanessa, also the
2017 Chess Journalist of the Year,
wrote an in-depth piece on the pros and cons of Women's chess titles, also delving into research and revealing her personal perspective.
Early in my chess career, when I was 10-years-old, my parents took my younger sister and me to an all-girls event for some of the young female talents in the area, featuring a Woman International Master. It started with a lecture about her views on chess, and then she played a simul against all of the girls. I don't remember her lecture or my game in the simul. What I remember is that something felt very off about the event to me, even if I didn't know enough about the subject yet to be able to express it in words. I knew that the people who organized the event as well as the WIM herself had the best intentions: encouraging more girls to continue playing chess and showing the girls a potential role model, a titled female player. The WIM, however, was US Chess rated around 1800. I was only rated about 1100 at the time. I knew that an 1800 player was stronger than me and that it took work to get there, but I also knew that it was a level that would not otherwise be revered—if she wasn't a Woman International Master. I remember my 10-year-old self trying to intentionally look unimpressed during the event. I wanted the adults in the room and anyone else who saw me to know that this wasn't my role model. It really bothered me that the adults believed that I would have an 1800 player as a role model, just because I was a girl. My favorite players were World Champions Jose Capablanca and Mikhail Tal. All of my coaches (with the exception of when I was a sheer beginner) had always been, at least National Master level, if not IM or GM level. I wanted to be a great player, not a great player for a girl. I believe that this mentality, and my high standards helped me improve quickly when I was young. By the next year, I had already crossed the 1800 mark myself.
Vanessa is the Digital Assistant and a regular writer at US Chess and she also contributes to our social media accounts
@USChess on twitter, and
US_Chess
on
instagram.
You can follow her personal account at 
@Vanessa__West
.
The Judges Sound Off
"Another relevant and well researched article by Vanessa West.  Vanessa is not afraid to voice her opinion on a topic that she obviously holds close to her heart.  She brings up solid points as to why Women's Chess Titles should be eliminated.  She takes her argument one step further and offers logical ways to help eradicate some of the challenges that Women's titles create." -
Jennifer Vallens 
"Vanessa West presents the most balanced and informative body of information I've read on this important topic. Her research is impressive and unparalleled in depth and her writing is simply fantastic."-
Dan Schultz 
This well-researched report addresses the controversy surrounding women's chess and women's titles. West argues that lower standards for women's titles only lead to lower expectations by the girls. Instead, FIDE should replace women's titles by additional (lower) gender neutral titles."-
Michael "f-pawn" Aigner
"Vanessa West introduced a hot topic, that deserves more articles, that we currently have. I believe it's important that we as a chess community decide how to elevate women's chess, and help the upcoming women players reach their goals. Personally, I like the traditional idea of having titles, but there could be other ways to encourage girls to play more chess; for example holding more women's invitational tournaments, or mixed ( men and women) invitational tournaments like the one's held at the St. Louis Chess Club. In any case, this is a very important article." 
Grandmaster Denes Boros 
BEST OF US CHESS 2017 COUNTDOWN
???
2.
Should Women's Chess Titles Be Eliminated?
by
Vanessa West
3. 
Activate Learning: Nakada on the 38th U.S Chess School
 by 
Akira Nakada
4. 
Ten Things We Learned from the 2017 U.S. Championships by
IM Greg Shahade
. (
Judging article
) 5. 
GM Hess on the World Cadets: US Team on an Upswing
by 
Grandmaster Robert Hess. 
(
Judging article
) 6. 
The Shaman Sees Checkmate: Teaching Chess in the Amazon
by 
Vincent Roazzi Jr. (
Judging Article
) 7.  
GM Rogers on World Cup: Five US Players Still Alive 
by 
GM Ian Rogers. 
(
Judging article
) 8.  
Spring Ahead in the Endgame
 by 
Bryan Castro  
(
Judging article
) 9. 
In Memory of Dad: Chess, Parenting & Crossing Borders 
by
WIM Dr. Alexey Root 
(
Judging article
) 10. 
Petrosian Wins World Open: 'Forget About the Draw'  
by
 Jamaal Abdul Alim 
Judging article