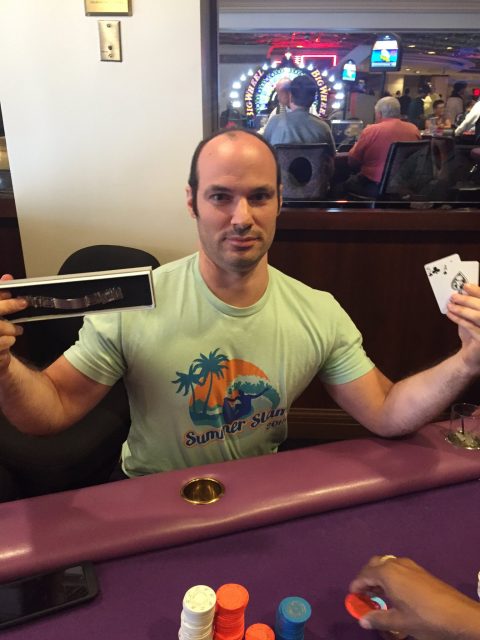 IM Greg Shahade after winning the 2016 National Open poker tournament 
The #4 article in Best of US Chess 2016 is
Top Ten Lessons from the 2016 US Championships
by IM Greg Shahade. Judges praised Greg's fresh, insightful perspective and lively writing style.
1. Fabiano Caruana is a hero
Fabiano not only played great chess, but also delighted the crowd with entertaining post game interviews. Most important was his constant use of the confessional booth. The fans absolutely loved it anytime a player used the booth, so for Fabiano to recognize this and actually use the booth with such frequency, was a clear statement that he cares about making chess fans happy.
Chess is a sport where quite honestly, almost everyone looks after their own self interests. Fabiano went above and beyond to provide an extra enjoyable experience for the fans, and deserves huge applause for his efforts. Also he played pretty well too!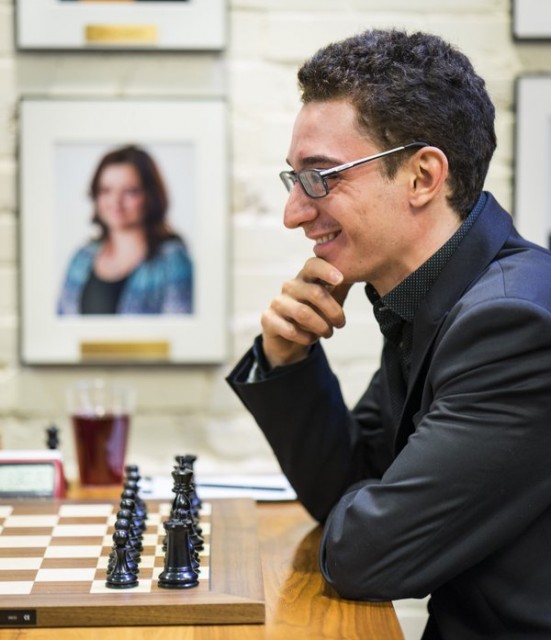 Caruana in the confessional: "Well...Pretty sure I'm winning!" #USChessChamps

— SaintLouis ChessClub (@CCSCSL) April 25, 2016
Greg Shahade is the founder of the
U.S. Chess School
 and the U.S. Chess League (now, the
PRO Chess League
). Greg ranked in the top 5 of Best of US Chess 2014 with his article, 
How to Spot Talent
. He often writes chess-related opinion articles on his website, 
www.gregshahade.com
. He has a popular
YouTube channel
, and he is a very active 
Twitter
personality.
"After reading just the first 5 words of Greg's piece, I knew it was going to be awesome. Greg offers a fun and fresh perspective on the many takeaways from one of the most exciting events of the year. Hopefully more players will be motivated to use the confessional booth in the 2017 US Championships after hearing Greg's praise for Fabiano."
-Eric Rosen
"IM Greg Shahade's humor is unmatchable. It comes across clearly and his writing style always draws some laughs. This article fused a bit of humor into every lesson to form such a good overview of one of the best tournaments to watch every year, the US Championships. It tells you what you're missing out on if you don't watch it. It's full of excitement and yet stays informative, with games and pictures that capture the chess culture that is involved in making the US Championships successful."
-Vanessa Sun
"Greg Shahade is unabashedly committed to promoting chess as a sport and energetically pursues his goal! His writing is just as lively and packed with keen observations on our nation's top chess pros and the emerging generation of young superstars. Shahade's narrative is a chess fan's delight!
There is great chess content to replay and study, what is 'on camera' and 'off camera,' profile of chess personalities and much more chronicled  in a brilliant way."
-Michael Ciamarra
"Always trust Greg Shahade to write what's on everyone's mind, yet they don't dare to speak it. His comments, sometimes controversial, stimulate discussion as if this was a debate tournament and not chess. Check out the article for his view on the Confession Booth and a prediction for the future of the US Championships.  My favorite observation comes from a tweet describing the girls playing in the Women's Championship: 'Fierce competitors on the board. Friends off the board. #USChessChamps' Why can't we all be like that?"
-Michael Aigner
Best of US Chess 2016 Countdown
#3 - ???
#4 - Top Ten Lessons from the US Championships by Greg Shahade
#5 - Alejandro on Americans in Iceland by Alejandro Ramirez (Judging Article)
#6 - Eight Lessons From the Junior High School Nationals by Pete Karagianis (Judging Article)
#7 - The Couch Potato's Guide to the World Chess Championship by Ian Rogers (Judging Article)
#8 - Joshua Colas: His Journey So Far by Daaim Shabazz (Judging Article)
#9 - World Championship: Editor's Notebook by Daniel Lucas (Judging Article)
#10 - A List of One's Own: The New Top 100 Women Rankings by Maret Thorpe (Judging Article)