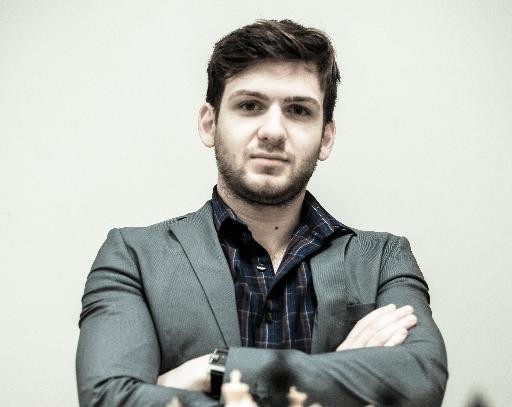 The #3 article in Best of US Chess 2016 is
A Winner's Tale: GM Chirila on Millionaire Chess 2016
by Cristian Chirila. Judges praised Cristian's ability to blend his personal experiences on the road to victory with his invaluable advice from a grandmaster to aspiring players.
Millionaire Chess, the open tournament that tried to defy the rules most chess opens stand by, has closed its gates, possibly for the last time, on October 10. It was a bittersweet moment, entertained by Maurice Ashley's tireless entrepreneurial spirit and stage persona. He talked about his dream, his partner in crime Amy Lee, as well as his almost never-ending organizational struggles. He was visibly shaken, concerned, but also full of hope and optimism that he will find the support to extend this great tradition that Millionaire Chess has become.
My name is Cristian Chirila, I am the winner of the U2550 section and I would like to take you, the reader, through the last stand of my millionaire journey. Here we go!
Preparation
My focus in 2016 has been almost exclusively on developing as a coach. As a result of this shift, my play has lacked consistency. Despite the fact that I have studied chess in a much more analytical and organized form, my play was missing the depth necessary to perform at the highest levels. I was not able to match my previous year's results and win at least one important event, not until Millionaire Chess came along!
After a summer full of chess camps and private students, I decided to take a short vacation in my home country Romania. While there, a good friend of mine contacted me and asked me to help him during the Olympiad. I accepted and immediately started working on his repertoire. The theoretical disagreement between the two of us couldn't be more obvious, I am a 1.d4 player – he is almost solely a 1.e4 player. I had to get out of my comfort zone, dig into lines that I have not studied in at least half a decade, and try to battle seasoned theoreticians on their home ground. I also worked on practical positions and finding the right plan, I believe this type of training to be the best when trying to dust off your chess. This was my technical preparation.
Cristian Chirila is a San Francisco based chess Grandmaster and trainer. Originally from Romania, Cristian graduated from the University of Texas at Dallas in 2014. He made the Best of US Chess top ten in 2014 with his article, 
Million Dollar Training: GM Chirila on Vegas
, and in 2015 with
Why Is Carlsen Dominant? (A Theory)
. In addition to his Millionaire Open victory, Cristian was the 2007 World Youth U16 Champion, the back-to-back US Class Champion in 2013 and 2014, and the 2015 US Game 30 National Champion. Find out more about Cristian on
his website
and
twitter account
.
"This article was one of the most well balanced and comprehensive articles I have ever read. I say this because it had a little bit of everything: analysis, gorgeous and carefully selected photos, a mix of feelings with information, and most importantly, revealing of a personal journey that GM Cristian Chirila experienced at Millionaire Chess. Covering his preparation, both chess wise/mentally and physically, the article said quite a bit about Chirila's personality that is sometimes lost in articles and also of extreme interest to those who want to imitate a GM's attitude toward prep. It's hard to truly know a grandmaster's mind and mood not just before the tournament, not just in the beginning, but throughout the whole tournament. This was where the article spoke to me the most. It was just powerful, personal, and overall, well-written! The pictures taken by David Llada were integrated well to highlight the tournament's players in general. Lastly, the undertones about the grandeur and uniqueness of the Millionaire Chess tournament made this article stand out. It highlighted Maurice Ashley and Amy Lee's dream of an amazing tournament."
-Vanessa Sun
"It is not common that a strong grandmaster shares so many valuable insights into what creates a successful tournament. Cristian generously shared his wisdom that made me rethink my entire tournament strategy. At the higher levels, it is sometimes the small and overlooked differences between players that produce the champions. Cristian clearly describes his approach to physical preparation, recovering from poor games, and staying objective. Before my next big competition, I will re-read this article and attempt to shape my mindset and approach to be a bit more like Cristian's."
-Eric Rosen
"A Winner's tale is a splendid narrative and is a thorough joy to read again and again! Chirila shares 4 positions and 4 games to carefully analyze and learn from.  Chirila's 'Objectivity, Resilience, Recovery' are motivators every chess player can derive benefit from. Read and enjoy!"
-Michael Ciamarra
"The U2550 champion at Millionaire Open shares his preparation and the path to victory.  The road wasn't always smooth, but he trusted in himself and played by the following principles: objectivity, resilience, recovery.  The article includes concrete examples, such as digging in to overcome a difficult opening in the final game."
-Michael Aigner
Best of US Chess 2016 Countdown
#2 - ???
#3 - A Winner's Tale: GM Chirila on Millionaire Chess 2016 by Cristian Chirila
#4 - Top Ten Lessons from the US Championships by Greg Shahade (Judging Article)
#5 - Alejandro on Americans in Iceland by Alejandro Ramirez (Judging Article)
#6 - Eight Lessons From the Junior High School Nationals by Pete Karagianis (Judging Article)
#7 - The Couch Potato's Guide to the World Chess Championship by Ian Rogers (Judging Article)
#8 - Joshua Colas: His Journey So Far by Daaim Shabazz (Judging Article)
#9 - World Championship: Editor's Notebook by Daniel Lucas (Judging Article)
#10 - A List of One's Own: The New Top 100 Women Rankings by Maret Thorpe (Judging Article)