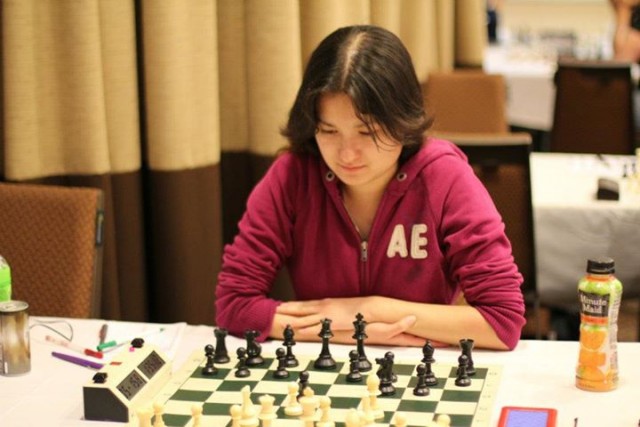 Photo courtesy of Jim Woodward
The #2 article in Best of US Chess 2016 is
What Is Your Goal in Chess?
by Vanessa West. Judges praised Vanessa's fresh approach to improvement, accompanied by clear, in-depth examples from her tournament games.
What is your goal in chess?
"I'd like to break 2200 by the end of the year."
"I want to earn my 3rd IM norm at my next tournament."
"Ultimately, I dream of becoming a grandmaster."
When you ask someone the question above, these are the expected answers. For many, a concrete goal, such as a title or rating, is a huge motivation, the light at the end of the tunnel that justifies all of their hard work.
For my own progress, however, I've found these types of goals to be counter-intuitive: They add extra pressure and lead me to focus on scoreboard points and rating progress instead of what matters most when I'm competing: learning and improving.
Right now, I'm aware that there are several clear weaknesses in my abilities, and, until I improve them and can consistently compete at a higher level, whether I gain or lose rating points in the short term is far less important.
When I'm ready to reach the next level, my rating will follow. It has never had any trouble keeping up with my abilities before.
In 2010, my rating was around the low 2000s, but I had had some realizations about the way I want to play chess, and I'd been studying more seriously than ever all summer. I played in the U.S. Open that year and gained 75 points on the spot. Within a few months, I was a National Master.
The title meant something to me because it symbolized all of the work I did to get there. I'd barely missed breaking 2200 when I was in high school, and it had left me with many "what ifs": What if I'd just played this move in that one critical game? What if I'd skipped that tournament where I lost so many rating points?
Looking back, it's obvious why I missed my goal: I was way too focused on whether I gained or lost points instead of on improving and enjoying the games.
So, for each of my tournaments this year, I'm going to set a short list of goals for the tournament based only on the quality of my play. Afterwards, I'll assess the weaknesses and improvements in my games to figure out what I can learn—and what parts of my game need the most work.
Vanessa West is a regular writer for US Chess. For more articles by Vanessa, check out 
How to Study Chess
and
How to Really Learn an Opening - Review: First Steps The French
. You can follow her on Twitter: 
@Vanessa__West
"What are your goals in chess? This is the question Vanessa West pondered for her own chess progress. As an experienced chess teacher, she structured a solid plan designed to achieve winning chess and positive tournament outcomes. The result? West's brilliant article is an amazing tour-de-force of important chess information, training techniques, and path for progress.
What is Your Goal in Chess?
is like having a virtual chess coach map out for you a realistic plan to break through to that next level: Class A, Expert, Master.  Serious tournament players can find much of value here and incorporate into your own training program the benchmarks West set herself. West shares what all active tournament players think, feel, hope and aspire to. Noted chess maxims, book recommendations and practice positions are copiously found throughout this incredible article!"
-Michael Ciamarra
"A great read for all chess players! Especially the young ones! Vanessa's advice in creating meaningful goals extends far beyond the realms of chess. Goals that focus on improvement rather than acquiring a certain title or rating can be applied in any other pursuit in life. Vanessa provides clear and detailed examples of her sophisticated approach. This is article is a must-share for parents, players or coaches who may have a rating-oriented mindset."
-Eric Rosen
"This was an article I read two times prior to judging. It helped me through a tournament. It was an article I felt that all chess players should read before a tournament. It has advice, quotes, games… Like Cristian's article, it covers quite a journey that the author took and showed how she conquered her goals, strived for them on the way. It shows good resolutions, good ways to attempt improvement, and can totally change attitudes and approaches toward chess."
-Vanessa Sun
"The path to becoming a better chess player often doesn't require a giant leap, but rather several smaller steps. The author describes the goals she set for herself and assessed them with concrete examples from her games.  The following quote captures the essence of a goal. 'Looking back, it's obvious why I missed my goal: I was way too focused on whether I gained or lost points instead of on improving and enjoying the games.'"
-Michael Aigner
Best of US Chess 2016 Countdown
#1 - ???
#2 - What Is Your Goal in Chess? by Vanessa West
#3 - A Winner's Tale: GM Chirila on Millionaire Chess 2016 by Cristian Chirila (Judging Article)
#4 - Top Ten Lessons from the US Championships by Greg Shahade (Judging Article)
#5 - Alejandro on Americans in Iceland by Alejandro Ramirez (Judging Article)
#6 - Eight Lessons From the Junior High School Nationals by Pete Karagianis (Judging Article)
#7 - The Couch Potato's Guide to the World Chess Championship by Ian Rogers (Judging Article)
#8 - Joshua Colas: His Journey So Far by Daaim Shabazz (Judging Article)
#9 - World Championship: Editor's Notebook by Daniel Lucas (Judging Article)
#10 - A List of One's Own: The New Top 100 Women Rankings by Maret Thorpe (Judging Article)