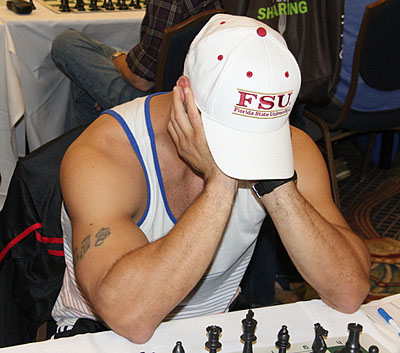 Ben Silva, Photo Daaim Shabazz at chessdrum
The #10 article in Best of US Chess 2015 is
The View From the Other End of the Playing Hall by Ben Silva
. Judges praised Ben's energetic prose and enthusiastic portrayal of an event that emphasizes both fierce competition and college fun.
Spending Christmas packed into a car with 3 other dudes all with varying definitions of  good music, as well as differing frequencies of restroom use, for 11 hours then another 6 hours the next day doesn't exactly sound like a happy holiday at first.
Then again, at Florida State we know a thing or two about having a good time, and our trip to the 2014 Pan American Intercollegiate Chess Championship was all of the above and more. We stopped over in Houston and discovered a fresh outdoor beer garden of sorts called Moon Tower with fire pits, a ping-pong table, and gourmet hot dogs ranging from wild boar to buffalo and even pheasant. We washed our meals down with some craft brewed ales while playing some blitz chess on the outdoor picnic tables, not a bad Christmas after all.
Ben Silva is a chess expert
, active in the Boca Raton Club.
Other contributions to uschess.org by Silva include a story
on a simul by Nakamura
and
coverage of the US Amateur Team South.
The Judges Sound Off 
With so many college teams and players to keep track of, covering the Pan-Ams can be overwhelming, but I think Ben passes with flying colors. His enthusiasm for chess and chess tournaments is loud and clear, I love it. It's definitely a mark of a good chess writer when you can describe what happened in any given game without citing variations.—
Kostya Kavutskiy
Awesome line "piece dropping madness" might have to steal that for my newsletter! Ben's article illustrates beautifully how chess is so much more than just a game. His article is an argument for making the PanAms Chess Championship the new road trip destination for college students-
Jennifer Vallens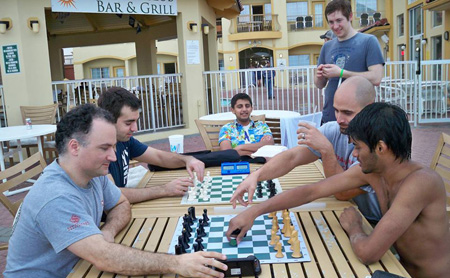 Some friendly bug
What the Florida State University chess team lacked in rating points, they made up in enthusiasm. While one of the lowest rated squads at the Pan American Intercollegiate, they arrived looking for a good time and an opportunity to rub elbows with other college chess nuts, some who happened to be Grandmasters. The article presented interesting games from the top boards, each accompanied by a paragraph describing the key moments from an amateur perspective. Bravo to the chess fans from Tallahassee! And bonus points from this judge for including several games featuring the Dutch Defense.—
Michael "f-pawn" Aigner
Best of US Chess 2015 Countdown 
#9- ??? #10- 
The View From the Other End of the Playing Hall
by Ben Silva