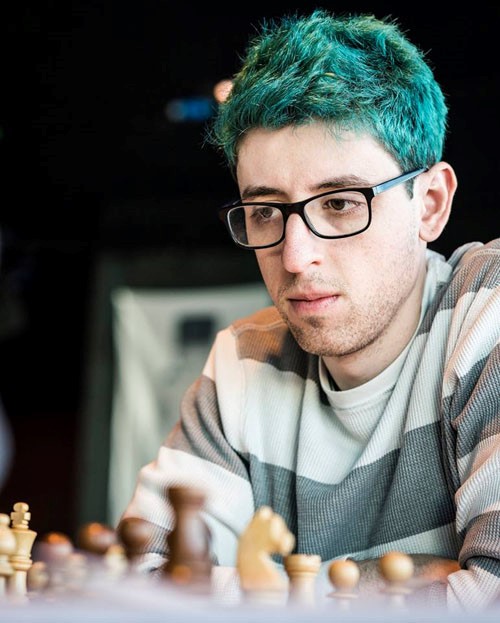 Kostya Kavutskiy, Photo IM Eric Rosen March 2018
The #8 article in Best of CLO is
Caruana Misses a Chance, Draws Game 8 vs. Carlsen
by
IM Kostya Kavutskiy,
an article that was part of a larger series by Kostya on the World Championships. Round eight began as a thriller, in which it looked like our American challenger may seize his first victory of the match.
World Championship challenger Fabiano Caruana achieved a big advantage against Magnus Carlsen in today's Game 8 of the World Championship, both on the board and the clock. However, in a position that needed active precision in order to keep the initiative Caruana faltered, playing a quiet move at the wrong moment and giving Carlsen a key tempo to consolidate his position. After that the game steadily petered out into an equal endgame and the game was agreed drawn; the match remains tied at 4-4 with four games to go.
Kavutskiy's other contributions on Carlsen-Caruana included
a round seven report,
annotations to
rounds 11,
12
and
the playoffs
. He also contributed
post-coaching reflections on his work at the World Cadet Championships,
which he combined with a trip to London. Just a week ago,
Kostya reported on the Bay Area International
for this site. Kostya is a popular coach, author and contributor. Find out more
about him on his Patreon page
and
follow him on twitter. 
Previously, Kostya won Best of CLO honors for his 2016 piece, Kostya's Chess Eurotrip: Two Months, Four Tourneys, Six Cities and 38 Games of Chess. You can
find a full index of his articles here. 
The Judges Sound Off 
Kostya Kavutskiy analyzes the moment when Caruana missed a golden opportunity in game 8 of the World Championship match. While "collective gasp was felt in the spectator room" after Carlsen played the sharp move 18... g5, the victory would remain elusive once again thanks to the unnecessarily slow 24. h3.-
Michael "f-pawn" Aigner
This was the biggest match of the year and round 8 was one of the most talked about rounds.  This article is ranked in my top 10 mainly because it captures a top moment in chess in 2018.  This is a game Fabiano is not likely to forget. -
Adia Onyango
Tight, small focus, but nicely done; shows the drama of the event-
Joshua Anderson 
Best of CLO Countdown 
10. 
Arthur Guo and Winston Ni Win Big in Atlanta by Vanessa Sun and Michael Rohde 
(
Judging Article
) 9.
 FM Resika on the US Senior: Singing and Chess are Icing on Cake
 by FM Nathan Resika (
Judging Article
) 8. 
Caruana Misses a Chance, Draws Game 8 vs. Carlsen
by
IM Kostya Kavutskiy