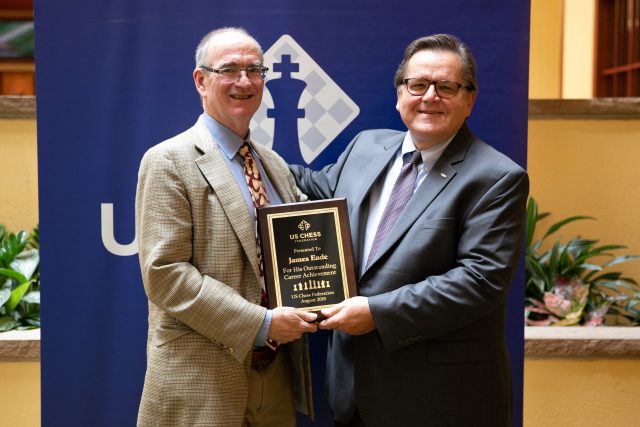 Jim Eade with Al Lawrence at the 2018 U.S. Open
The #7 article in Best of CLO 2018 is
Eyes Wide Open: Gareyev Wins 2018 U.S. Open by Al Lawrence.
Judges praised the engaging style on reporting of a dramatic victory by one of our most adventurous and popular Grandmasters, Timur Gareyev, aka "The Blindfold King."
Blindfold phenom Timur Gareyev (Kansas) kept his eyes very wide open to opportunities as he rebounded from a 5th-Round loss to GM Jorge Cori (Missouri). Gareyev scored eight wins to clinch clear first, a half-point ahead of five other GMs at the 2018 U.S. Open Championship. He took home an impressive trophy, a $6,600 check, and a coveted spot in the 2019 US Invitational Championship. "It's my most significant result in the past three years," Gareyev said.
Al is a two-time winner of the 
Chess Journalist of the Year
 award (2000 and 2016) and a former Executive Director of the US Chess Federation. He currently serves as the Managing Director of the 
U.S. Chess Trust
. He is a frequent contributor to CLO and wrote most recently about the
Pan-American Championships
held in San Francisco. You can
find a full index of his articles on uschess.org here. 
Timur Gareyev is both a chess champion and one of our most creative chess promoters. He was featured on the November cover of Chess Life Magazine for his U.S. Open victory. This epic cover shoot was covered in an article by Jen Vallens (also a Best of CLO judge) and captured in a video. https://www.youtube.com/watch?v=7naaj_mld98&t=1s
The Judges Sound Off 
Highlights one of the top US Chess Open tournaments in a way that makes the reader want to attend.  Great feature on Gareyev
-Adia Onyango
Nice balance of photos, narrative of games; Tries to do a lot, and for the most part delivers; Al has a sense of history -
Joshua Anderson 
This was just a really well done recap.  He includes annotated games, quotes, anecdotes, and peppers it with nice photos.-
GM Josh Friedel 
Al does a good job of reporting on the US Open.  I like how he focused on Timur Gareyev's win and accomplishments outside that of Blindfold Chess.  Having attended the US Open, I know that it is a flurry of activity.  Al successfully manages to give us the highlights reel.  What Al failed to mention in this article is that he, himself, was the recipient of three
Chess Journalist of America
awards!-
Jennifer Vallens 
Best of CLO Countdown 
10. 
Arthur Guo and Winston Ni Win Big in Atlanta by Vanessa Sun and Michael Rohde 
(
Judging Article
) 9.
 FM Resika on the US Senior: Singing and Chess are Icing on Cake
 by FM Nathan Resika (
Judging Article
) 8.  
Caruana Misses a Chance, Draws Game 8 vs. Carlsen
 by IM Kostya Kavutskiy (
Judging Article
) 7. 
Eyes Wide Open: Gareyev Wins 2018 U.S. Open by Al Lawrence.
by Al Lawrence 6. ???