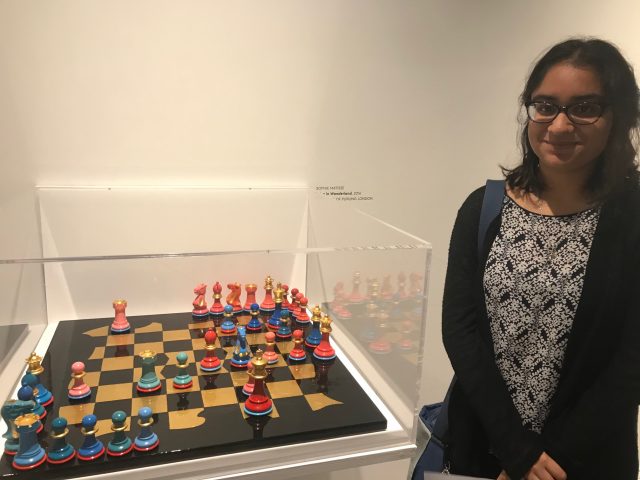 Priya Trakru poses with one of her favorite sets from the World Chess Hall of Fame show, "Painted Pieces."
The #5 article in Best of CLO 2018 is
Priya Trakru on the US Chess School:Power Queens by Priya Trakru.
Judges praised Priya's insights and humor, in her chronicle of an all-girls session of the US Chess School hosted at the Saint Louis Chess Club.
At US Chess, the ratio of boys to girls in tournaments is 6 to 1. This means that more often than not, I can be the only girl (or one of the only girls) in a chess tournament. The astounding statistic (which US Chess Women is working to change!) does have a silver lining; because of their shared situation and passion, it's easy for girls to bond and create strong friendships. US Chess School 45 brought girls from all across the country together to form bonds that would last the entirety of our chess careers. Towards June, right as school ended, my brother and I applied for the USCS- my brother was to attend 43, and I'd attend 45. I was slightly nervous, as this would be the first 'all girls' camp I would ever attend. I was also beyond excited.
Priya is precocious both as a chess player and as an entrepreneur, and was selected as a
HER LEAD
 scholar in 2016. She organizes chess clinics for girls, "Pawns and Queens" in her hometown, Brownsville, Texas and said the USCS gave her "ideas on how to improve on my own girls chess clinic."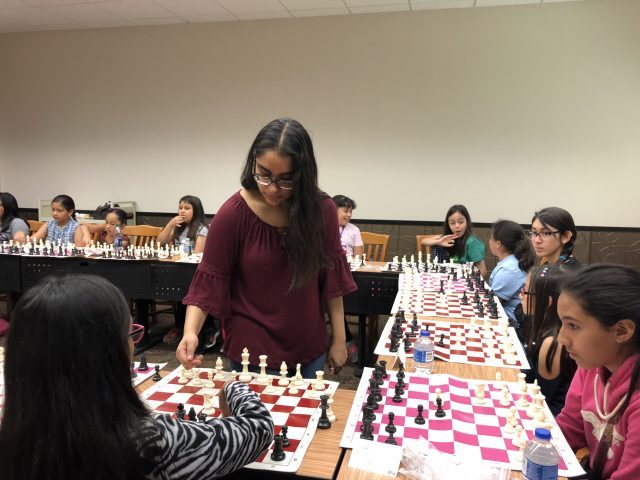 The event was coached by IM Greg Shahade and Jennifer Shahade. You can find out more about the US Chess School on 
twitter
, 
facebook
,
 instagram
 and founder
Greg Shahade's YouTube channel
, where he posts videos of USCS blitz and bullet tournaments.
US Chess School 45
The Judges Sound Off 
Articles about the US Chess School always provide inspirational reading, especially when personally written by one of the talented campers. The author shares her enthusiasm for spending camp together with other elite girls and a former US Women's Champion. "One of the most important parts of chess is not the game itself - it's the relationships you form through the game."-
Michael "f-pawn" Aigner
The author brings light to the US Chess School and their efforts to bring together top girls in chess. The importance of This topic for chess is major given the loss number of girls.  This was a great description from the viewpoint of a participant.  She was able to give the reader a great sense of her experience. -
Adia Onyango
Best of CLO Countdown 
10. 
Arthur Guo and Winston Ni Win Big in Atlanta by Vanessa Sun and Michael Rohde 
(
Judging Article
) 9.
 FM Resika on the US Senior: Singing and Chess are Icing on Cake
 by FM Nathan Resika (
Judging Article
) 8.  
Caruana Misses a Chance, Draws Game 8 vs. Carlsen
 by IM Kostya Kavutskiy (
Judging Article
) 7. 
Eyes Wide Open: Gareyev Wins 2018 U.S. Open by Al Lawrence 
by Al Lawrence (
Judging Article
) 6. 
US Chess School in San Fran: Sam Takes the Chocolate 
by NM Robert Shlyakhtenko (
Judging Article
) 5. 
Priya Trakru on the US Chess School: Power Queens
by Priya Trakru