Rochelle with Chess Girls DC
The #4 article in Best of CLO 2018 is
Melinda J. Matthews on Rochelle Ballantyne: "Representation is Important."
Judges praised the illuminating update on the Brooklyn Castle Star, who is also a Stanford grad.
One of the most frustrating...things I realized as an African-American female chess player was the feeling that I didn't belong. I was always the odd person out. Always asked whether or not I was lost. Chess is supposed to be a battle of intellect and my intellect always seemed to be diminished or erased because I am black and because I am a woman. Luckily, when I started playing chess I was too young to really process race and gender as a construct. I knew I was different but I didn't care because I wanted to win. And that drive continues to carry me.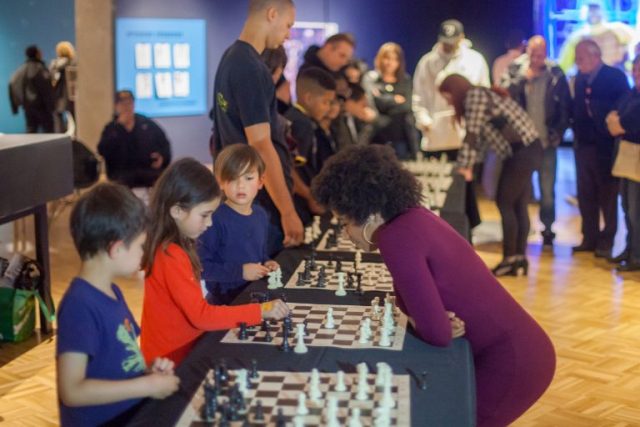 Rochelle Ballantyne and Jennifer Shahade giving a simul at the Oakland Museum of Contemporary Art, Photo IM Eric Rosen 
Soon after writing this article, Melinda J. Matthews was promoted from Assistant Editor to Editor of Chess Life Magazine.
The Judges Sound Off 
Melinda does a good job at asking detailed questions, but truly it is Rochelle who carries the article (as it should be).  She's extremely thoughtful, open, a bit funny, yet somehow still a kid.  I enjoyed getting to know her.-
GM Josh Friedel 
Inspirational, empowering, and touched on major social issues such as gender, race, mental health, social class and education.  It is impossible to read this piece without feeling it....Rochelle's journey shows some of the possibilities that chess can expose players to, she says, 'Aside from being able to tell that message through my own story, I am incredibly humbled and honored to be able to inspire young people of color from inner city neighborhoods to show them the various ways chess can change their life', her quote says it all.  I love how she takes us through her psychological journey and how she came to understand the importance and impact of her story.  I feel that Rochelle's chess journey will be one that will continue to inspire young players for years to come.-
Adia Onyango
Best of CLO Countdown 
10. 
Arthur Guo and Winston Ni Win Big in Atlanta by Vanessa Sun and Michael Rohde 
(
Judging Article
) 9.
 FM Resika on the US Senior: Singing and Chess are Icing on Cake
 by FM Nathan Resika (
Judging Article
) 8.  
Caruana Misses a Chance, Draws Game 8 vs. Carlsen
 by IM Kostya Kavutskiy (
Judging Article
) 7. 
Eyes Wide Open: Gareyev Wins 2018 U.S. Open by Al Lawrence 
by Al Lawrence (
Judging Article
) 6. 
US Chess School in San Fran: Sam Takes the Chocolate 
by NM Robert Shlyakhtenko (
Judging Article
) 5. 
Priya Trakru on the US Chess School: Power Queens
by Priya Trakru (
Judging Article
) 4.
Q+A With Rochelle Ballantyne: Representation is Important
by Melinda J. Matthews