Arthur Guo and Winston Ni Win Big in Atlanta by Vanessa Sun and Michael Rohde. 
FM Arthur Guo, a 6th grader playing in his hometown of Atlanta, won the National K-9 Junior High Championship. This was not Arthur's first victory on the big National stage. When he was a 4th grader, Arthur won the National Elementary. But in this case, Arthur's win was even more impressive, being three years off the maximum grade level. Grandmaster Michael Rohde (and co-writer of this article) interviewed Arthur, asking if he knew who the first 6th grader to win the National Junior High was. When Arthur was stumped, GM Rohde told him – it was me!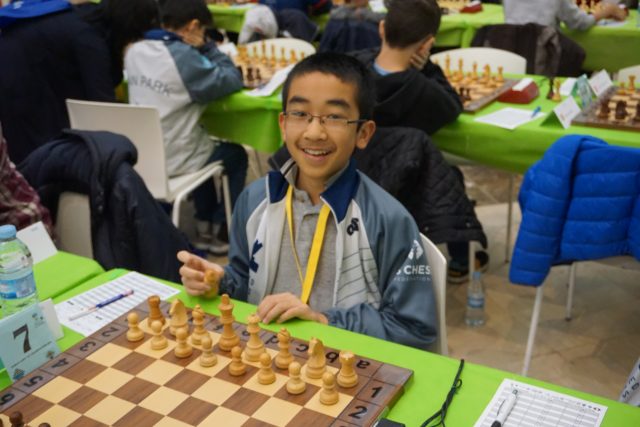 Arthur Guo at the 2018 Cadet Champs, Photo Grant Oen
Judges praised the fun lede and breadth of the article on one of US Chess's major events, the Junior High School Championships, one of three major Spring Scholastics on our Events slate.
Vanessa Sun is a frequent contributor to CLO
, and also active on social media on her instagram account and
her new twitter feed.
In 2018, she also reported on the  
the Greater New York Scholastics
and the
US Amateur Team East
. Sun most recently tweeted for US Chess on the
Pan-American Championships in San Francisco. 
https://twitter.com/vanessasun101/status/1078478477311991808 Michael Rohde is a Grandmaster, member of the Montclair Sopranos and a frequent contributor in 2018 to CLO. He also reported on
the U.S. Masters
and
the National Senior Tournament of Champions
. You can find a
full index of his articles here. 
The Judges Sound Off 
This article is well rounded and covers all aspects of the K-9 National Junior High tournament.  Highlighting the side events and Arthur Guo's victory will hopefully serve as inspiration to other young up and coming players.  The interview with Guo revealed the importance of self-study and being self-motivated.  I especially liked the books mentioned throughout the article and the selection of photos.-
Jennifer Vallens. 
Nicely done combining a bit of everything-
Joshua Anderson 
Best of CLO Countdown 
10. 
Arthur Guo and Winston Ni Win Big in Atlanta by Vanessa Sun and Michael Rohde 
(Judging Article) 9. ???
Our #10 article in Best of CLO 2018 is