This is the third of a four-part series, "Back to the US Chess School", which gives readers an inside look into the elite training academies, held over the summer. Check out our first installment by Jed Sloan on USCS #48 in Saint Louis, our second installment by Davis Zong Jr on USCS #49 in New York, and look for an upcoming edition by Akira Nakada on #51. Also look for additional perspective on the Aagaard camp by CLO editor John Hartmann.  
At a high level, it is not at all uncommon for chess players to be at least somewhat paranoid about their peers. Even the closest friends inevitably sit across the board from each other as fierce competitors. At the very least, one has to be on guard about not accidentally giving away opening prep or losing focus by talking to friends too much, raising the tension. This is why I've always loved US Chess Schools. The atmosphere transforms into one of friendly camaraderie: perfect for blitz, bughouse, and nerdy chess inside jokes. For me, attending the US Chess School is about creating fun memories while improving at the game I love most. It's a great opportunity to spend a week with some of my closest chess pals while learning chess from amazing trainers – and in the case of the US Chess School 50 specifically, one of the best chess trainers in the world. I'd been gobbling up many of 
GM Jacob Aagaard's books
since I was 12, captivated by his humorous writing style and never-ending supply of rich positions. He walked in on the first day of camp looking a bit disoriented, set down his bag, and immediately began spilling an animated narrative about how the idiots at the airport lost all of his luggage. Soon after, we had a fun group discussion titled "What is wrong with Anish Giri?!?!" We looked at a few games where Giri's strategic, positional, and technical play was flawless, but he was simply unable to calculate a few forced moves to finish off the game. Hence, the joke "Anish Giri can't calculate!" emerged. Everyone cracked at least a smile. Aagaard was certainly strict and kept us in line, but it was balanced with the right amount of humor and jest. Thus set the mood for our five days of training with one of the world's greatest chess trainers. Throughout the week, we looked at a plethora of different positions and discussed many chess concepts and ideas in different contexts. But Aagaard made extra sure to hammer two general guidelines into our heads, and every participant at the camp could tell you by heart what they were.
#1: Always actively look for each and every option in a position.
Most deep calculation errors happen not on move 10 of a long variation, but on move 1 or 2 of the variation where the player simply overlooked something major. The same holds true for major positional and strategic errors in many top level games.
#2: Always have a plan for your ****** pieces!!!
(exact words straight out of Aagaard's mouth.) This one is so simple, yet so easy to neglect and forget about during a game! It is largely about improving your worst placed piece, but many times it is also about rerouting a piece on a good square to an even better one. Here's one of the puzzles from the camp: White is up a pawn, and although Black might at first dream about winning chances because White's bishop is close to trapped, we soon realize that Black is playing to draw.
Black to Move 
Surprisingly Black can send his king away from the passed pawn with 1…Kf6! and White has no way to stop 2…Kg7 3.Bxe6 Kf6 with a repetition.
Of course, there are also the inside jokes. One evening when I was hanging with Joshua Sheng, Aaron Jacobson, and Andrew Tang, Andrew (penguingm) was playing a bullet game on his phone and reached the following position: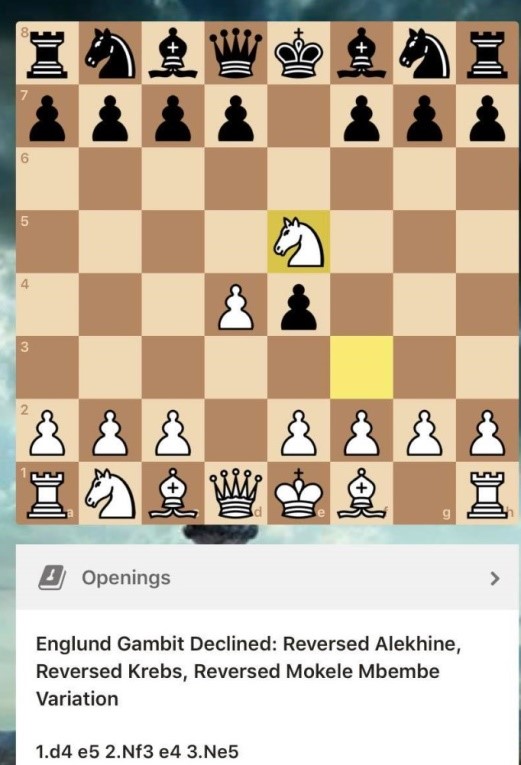 A few minutes of nonstop laughter later, the Englund Gambit Declined: Reversed Alekhine, Reversed Krebs, Reversed Mokele Mbembe Variation became all the rage. In the camp bullet tournament, this troll opening was played no less than fivwe times. I laughed for minutes when I discovered that 3…f6 could be soundly met by 4.e3!?. Special guests is another incredible feature of US Chess School camps, especially in Saint Louis. When Grandmaster Peter Svidler appeared at camp on the last day, we asked him many burning questions, including "how are you so tall?", "What is your favorite ice cream flavor?", and "What is your opinion on the Englund Gambit Declined: Reversed Alekhine, Reversed Krebs, Reversed Mokele Mbembe Variation?" I'm supposedly a mature 19 year-old, but I'll admit I giggled like a 10 year old when I saw the perplexed look on the face of the eight-time Russian champion and renowned commentator. https://twitter.com/USChessSchool/status/1154782518098481152 Another silly question for Svidler is also a legitimate brainteaser."What is the third worse move against the Dutch?" The worst move is clearly 2.Bh6 and the second worst move is definitely 2.Kd2. But what's the third? A few years ago in 2015, Jan Gustafsson claimed 2.e4 was worst, implying that the Staunton Gambit is terrible and just gives away a pawn. Aagaard and Svidler both disagreed, suggesting 2.Na3 and 2.b4 respectively.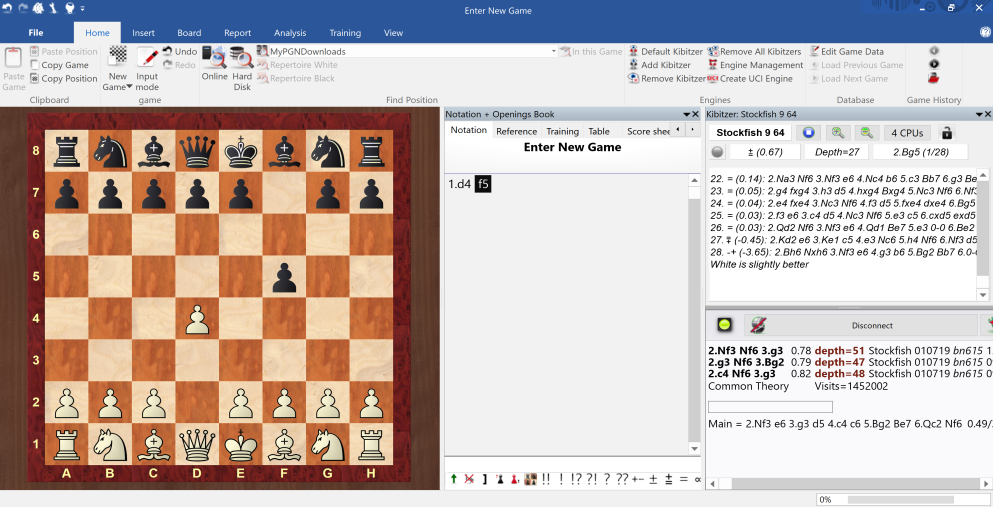 Apparently, Stockfish 9 on a relatively low depth thinks 2.Qd2 and 2.f3 are equally bad. It's still not worse for White though, which may or may not say something about the Dutch as an opening. However, 2.e4 is the worst move after that, meaning Jan Gustafsson was closest to the truth!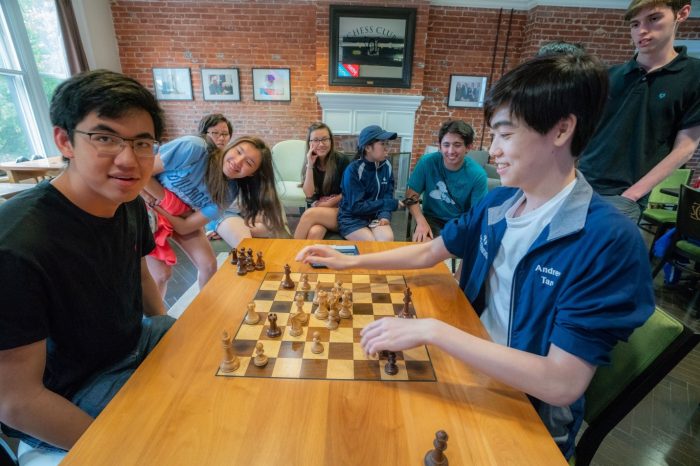 Joshua Sheng and Andrew Tang smile after their intense bullet matchup in the notorious Englund Gambit Declined: Reversed Alekhine, Reversed Krebs, Reversed Mokele Mbembe Variation. Carissa Yip with my sunglasses (in her right hand) while I purposefully ignore her antics.Also pictured; Maggie Feng, Jennifer Yu, Emily Nguyen and Nicholas Checa
Overall, I had an overwhelmingly positive experience at the USCS 50 and beyond GM Aagard, I want to thank our sponsor Dr. Jim Roberts, organizer IM Greg Shahade and hosts at the Saint Louis Chess Club. I truly feel like I picked up some valuable chess wisdom, and enjoyed myself immensely throughout the process.
Check out our first installment on USCS summer of 2019 camps by Jed Sloan on USCS #48 in Saint Louis, our second installment by Davis Zong Jr on USCS #49 in New York, and look for an upcoming edition by Akira Nakada on #51.
Find GM Aagaard's books on US Chess Sales and stay up to date with the US Chess School on their website and twitter. 
Follow article photographer IM Eric Rosen on his website and twitch.