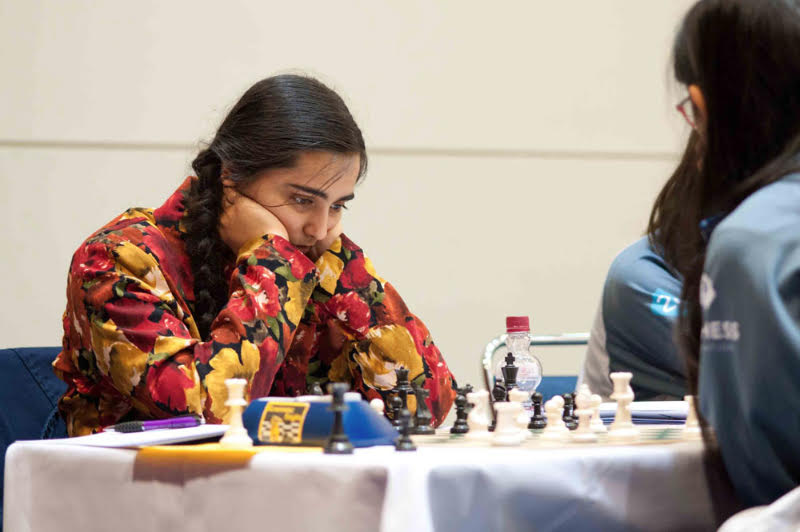 Anupama Rajendra, Photo Betsy Dynako
After a disappointing first round in which she only managed a draw against a much lower rated opponent, Anupama Rajendra of Wisconsin rallied to win the KCF All-Girls National Championships in Chicago by winning her remaining five games.  It was not an easy start either.  On her second round game, Anupama confessed that she felt she had a losing position, and that if it wasn't for a blunder by her opponent, the tournament may have had a very different outcome. The three-day, six-round event was the largest yet, with a record of 448 total participants coming from 27 states.  Across the six sections, this increase in competition and talent made for fierce matches and high quality chess in every round. On her last round, Anupama Rajendra faced off against Nastassja Matus, who was one of four girls only half a point behind her.  Nastassja, being only 11 years old, appeared to be following in Anupama's footsteps, since she was close to winning the event.  Indeed, four years ago at the 2012 All-Girls Championships, Anupama entered the event in the U-18 section as an 11 year old and won the event.  Her victories continued in 2013.  This time, however, experience triumphed over youth, as Anupama won a very convincing game just shy of 30 moves.
[pgn]

[Event "2016 All-Girls Championships"]
[Site "McCormick Place, Chicago IL"]
[Date "2016.04.24"]
[White "Anupama Rajendra "]
[Black "Nastassja Matus "]
[WhiteElo "2062"]
[BlackElo "2015"]
[Result "1-0"]

1.e4 c5 2.Nc3 Nc6 3.f4 g6 4.Nf3 Bg7 5.Bb5 e6 6.Bxc6 bxc6 7.e5
Ne7 8.Ne4 O-O 9.O-O c4 10.b3 Ba6 11.bxc4 Bxc4 12.d3 Qb6+ 13.Kh1
Ba6 14.Ba3 Rfe8 15.Qe1 Nd5 16.c4 Ne7 17.Nf6+ Bxf6 18.exf6 Nf5
19.g4 Nd4 20.Qh4 h5 21.gxh5 Qa5 22.hxg6 fxg6 23.Ng5 Qxg5 24.fxg5
Nf5 25.Rxf5 exf5 26.Qh6 Re7 27.Bxe7 Kf7 28.Qg7+ Ke6 29.Re1# 1-0[/pgn]
Anupama obtained a great position with the Grand Prix attack against the Sicilian.  After 15. … Nd5, Anupama said she felt very confident that she would win the event.  She pushed 16. c4 and all of her pieces aimed at the kingside.  An attack ensued in which, despite Nastassja's sacrifices, mate was unavoidable.   Although her first round result was not intentional, Anupama said that the resultant draw may have helped her with easier pairings throughout the event.  However, in the end she was the sole leader with 5 ½ points, half a point ahead of Florizelle Songco and Camille Kao, whose last round victories on boards two and three did not alter the final results of the event. 
Hunter
College High School earned 1st place in the Under 18 team. Other sections were also very tight.  The U-16 section featured two players, Thalia Cervantes from Missouri and local talent Miranda Liu, who tied for first place with 5.5 points each.  They faced each other in round four, which ended in a draw, and their remaining games were all victories.  In the end, Thalia Cervantes won the first place trophy on tie-breaks after winning her last round game against Brittany Nguyen from Texas.  Thalia, whose rating was the only one over 2,000 for her section, mentioned that her tournaments at the Chess Club and Scholastic Center of St. Louis have been great preparation for the All-Girls.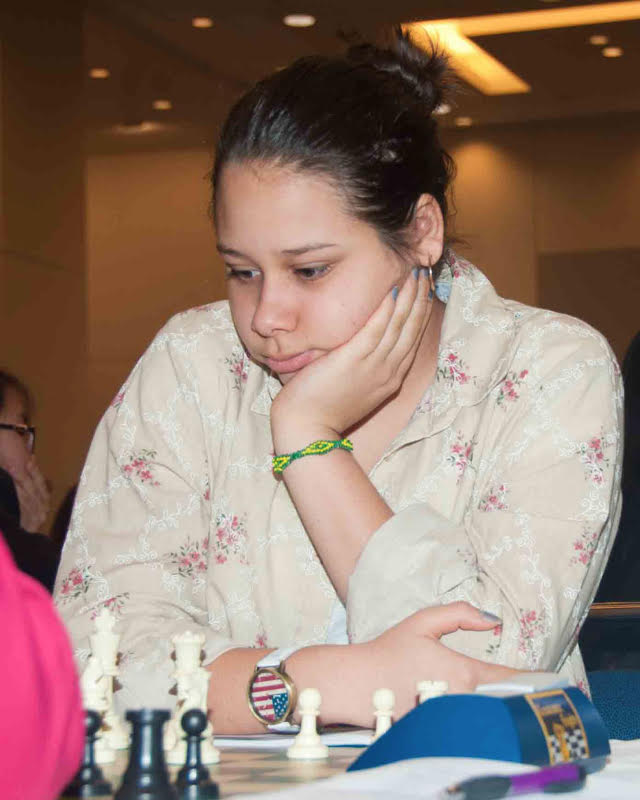 Thalia Cervantes, Photo Betsy Dynako
A strange occurrence happened in the last round of the U-14 section.  Marissa Li from Illinois was the sole leader of the section with 5 points, a whole point ahead of the field.  Six players followed with 4 points.  Her opponent, Sophie Morris-Suzuki from New York, desperately needed a win in order to tie for first place.  As time pressure mounted on, she outsmarted Marissa and ended up a rook ahead; a decisive advantage!  Yet, all other players with four points drew their last round games, which made Sophie and Marissa the only two players tied for first place.  Despite her loss against Sophie, Marissa won the first place trophy with the better tie-breakers.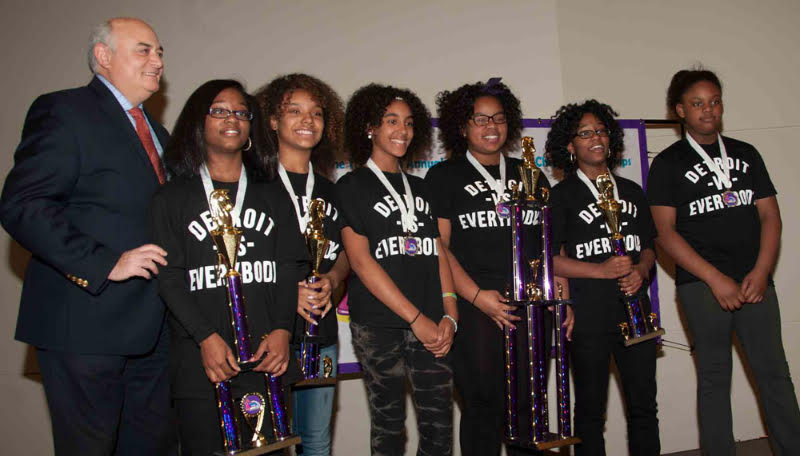 University Prep Science and Math Middle School, 1st place in the Under 14 team, Photo Betsy Dynako
  The youngest three sections had the only perfect scores of the tournaments.  In the Under 12 section, Minda Chen of Washington State won all 6 of her games and gained 70 rating points, while in the youngest section, Under 8,  Kally Wen of California was victorious in all her contests and won the first place trophy for her section, as well as an impressive 200+ rating boost.  The Under 10 section, the largest section of the event with 118 players, featured a three way tie for first place in which seasoned Emma Cheng had the better tie-breaks against Beatrice Low and Natalia Zduniewicz, all with 5.5 points. In the end, the tournament was a resounding success. The players brought their best games to the fore, while the organizers Renaissance Knights and the Kasparov Chess Foundation ensured that this tournament was both memorable and seamless. Congratulations to all involved and see you next year!
Find full standings on the official website and enjoy some more shots by Betsy Dynako below.