The traditional Reykjavik Open is under way in Iceland, and it is a special year here in Iceland. The GAMMA Reykjavik Open 2018 is dedicated to the great legend Bobby Fischer – his contributions to chess are, of course, no mystery to the readers of this article. Fischer was born on March 9
th
, 1943, and died as an Icelandic citizen. This year he would have celebrated his 75
th
birthday. To honor him, besides the already extremely strong open, many side events with an emphasis on Fischer Random Chess (known also as Chess 960) are being organized. We will get to those in a bit. For those unfamiliar to the Reykjavik Open, it is simply put one of the best organized open tournaments in the World. The job done by Gunnar Bjornsson and the entire organizing committee here in Iceland is absolutely top-notch, year after year. The event attracts all kinds of chess players; it is possible to find elite grandmasters, norm hunters, strong local players and even many tourists who want to play in a great event and see the wonders of Iceland. For me personally, Iceland is a sort of personal retreat. The tournament always has friendly faces, old and new, and a good time is always had. If the weather was a little warmer, I would say this is a nearly perfect open to play in. Even with the freezing temperatures, the Reykjavik Open has always been a pleasant experience. With the new direct flights from America it is not surprise that the representation from our country grows year after year. A few years ago it was necessary to stop in the east coast before landing in Keflavik Airport, but nowadays Wow Airlines and Iceland Air have expanded their "repertoire" to include LAX, ORD and other major airports. There are 23 players flying the American colors in Iceland, and they range widely in age and rating! Six grandmasters are representing us: myself, Kamsky, Lenderman, Friedel, Moradiabadi and Perelshteyn. Notable chess stream super star John Bartholomew is here trying to find his second GM norm, as is youngster Gabriel Bick, who recently scored his first. Our ladies are also representing us well: U.S. #3 Tatev Abrahamyan and reigning U.S. Women's Champion Sabina Foisor are here to test their mettle. The city of Reykjavik is relatively small, which in my opinion is perfect for this tournament. It is possible to walk everywhere, and the sights are simply beautiful. Also spectacular is the playing hall – the tournament is again held in Reykjavik's famous music hall, Harpa. On to the tournament! For the first time Reykjavik Open is using accelerated pairings, an uncommon practice in American opens. This method pairs top players more quickly than the standard method in opening rounds. The goal is to reduce the number of perfect scores rather early, with the idea that a true winner is determined in big opens. I've heard different arguments as to whether it increases or decreases norm chances, but to me it is unclear. It also causes players in the middle of the pack to sometimes swing wildly in opponent's strength. For example, American Haik Der Manuelian in his first four rounds faced Richard Rapport, followed by two players of 2000 strength, and then Erwin l'Ami. Not easy! After five rounds the Americans are doing fairly well. Lenderman is tied for 1st along with Sarin Nihal from India and Yilmaz Mustafa from Turkey. With four points, we have a small batallion: Kamsky, Friedel, Perelshteyn and myself! Here are some impressions from the tournament: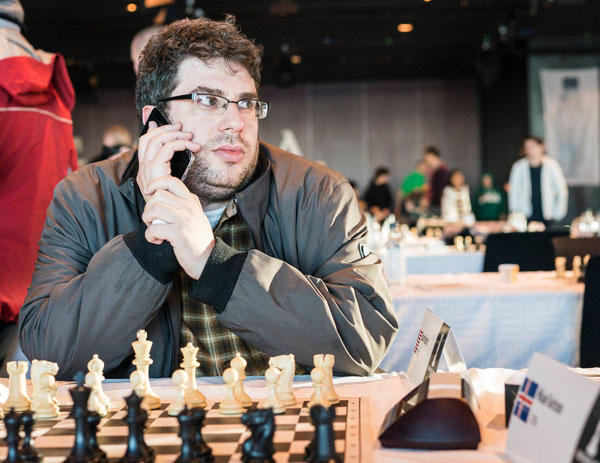 Norowitz phoning in a friend before the start of his game!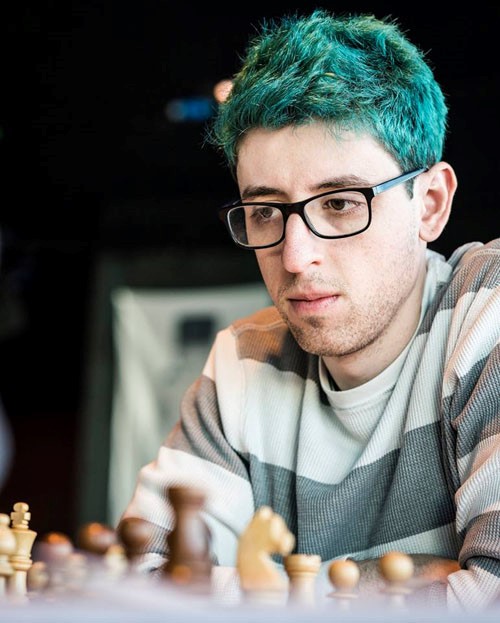 Popular chess personality from NorCal, Kostya Kavutskiy is sporting his blueish-greenish-some color hair. He is staying with GM Eugene Perelstheyn in an Airbnb, a pretty popular choice for players in this city.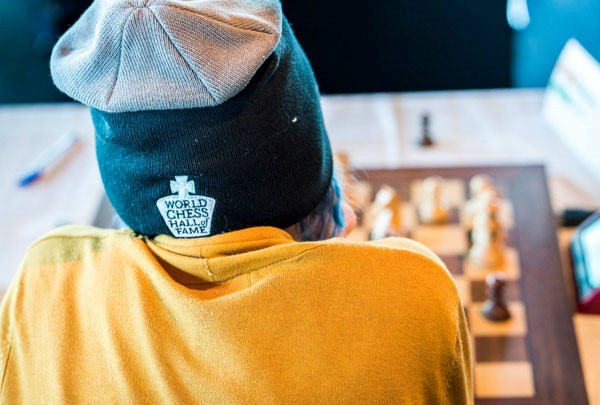 Another famous personality, sporting some gear from the World Chess Hall of Fame. Can you guess who it is? Hint: the purple and blue hair should give it away.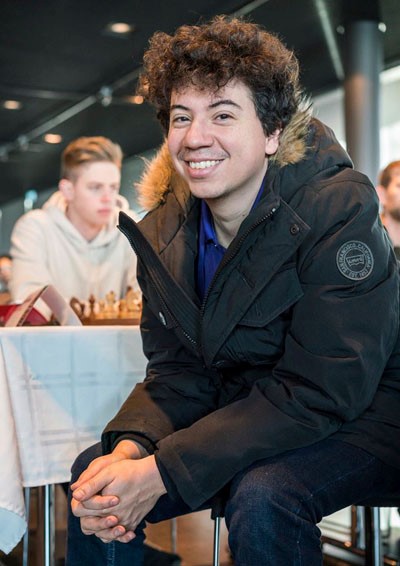 I arrived on the first round a bit tired – due to the Nor'easter Storm my flight was repeatedly canceled, and finally made it to Reykjavik at 6 am on the same day I played the first game!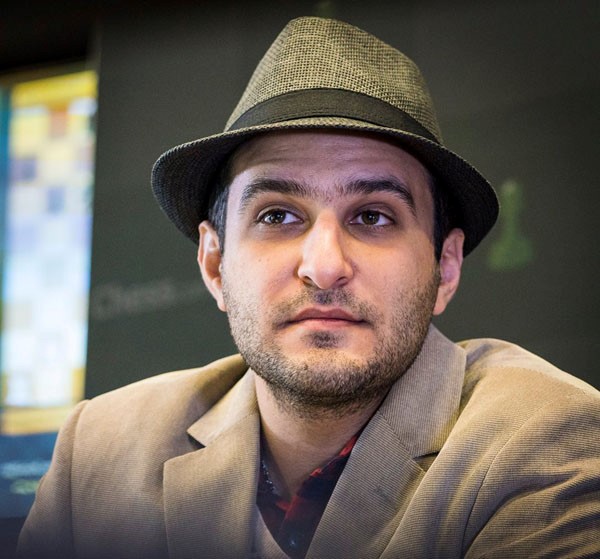 Elshan Moradiabadi with his signature hat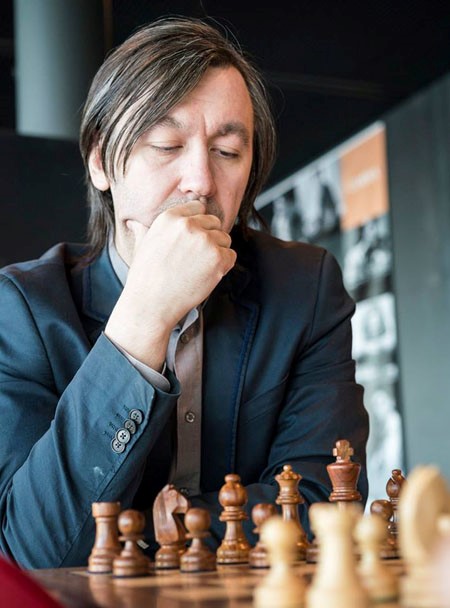 Gata Kamsky is a favorite in any tournament he plays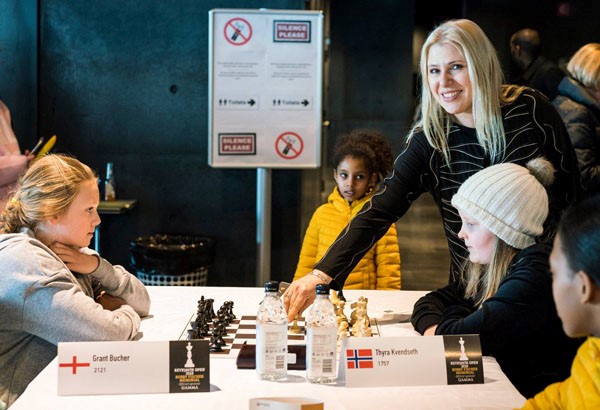 Susan Polgar is in town! She opened the all-girls tournament, paid her respects for her dear friend Bobby Fischer, and opened the Fischer Random.
The side events in Reykjavik are always entertaining. With the tournament being dedicated to Fischer, a series of Fischer Random side events were included. For example, Nihail Sarin, the prodigy from Indian, gave a Chess 960 simul. On the free day a relatively big side event was held: the European Fischer Random Chess Championship! This stacked tournament had most of the top grandmasters participating. The time control was very fast at 10+3, with a full nine rounds of Fischer Random action to play! The automatic generator would select the position minutes before the round started and off we went. Despite the name of the tournament, it was truly American dominated. The event was won by Aleksandr Lenderman, who just edged Elshan Moradiabadi on the tiebreak system. Rounding up the podium was Josh Friedel who won a spectacular attacking game against Gata Kamsky in the last round to clinch third. Richard Rapport won the best European player, and an extra 1000 euros. Lenderman took home 2000 euros – not bad for a side event! The action continues. Live commentary is being provided by GM Simon Williams and WIM Fiona Steil-Antoni. Make sure to tune in on the
Official Website
when you want a bit of a break from the Candidates! For more information, check out the
current standings.