15 American juniors have made the long trip to Mumbai, India, taking up the challenge of representing the United States in the 2019
World Youth Chess Championship
. The tournament runs from October 1st through October 13th. Supported by parents, friends, and a team of five from US Chess, including Head of Delegation GM Elshan Moradiabadi, three coaches (IM Armen Ambartsoumian, WGM Sabina Foisor, FM Aviv Friedman), and US Chess Executive Director Carol Meyer, the players are preparing for tomorrow's fourth round as this goes to press. Early this morning Mumbai time, which is 11.5 hours ahead of Eastern Daylight time, Meyer wrote from Mumbai:
The US Chess Delegation to the 2019 World Youth Chess Championship in Mumbai, India has been enjoying the warm and inviting welcome from the All India Chess Federation. Treated to a 2-hour opening ceremony on October 1, the delegation enjoyed various regional dances, music and welcoming messages from a number of Indian dignitaries. The World Youth Chess Championship kicked off with Round 1 on Wednesday, October 2. While some members of the US Chess delegation were having difficulty with their travel to India, the opening round featured a strong showing with 8 wins, 2 draws, and 2 losses. Heading into Thursday there will be Rounds 2 and 3, a grueling day and the only two-game day of the tournament. The World Youth Chess Championship delegation is supported by US Chess and team uniform sponsor, American Intercultural Education.
Here are the current point totals for the Americans after three rounds.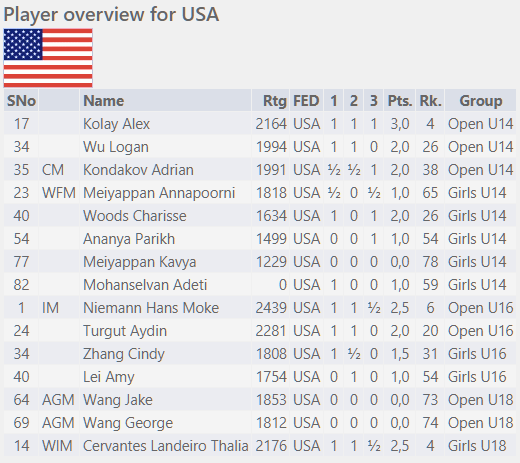 Notable results thus far include:
Alex Kolay, tied for first in the O14 with 3/3
IM Hans Niemann, tied for second in the O16 with 2.5/3
WIM Thalia Cervantes Landeiro, tied for second in the G18 with 2.5/3
Friday's pairings: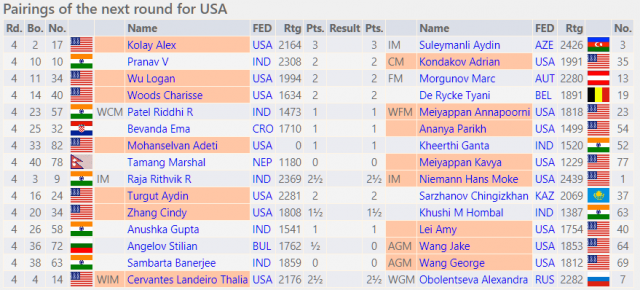 ---
Quick links:
Homepage
Schedule
Results:
Open U14
Girls U14
Open U16
Girls U16
Open U18
Girls U18
Team USA results
Live games