While at the Philadelphia Open earlier this year, I came into contact with a local chess enthusiast - Tom Nordeman. An ardent chess player, Tom, says that he is "intrigued by chess because it is so complex." He discovered chess when he started high-school, and since then, the game has remained a close friend of his. Tom suffers from a condition called cerebral palsy, however, which makes studying and playing chess harder.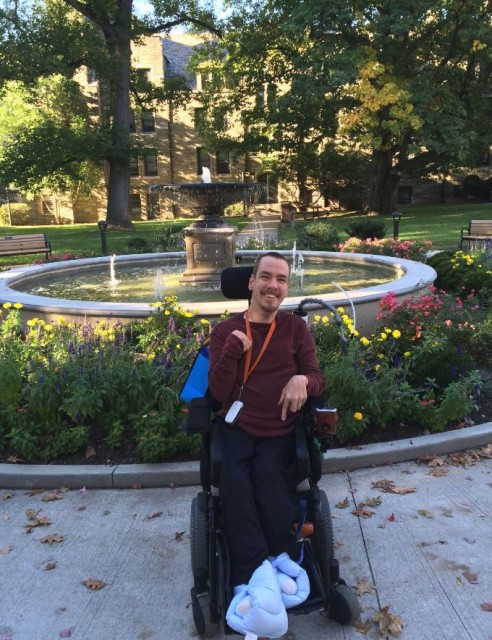 Tom enjoying the crispy Fall air in the beautiful courtyard of Inglis House, where he stays
We've had multiple informal online sessions over the past few months, when I review some of his games and advise him as best I can.  During these sessions, I've been able to glean that besides being an ardent chess player, Tom possesses a strong understanding of the game. During tournaments, there are some awkward situations Tom encounters. For example, sometimes his opponents accidentally forget to press his clock, an action Tom needs assistance in doing. His sad moments are when he is winning on the board, but ends up losing due to time pressure. There are also occasions during which he finds the opponents blitzing their moves out to win on time, when they find themselves lost on the board. Tom realizes these challenges but takes them in stride, and remains upbeat. I've played in Europe and Asia and typically in those locations, someone accompanies or is assigned to a player who needs such assistance with moves and clock. If Tom has no one to accompany him, then perhaps organizers can consider assigning some help, or obtain assistance from volunteers. This will allow Tom and others needing similar assistance to save time, while also not disturbing the concentration of their opponents. Maybe a "Helping Tom" list can be put next to the Pairing board, and volunteers can put their name for a reasonable time shift of thirty minutes. Most tournaments are teeming with parents and non-players, who would gladly help if informed and given a chance. It's inspiring to see how Tom is not allowing the difficulties he faces to stop him from continuing to play chess. I try to contribute to his zeal by helping him with sessions, but they're few-and-far-between. I hope this posting will inspire other chess enthusiasts to reach out to Tom. Tom can be reached at: ICC: Bugeyes Skype: Thomas Nordeman Email: Bigtom102004@yahoo.com Tom also wrote a bio of himself, which can be read
here
. You can also find a profile of Tom and the lessons he's received from members of the National Championship team,
Julia R. Masterman, in the October issue of Chess Life Magazine. 
 Find out more about Akshat on his website,
"Quest to GM."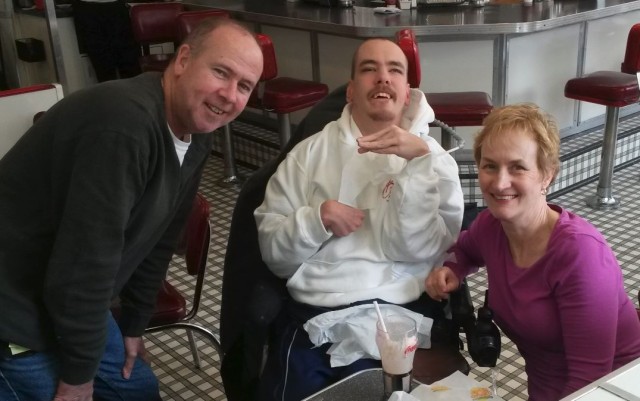 Tom with his parents, a few hours before his Philadelphia Open game, April 2015