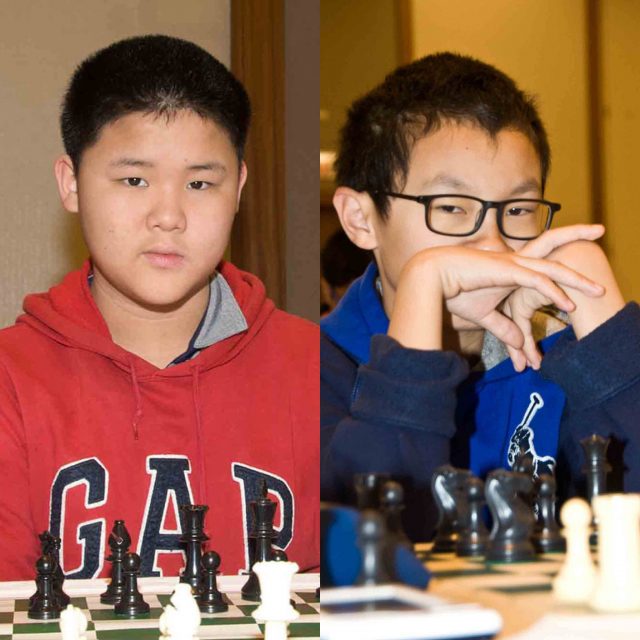 GM-elect Awonder Liang and Anthony Bi He. Photos: Betsy Dynako Zacate
Film synopsis: Youngsters Awonder Liang and Anthony He find themselves fighting for the fame that will keep them on the upper boards in 2010s Chicago.
Writer and Director: Ian Rogers
Stars: Awonder Liang and 

Anthony He
Plot:
Set at the Westin Chicago North Shore Hotel, 14-year-old
Awonder Liang dreams of earning the Grandmaster title at the Chicago Open
. A 12-year-old, Anthony He, stands in his way and their battle turns into a media circus, with musicians desperate for a cameo, however short. Eventually, with a spectacular pair of sacrifices, Awonder triumphs.
Storyline:
Awonder Liang and Anthony He enter for the second round of the Chicago Open.
1.e4 c5
Anthony He - I'm back in black.
2.Nf3 Nc6 3.Bb5
Awonder Liang - In the search for the Grandmaster title, the Dragon remains hidden.
3...g6 4.Bxc6 bxc6!?
AH – Fashion. [4...dxc6 is the old line.]
5.0-0 Bg7 6.Re1 Rb8 7.h3
7...Nf6
If 7...Bxb2?! 8.Bxb2 Rxb2 9.Qc1 Rb7 10.Qa3 d6 11.e5± or 7...Rxb2?! 8.Bxb2 Bxb2 9.Nc3 Bxa1 10.Qxa1±
AH - I guess I'll have to change my plan.
8.e5 Nd5 9.c4 Nc7 10.d4!
AL – I'm a firestarter.
10...cxd4 11.Qxd4 Rb7 12.Qh4 Ne6 13.Nc3 f6 14.Bh6 0-0 15.Bxg7 Kxg7 16.b3 Rb8 17.exf6+
17..Rxf6?!
AH - That was my mistake. (17...exf6!)
18.Nd4! Nc5?!
AL - The wrong direction/ [18...Nxd4]
19.Qg5! Nd3
AH - How am I gonna make it better if I can't go back?
20.Rxe7+!
AL - You've been thunderstruck.
20...Qxe7 21.Nf5+
AL - It's no sacrifice at all.
21...Rxf5 22.Qxe7+ Kg8 23.Qd6! Rb7 24.Qxd3 1-0
AH - This is the end my friend.
AL - It could only happen in a town like this - Chicago is my kind of town.
The players leave the stage but the soon-to-be second youngest GM in US history Grandmaster A Wonder returns for an encore (with cousin Stevie) for their version of (Grand)Master Blaster – as Liang sings (quietly) "Though the world's full of problems, they couldn't touch me even if they tried."
** Please add your review of this film. 1 Review: Tuneful entertainment with a message by A-Wonder Fan Stars: ********* 'A Wonder in Chicago' represents the latest salvo in a mini-revival of one of FIDE's most venerated genres: the live-action chess musical. Since the end of the golden age of big-budget studio song and dance extravaganzas, chess musicals have appeared only at irregular intervals, and most have met with mixed critical response. At first I wondered if 'A Wonder the Musical', featuring a 12-year-old and a 14-year-old and an eclectic selection of music, could compete with classics like 'Chess – The Musical' and
'Nakamura-Carlsen – The Musical'.
I should never have doubted the director and the stars, who have created an epic film. Featuring two numbers where the lead guitarist is in school uniform is a brilliant touch, and to have our hero defeat the (admittedly self-described) strongest person in the universe, He-Man, was unexpected indeed. I predict a brilliant future for both of the musical's stars, but whether they will ever feature in a better production than 'A Wonder in Chicago' is a debatable point.