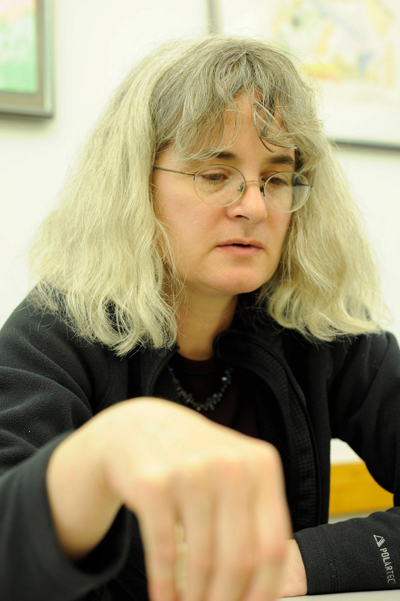 Maret Thorpe
Photo Tae Moon
"I'm so honored to have made it on to the first iteration of the Top Women Age 50 and Over!  I hope these newly added lists encourage more women of all ages to play chess, and I hope to make it closer to the top of the list one day!"- Karen Boyd
"(These lists) would be the greatest encouragement for my daughter, Zihui" - Ling Ling
Last month US Chess wrote to me: "Dear Maret, You are in the running to be included in at least one of our Top 100 lists for January 2016. In order to be included in these lists, we need to verify your birth date and gender." That was surprising but pleasant news to receive. After all, my ratings stand at 1003 regular and 971 quick. But USCF now publishes Top 100 lists for "
Women Age 50 and Over
" and
"Quick Rating Women Age 50 and Over."
At last, Top 100 lists for me! I'm not the only one who now finds a place on USCF's top player lists. In January 2016 the US Chess Federation Board added a whole series of Top 100 lists. We now have girls-only lists broken down into individual years. Lists were also added for regular, blitz and quick chess, and for women over 50 and senior women. It's OK to laugh at my spot on two women's Top 100 lists. I'm wearing a sheepish grin, myself. I know where I stand in the chess universe. I would miss the cut for the overall Age 7 and Under list by 20 points. Some will say the new lists are a lot like kindergarten participation medals: You came, you played, you may have lost all your games, but you stayed until the end, so you get a medal. I will not deny that I make the new list because, like the kindergarten medal winner, I showed up. But showing up in chess is half the battle. I know players — ones whose ratings I would love to have — who gave up rated play to avoid dropping to the next lower class. You can question my place on a top-100 list, but the higher reaches of the women's over-50 list recognizes those who remain active even though they may no longer be at their peak. Like Michael Jordan or Judit Polgar these players could have retired at the top of their games, but why stop pushing wood if you still enjoy playing and are still learning? Some argue against separate lists, titles and prizes for girls and women in chess. They say chess is not like athletics, where physical size and strength differences give men an advantage; therefore, we shouldn't have separate (read: watered-down) lists, titles and prizes for female players. That would be fine, except if you look at the overall lists, titles and prizes, you see very few women. There is not a single woman on any of the three overall Top Age 50 and Over lists, and there are few girls on the youth age-group lists. One might think there are very few women and girls playing. We need gender-based lists because that's the only way a sizable number of women and girl players can be visible right now. We haven't adequately explained why so few women have reached the highest reaches of chess, and we won't solve that problem any time soon. But with one sweeping gesture US Chess has begun solving the visibility problem for women in chess. None of the single-year age group girls' lists are full; they each have between 40 and 91 players. The women over 60 and the senior women's lists are even smaller, ranging from 58 on the Top Women 50 and Over list down to
one sole woman on the Blitz Senior Women's list.
If you are a girl playing chess or a woman over 50 playing chess, you automatically make a top-100 list. (US Chess still lacks gender and age data on some member records. Contact Susan Kantor at
SKantor@uschess.org
if you notice a player missing from a Top 100 list.) I made two top-100 chess player lists because there are so few women past age 50 who play chess. That's a real shame. There's no good reason why other women shouldn't love this game as much as I do. It can't help that the game they see in the lists looks overwhelmingly male. Some ask why US Chess now has Top 100 lists for categories that don't even have 100 active players. How meaningful is a Top 100 list where every participant makes the list? Any woman or girl could sign up for US Chess, get a 101 rating and be on a top-100 list. I suppose the hypothetical Jane Doe might do that as a stunt. But I find that unlikely. It's more likely she'll never make it to 26 rated games. Chess is hard, as my expert-rated friend says, and many players – male and female – give up after a few rated games. Or maybe something different will happen to Jane. Other players might go over her games and show her interesting and beautiful and exasperating things about chess that never occurred to her. She might get better, have some close games, even draw or beat a much-higher-rated opponent. Two things have happened: Jane's not rated 101 anymore, and she has become a chess player. The US Chess Federation might have empty spaces or low ratings on Top 100 lists now. But the lists will fill, and the cut points will get stronger. In the meantime every girl and woman chess player will be working to move up, because a list, weak or strong, is another performance benchmark, another milestone we can reach for. In this sense, these lists are for
us
– for girls and women who play chess — and US Chess is finally serving us as it has served male players. I want some woman my age to look at my 1003 rating on that list and say "Hey, I'm already over 1400 on chess.com. I bet I'd be higher than her that US Chess list." In some ways I look forward to the day when I fall off the bottom of the Top Women Age 50 and Over lists. It wouldn't be the first time a US Chess gender-based list got stronger. The lowest rating on the girls under age 16 list rose from 1343 in October 2006 to
1627 this past December,
an increase of 21.1 percent. By comparison, the lowest rating on the general Top Age 15 list moved from 1723 to 1942 (a 12.7 percent increase) during the same period. You bet I want other women and girls to show up, because that's where it starts. Where it goes from there is up to them. I will be delighted if they join me in this game, and I will keep working hard to keep my spot on the lists.
Maret Thorpe is a US Chess Federation Senior TD, chess organizer and chess player in Illinois. In her working life she is a graphic designer for print and web. Find the most recent Top Rating Lists here.