(NASHVILLE, TN) 
The United States Chess Federation (US Chess) and the U.S. Chess Trust are pleased to announce the winners of the 2017 Scholar – Chess Player Awards.  The winners were announced at the SuperNationals VI (Nashville, TN) by Sunil Weeramantry, Scholastic VP for the US Chess Trust and Beatriz Marinello, US Chess Trust Trustee. The Scholar-Chessplayer Awards program was established in the 1980s, and is administered by the US Chess Federation and the US Chess Trust. These annual scholarships awarded by the U.S. Chess Trust, the National Scholastic Chess Foundation, and US Chess, are "intended to recognize and encourage high school junior or senior students who promote a positive image of chess." High School students who have shown outstanding merits in academics, sportsmanship and chess were eligible to apply for these scholarships. Five awards of $1,500.00 each (total of $7,500) in scholarship money are awarded. The funding for this program is provided by the US Chess Trust, a 501(c)(3) organization and the National Scholastic Chess Foundation. The five winners for 2017, in alphabetical order of their last names, are:
Ethan Li (NY)
Zhaozhi (George) Li (IL)
Prateek Pinisetti (AZ)
Joshua Sheng (CA)
Warren Wang (NY)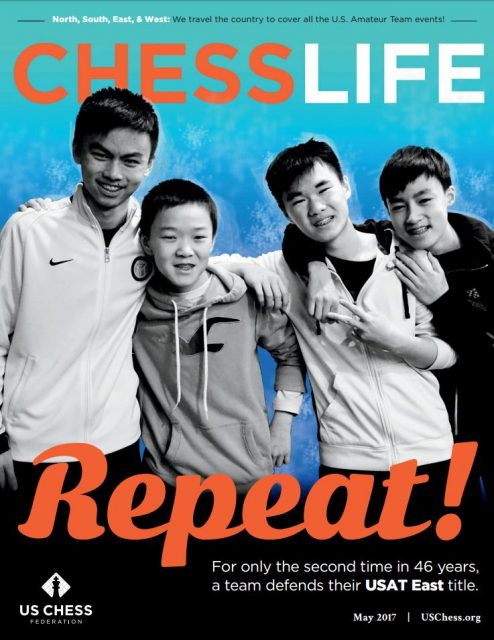 Two of the winners, Ethan Li and Warren Wang, were members of the repeat Championship team at the US Amateur Team East, and appeared on the May cover of Chess Life Magazine.
Past Recipients:
2016
IM Safal Bora, MI WIM Agata Bykovtsev, CA IM Akshat Chandra, NJ IM Daniel Gurevich, GA NM Christopher Yang, PA
2015
Jackson Chen, CO Rachel Gologorsky, FL Simone Liao, CA Akshay Malhotra, TX Darwin Yang, TX
2014
Jeevan Karamsetty, VA Varun Krishnan, CA Aleksandr Ostrovskiy, NY Arthur Shen, NJ Atulya Shetty, MI
2013
Miles Hinson, NY Anna Matlin, NJ Kevin Mo, PA Benjamin Tong, CA Thomas Ulrich, WI
2012
Yang Dai, VA Joshua Mu, NC Andrew Ng, NJ Jesse Orlowski, CA Alexandra Weiner, CT
2011
Chaz Daly, FL Andrew Ng, NJ Eigen Wang, NY Kevin Zhang, AZ Andrew Shvartsman, NJ
2010
Rohan Agarwal, CA Richard Herbst, CO Abby Marshall, VA Jake Miller, NY Victor Shen, NJ
2009
Adithya Balasubramanian, VA Robert Lau, HI Haotian Zheng, CT Michael Thaler, NY Troy Daly, FL
2008
Sarkis Agaian, NY Jonathan Cox, AZ Benjamin Marmont, AZ Michael Sobin, NJ Adam Weser, NY *******
US Chess
is a 501©(3) organization dedicated to promoting chess in the United States. Founded in 1939, US Chess serves as the governing body for chess in the United States and is headquartered in Crossville, Tennessee.  US Chess is devoted to extending the role of chess in American society.  It promotes the study and knowledge of the game of chess, for its own sake as an art and enjoyment, and as a means for the improvement of society.  To make a tax-deductible donation to support US Chess visit
www.uschess.org/donate
.
The U.S. Chess Trust
is a 501©(3) organization. Founded in 1967, the Trust was created to promote and encourage the study and play of the game of chess as a means of intellectual development. The Trust uses its resources for charitable purposes, including social, educational, scientific and historical endeavors. All donations are tax-deductible. Visit the US Chess Trust website at
www.USChessTrust.org
to learn more.
The National Scholastic Chess Foundation (NSCF)
is a non-profit foundation organized for educational purposes under section 501(c)(3) of the Internal Revenue Code. The NSCF was created in 1991 as a merger between the Westchester Chess Foundation (founded in 1985) and the Fairfield County Chess Foundation. The Executive Director of the NSCF is FIDE Master Sunil Weeramantry. For additional information on the NSCF see: www.nscfchess.org.