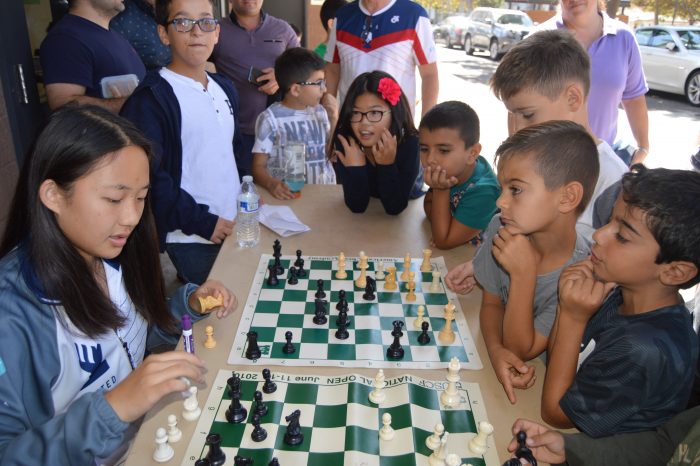 Annie Wang taking on all challengers at the Back to School Championship. Photo: Robert Romano
The third annual Back to School Championship took place on Sunday, October 8th in Glendale, California. The championship is hosted by the American Chess Academy (ACA) and is one of the strongest scholastic tournaments in the Los Angeles area. This year's edition featured a special treat, as the newly crowned U16 Girls World Champion Annie Wang made an appearance and spent some time with the players. Annie was instantly surrounded by young fans who were eager to play her and collect her autograph. As a local player, Annie is quite well known in both scholastic and adult chess circles alike.  Her accomplishments include becoming the youngest female to earn the master title at age 11 (a record that has since been broken by Carissa Yip), qualifying for the US Women's Championship at age 13, and recently becoming the only US player to win gold at the 2017 World Youth Championship in Montevideo, Uruguay last month. Annie's superhuman score of 10.5/11 has made her a household name in the American chess community.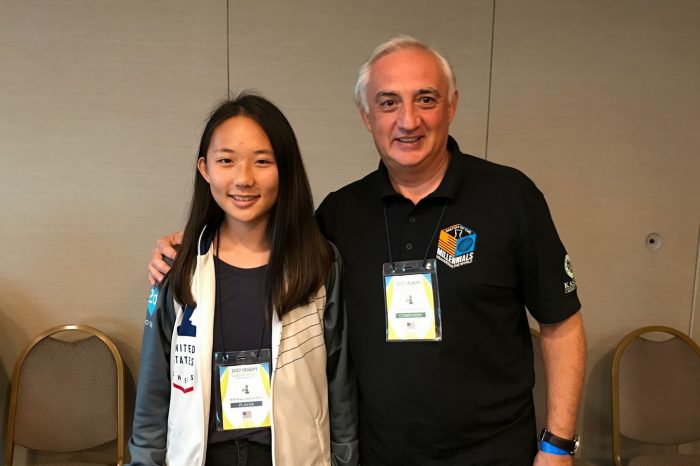 Annie with World Youth Coach and ACA founder Armen Ambartsoumian, after winning gold in Uruguay
Annie has attributed her success at the World Youth to coaches Armen Ambartsoumian and Melikset Khachiyan, who worked tirelessly to ensure she was well prepared for each game.
"Working with Armen was great, as usual. I think it's really nice to have a USCF coach at World Youth who knows you and your playing style and can help you effectively. Other than Armen, my private coach, Melik, also contributed a lot to my success in the tournament. He was willing to wake up every day at 6:00 AM to help me with my preparation for that day's round, and I'm really glad that he can finally get some sleep now." -Annie Wang
Annie is very much a product of the local scholastic scene and has attributed much of her success to local chess clubs Beyond Chess, ACA, and Coach Jay's Chess Academy. She learned to play chess under the tutelage of Ben Deng and Sarah Lu at Beyond Chess, another Southern California scholastic chess powerhouse.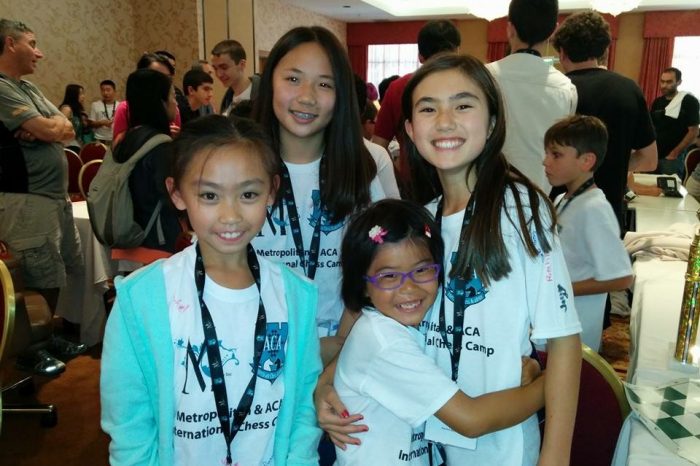 Annie with Rianne Ke, Joy Chu, Rachel Burak at the 2014 Metropolitan and ACA Chess Camp
Even though Annie was never an ACA student, she had attended several of the camps organized in collaboration with Metropolitan Chess Club, naming the 2014 edition with Levon Aronian as her favorite. She found the camps to be vital to her improvement, while Coach Jay's scholastic tournaments provided Annie with her first major tournament experience as a chess player.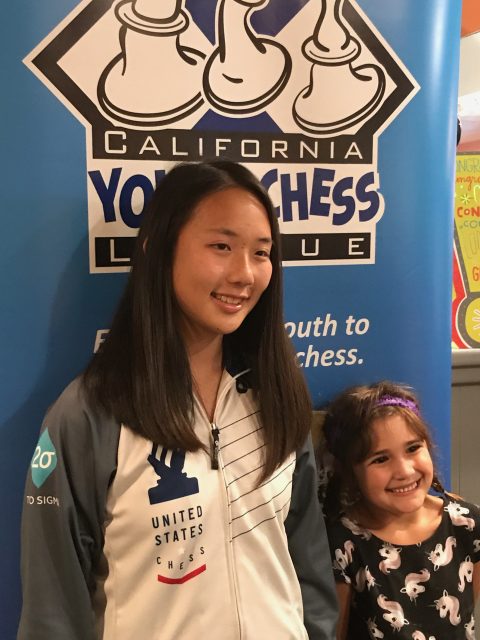 Annie with a young fan at Jay Stalling's event
Annie also recently gave back to the chess community by attending another event organized by Jay Stallings in her home town of La Canada, California to a rousing reception by the kids from a chess club at a nearby school. Over 50 local fans turned up to congratulate her and celebrate her World Youth performance. Southern California chess players and fans will keep cheering for Annie as she has her eyes set on passing the 2400 rating mark and earning IM norms.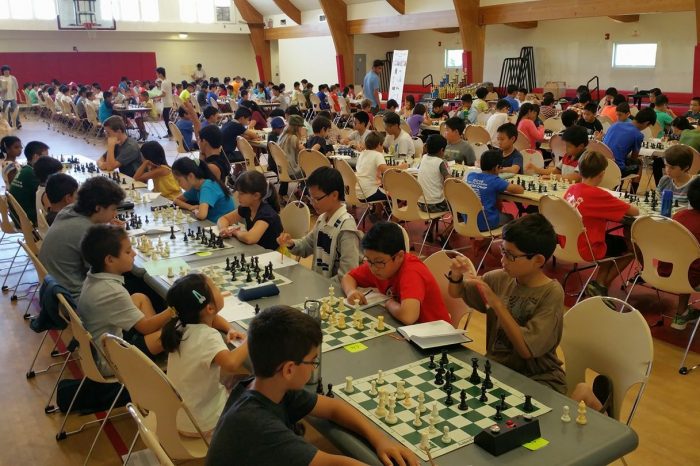 The Back to School Championship tournament hall 
The setting of the Back to School Championship is the Maple Park Community Center, which provided a spacious playing hall on the second floor as well as other amenities such as a computer room, a game room with air hockey and ping pong tables, and a full kitchen, which is a popular hangout for the parents during the rounds. The surrounding park combined with the sunny Southern California weather is ideal for a scholastic tournament, allowing the kids to enjoy the playground, play soccer, or, at the very least, take in some fresh air in-between rounds. The tournament featured 5 sections, ranging from the competitive K-12 Open to an unrated section for kids completely new to the game. This year's event attracted 178 players. The K-12 Open section was won by the top seed, Shiyan Shen, who entered the tournament with a 2200+ provisional rating and scored a perfect 5-0. There was a 5-way tie for 2nd between Tara Martinez, Marat Zargaryan, Gabriel Lin, Suren Mikoyan, and Ellie Zhang, each scoring 4 points. Tara, the highest rated female of the event, had the highest tiebreaks, and her only loss was to the winner of the tournament. She has been improving rapidly and has gained around 135 rating points in less than two months. Tara moved to Southern California with her family about a year ago and regularly helps out with the beginner groups at ACA. Her mother, Anthea Carson, is also an ACA coach and a co-author of a series of books called
Tactics Time
. The K-12 Under 900 section ended in a tie between George Li and Alexander Bai. Both winners finished the tournament with a 100+ point rating leap. George crossed the 1000 mark, reaching 1017, while Alexander is inches away at 995. The only other perfect score was achieved in the K-8 U600 section by ACA student Daniel Eitan, who also finished a full point ahead of the field. Aaron Grimm and Aramo Dirmesropian tied for 1st in the K-4 Under 300 section, going undefeated with 4.5 points each. The American Chess Academy was founded by IM Armen Ambartsoumian in 2008 and has become one of the prominent chess clubs in Southern California. Beyond scholastic tournaments, the ACA runs regular weekly classes, after school programs, and camps. In addition, for the past three years ACA has been collaborating with the Kasparov Chess Foundation in organizing a two-day scholastic event, the annual Greater California Championship, which unlike most scholastic events offers money prizes. Unsurprisingly, this has become the most popular event of the tournament series, drawing over 200 participants. ACA also has some of the top players in Southern California as coaches, such as IM Andranik Matikozian and myself. The next ACA scholastic tournament is the annual
L.A. Holiday Championship
on Sunday, December 3rd, which will also be held at the Maple Park Community Center. For more information, visit: