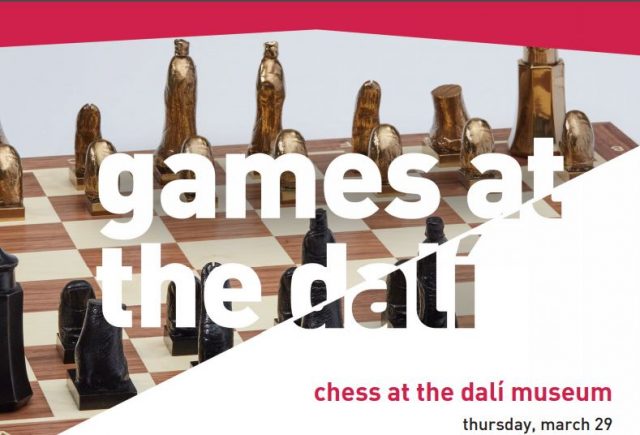 US Chess is coming to Florida! On Thursday, March 29th, US Chess partners with the Dalí Museum in St. Petersburg, FL to showcase chess. Throughout the month of March, the museum with feature chess-related activities, including movies and other special events. On 
Thursday March 29
, The Dali will feature a 
full day
 of chess-themed events including: 10:30 – 11:30am
Lecture "Duchamp Through the 64 Square Looking Glass" with Jennifer Shahade
a chess champion, commentator, co-author of
Marcel Duchamp: The Art of Chess
and US Chess Digital Editor.  Shahade will talk about Dalí and Duchamp's chess connection and explore highlights of Marcel Duchamp's chess career, while showing some of her own projects inspired by Duchamp, such as Roulette Chess, Naked Chess and Hula Chess.  Shahade is also a board member of the World Chess Hall of Fame, a PokerStars Ambassador and author of
Play Like a Girl!
and
Chess Bitch
.  Cost: Free.  Will Raymund Theater. Check-in 10am.   
www.thedali.org/event/dali-talks-duchamp-64-square-looking-glass
10am – 4pm
Chess Games at The Dali: Open Chess
   Tampa Bay area ranked chess players (seniors, adults, young adults, teens) will play each other for Museum visitors to observe throughout the day.  Additional chessboards will be available for visitors to play spontaneous games.  US Chess Federation Executive Director Carol Meyer, members of the St. Petersburg Chess Club, Acor Chess Academy and other area chess club members will be available to coach and answer questions about the game of chess. Cost: Free. Raymond James Community Room
www.thedali.org/event/games-dali-open-chess-play
5:30pm to 6pm
Surreal Simul Chess Games
event players check–in & table assignments. A simultaneous chess is a game in which one player (typically of high rank, such as a grandmaster or master) plays multiple games at a time.  Often referred to simply as a "simul."  Games last 1 ½ to 2 hours.  All Simul player participants are eligible for Surreal Prizes. Pre-registration required.
Surreal Simul Chess Games
will be led by:
Woman Grandmaster Jennifer Shahade against 20 players
Federation Master & Florida Speed Chess Champion 2017, Corey Acor against 20 players
Antony Gospodinov, 11 year old A player. Two Time National Champion & Two Time Florida State Champion for Scholastic Chess against 20 players
Surreal Simul Games Arbiter: Gene Randolph, President, St. Petersburg Chess Club
6pm to 8pm
Surreal Simul Games
Pre-registration required.  Event chess players will be assigned Simul table by lottery.  Three Surreal Prize winners per table.  Games begin promptly at 6pm. Please arrive early for check-in.  If Simul event player is a youth (Under 18, one adult/parent can accompany for viewing with no charge).  $5 fee. Raymond James Community Room.  Sign-up soon, places will fill fast.   For registration go to: 
www.thedali.org/event/games-dali-surreal-simul-chess
The chess play will tie into the show on display at the Dalí until May 27, Dalí/Duchamp. Parking is free for Dalí Members, as available; $10 parking for non-members.  Parking is free after 5pm
For more information:  727-823-3767 | TheDali.org | One Dalí Blvd, St. Petersburg, FL 33701