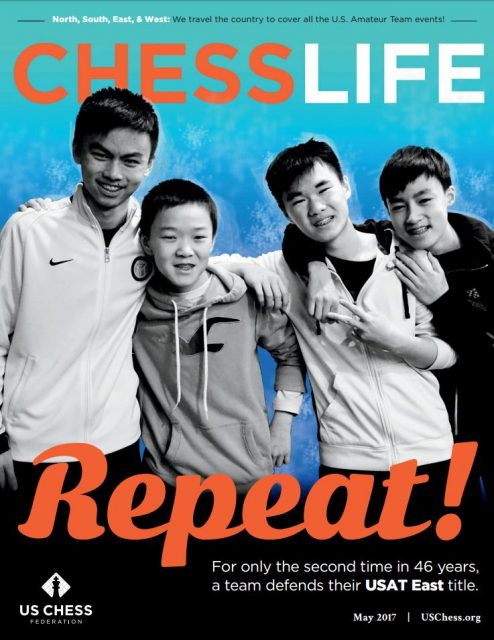 Will it be a threepeat? Two-time US Amateur Team Championship, Summer Chess Academy for Talented Youth on the cover of the May 2017 Chess Life Magazine.
Three of the four US Amateur Team Championship events go down this weekend, including the World Amateur Team in Parsippany, New Jersey. Interest is so high for the event, also known as the
US Amateur Team East (Feb 17-19)
, that organizer
Steve Doyle has set a 315 cap of entries.
Vanessa Sun will be reporting on the event for US Chess, and her work will be complemented by photographs from Jim Doyle.
The US Amateur Team West, hosted by Bay Area Chess
starts tomorrow in Santa Clara, California. Grandmaster Priyadharshan Kannappan is playing first board for the top seeded team XcellCHESS, and will write about the event for US Chess. Kannappan recently contributed to US Chess
on playing the Pan-Ams for Webster
.
See the full list of pre-regged teams for the US Amateur Team West here. 
The US Amateur Team North
will be held in Schaumburg, Illinois from February 16-18, and Betsy Dynako will report and photograph.
Find the most recent list of pre-registered teams here. 
Ben Silva summarized the electric atmosphere of US Amateur Team Events
in his article last year on Mode Beast's victory
in the South.
I am 99.99% sure that chess was brought to planet Earth by aliens. I know historians have proposed India or China but I think they have the birthplace mixed up with the spaceship-landing site. How else can I possibly explain what I witnessed over this weekend? What else, besides an alien encounter, would draw men, women and children of all ages and all cultures from all corners to converge at four calculated points on one weekend? There was no prize money; the reward was the shared experience and there will be no better word I write from here on out that better exemplifies the spirit of the Amateur Team tournaments than that. Shared.
Also follow along on our social media networks, @USChess on twitter and facebook.com/uschess. Use the hashtag #USATChess to join in the conversation. The US Amateur Team South is in Florida the following weekend, February 24-25.