Three of our young players, GM Awonder Liang from Wisconsin, WIM Emily Nguyen from Texas and WIM Jennifer Yu from Virginia traveled to Tarvisio, Italy to represent US Chess at the 2017 FIDE World Junior and Girls U20 Championship. In the Junior U20, our official representative Awonder Liang is the 14
th
seed in a super strong field which includes 24 GMs and 43 IMs among the 150 participants!  Awonder owns just about every youngest-ever record in US Chess, and is currently the youngest GM and the top-rated player in the world under the age of 15.  He is also a two-time Gold Medalist at the World Youth Chess Championships. He won the 2017 U.S. Junior Championship this summer, which earned him a spot at the 2018 U.S. Championship.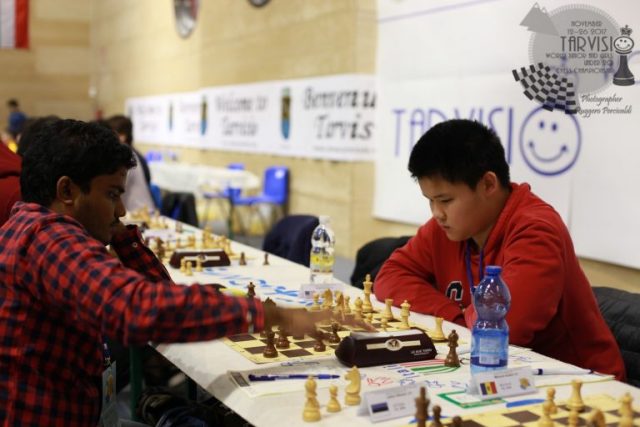 Awonder Liang at the World Junior Open,
More photos on official site.
In the Girls U20 Championship, our official representative Emily Nguyen and former World Youth Champion Jennifer Yu are also in a very strong field that includes four IMs, three WGMs and 23 WIMs among the 89 participants.  Emily is the 2016 U.S. Junior Girls Champion and a participant at the 2017 U.S. Women's Championship.  Jennifer earned the Gold Medal in the U12 Division of the 2014 World Youth Chess Championships.  She is also a three-time winner of the National Girls Tournament of Champions (formerly NGIT), a participant at the 2015 – 17 U.S. Women's Championship, and a member of the team that represented USA at the World Team Championship.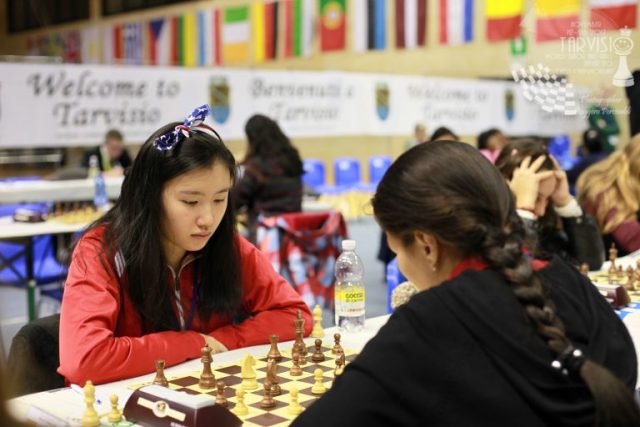 Jennifer Yu at the World Junior, 
More photos on official site.
After four of 11 rounds, only two players remain 4-0 in the Junior Championship, with Awonder in a group of nine players only half-a-point behind, tied for third.  In the Girls Championship, only one player remains 4-0, while Jennifer, with 3.0 points, is in a 14-way tie for 5
th
place, and Emily is even for the event with 2.0 points. A lot of action still remains.  For information, games and photographs, please go to the event's website,
http://www.fideacademy.com/wjcc2017/
.  Pairings and standings are available at
http://chess-results.com/tnr305835.aspx?lan=1&art=0&flag=30&wi=821
.