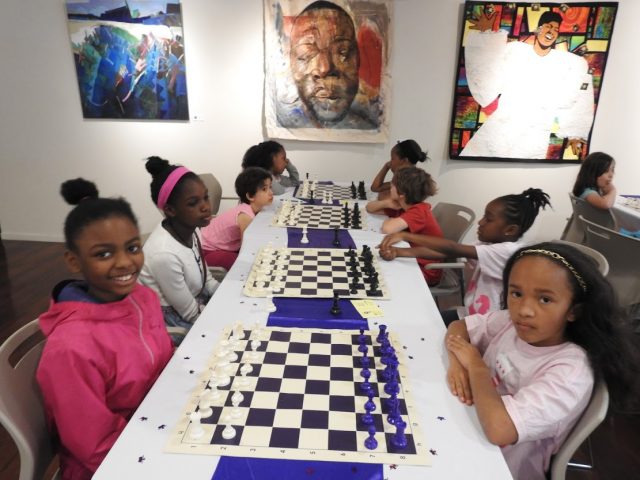 On October 14, 2017, Chess Girls DC, a local DC Non-Profit, in partnership with Capital Area Chess, directed by Anand Dommalapati
,
Chief Tournament Director and Arbiter hosted the 1st All Girls Regional Mid Atlantic Chess Tournament. The tournament was held in the beautiful Homewood Suites hotel Washington, DC. This location served as the perfect venue as the actual competition room was located between great views and exited to a balcony which overlooked the vista of Downtown Washington DC, including the US Capitol This tournament was a splendid event with girls participating from New Jersey, Delaware, Pennsylvania, Maryland, Virginia and the District of Columbia.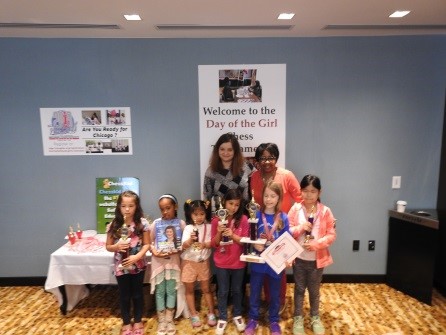 Present at the tournament as a very supportive guest was Woman Grandmaster Sabina Foisor, our 2017 United States Womens Chess Champion.  She analyzed the games of the participants as they finished their rounds, took pictures with them, spoke with parents and gracefully traversed the sections throughout the entire tournament. Grandmaster Sabina Foisor also donated her time as she performed a fundraising Simul the previous night at the Pepco Edison Art Gallery in downtown Washington, DC. Sabina told US Chess, "The events were beautifully organized by Robin and the girls were super excited." Attending the tournament as well as participating in the Simul challenge was our own National Master David Bennett. Mr. Bennett has devoted his time talent and resources to Chess Girls DC for over a year and volunteers each week to teach our students. Special thanks to Grandmaster Foisor as this was a gracious effort initiated by her solely to raise funds for Chess Girls DC, a Non-Profit, whose mission is to build the confidence of Girls using Chess as a tool.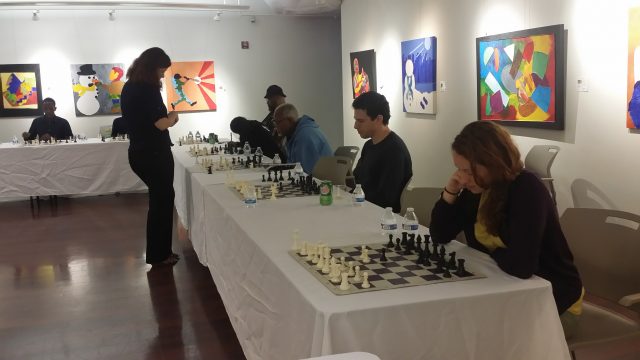 Sabina at the Friday night fundraising simul
A graduate of University of Maryland Baltimore County (UMBC), Ms. Foisor heard that Chess Girls DC was hosting the first Regional Mid Atlantic All Girls Tournament and she immediately offered her philanthropic resources to the support the entire event. Grandmaster Foisor was excited to come back to the area which was formative to her development as a chess player and support an organization which serves young female chess players through coaching and financial resources. Also attending the tournament as a special guest of Chess Girls DC was Ms. Donna Cooper.  Ms. Cooper welcomed all the participants to the District of Columbia and applauded their hard work and dedication to the intellectual sport of Chess. Ms. Donna Cooper is the President of Pepco, a subsidiary of Exelon Corporation and is very supportive of the Mission of Chess Girls DC! As the President of Pepco, Ms. Cooper is a perfect example of a Woman in a Leadership Position and has previously been a guest speaker at Chess Girls DC's Women in Leadership Series; a great example for all of our girls!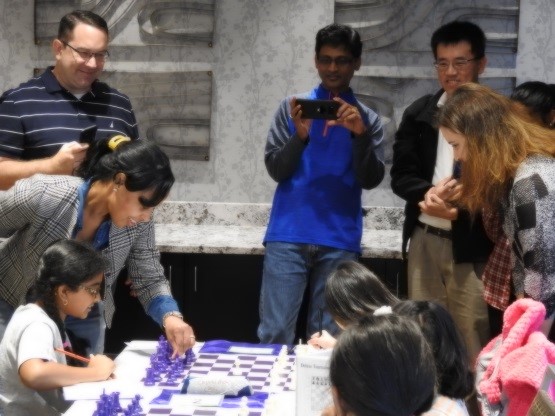 Above, Grandmaster Foisor and Ms .Donna Cooper made the honorary first moves on the first chess board.  The sections were under 8, under 10, under 14 and unrated. Top placement in the under 8 category are as follows: 1
st
place,
LILA QUINN FIELD
 of New Jersey, 2nd place,
KELSEY ROUTMAN
 of Virginia, 3
rd
place
LILLIAN POLIQUIN
  of Delaware, 4
th
place,
ELLIE XU
   of Maryland Top placement in the under 10 category are as follows:
1
st
place,
CHANCE NGUYEN
of Virginia, 2
nd
place,
ROWAN SORAYA FIELD
of New Jersey, 3
rd
place,
LILIAN WANG
of Pennsylvania, 4
th
place,
SARAH RAMSON
  of Washington, DC Top placement in the under 14 section category are as follows:
1
st
 place,
SKYLAR HSU
of Maryland,  
2
nd 
place,  
ALLISON TAY
of Virginia,
3
rd
 place,
RITVIKA PALANI
of Virginia, 
4
th
 place,
TOGZHAN ZHUMADIL
  of Maryland The tournament also had an unrated section which was included to encourage all girls who have recently chosen to embrace chess as sport and confidence builder. We are looking forward to assisting and encouraging all of them to enter the rated tournaments in the near future. It was such a pleasure to see them stay focused and compete during their tournament play. Everyone was a WINNER on this day……!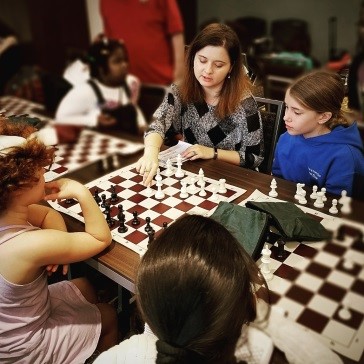 Sabina analyzing with girls 
The goal of this inaugural event was to build the confidence of girls as it relates to participating in national and regional tournaments. Chess Girls DC confirms that this will be an annual event to bring girls together in the southern mid-Atlantic region to compete and hopes that this tournament and subsequent tournaments will inspire more girls to participate in the Annual All Girls National Tournament in Chicago. In addition to a beautiful trophy, the 1st Place winner of each section won a gift certificate for entrant fee to the KFC All Girls National Tournament in Chicago. Also, all Girls received a custom medal commemorating the1st All Girls Regional Mid Atlantic Chess Tournament.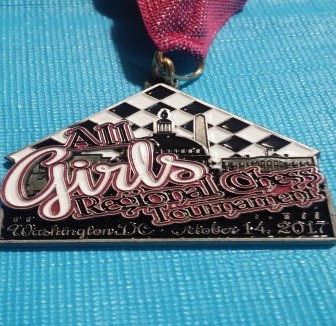 Special thanks to the Sue & Dewain Barber, Ben's Chili Bowl Foundation, The Utopia Group LLC, Capital Area Chess LLC, Wards 3& 4 Prevention Center, PEPCO HOLDINGS LLC,