Results are in at the
Denker Tournament of High School Champions
 (click link for pdf of final results),
Barber tournament of K-8 Champions
and
National Girls Tournament of Champions.
Rochelle Wu of Alabama took clear first in the NGTOC with 5.5/6, while Annie Wang of California took clear second with 5/6. Rochelle takes the title and the $5000 scholarship donated by Richard and Barbara Schiffrin. https://twitter.com/USChess/status/892453772525547522 Four players tied for first in the
Denker Tournament of High School Champions,
all with 5/6: Praveen Balakrishnan (Virginia), Edward Song (Michigan), Bryce Tiglon (Washington) and ZhaoZhi (George) Li of Illinois.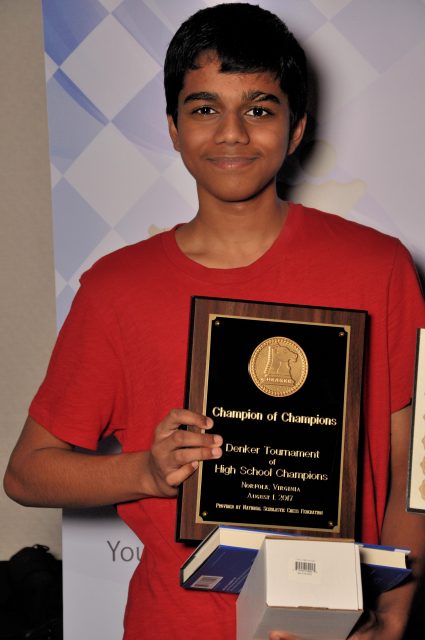 Praveen, Photo Jim Doyle
Praveen took the $5000 scholarship sponsored by the US Chess Trust on tiebreak.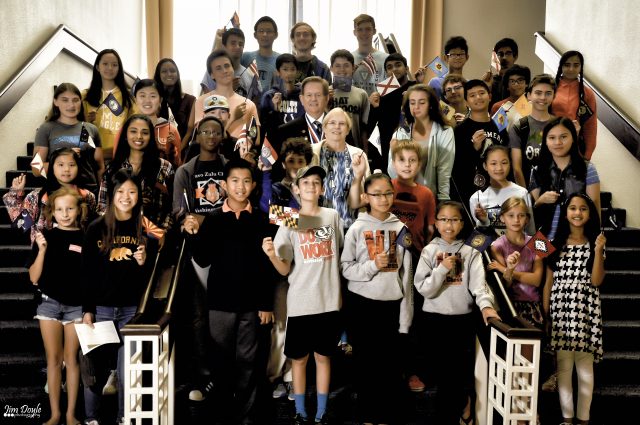 Group shot of the Barber tournament of K-8 Champs, Photo Jim Doyle
The Barber K-8 Championship
saw a tie for first between Christopher Shen of Ohio and Justin Wang of Texas, with Shen earning the 5K scholarship on tiebreak. https://www.facebook.com/uschess/posts/1357210771001551
Full story coming soon from Al Lawrence. Meanwhile, find more information on the official website, where you can browse crosstables for these events as well as the US Open. Also see our twitter and facebook feed for more photos and stories from the event.