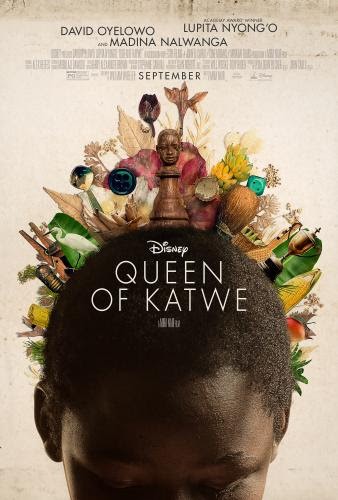 The US Open begins this weekend and attendees can take an opportunity to watch a special complimentary advance screening of
The Queen of Katwe,
 a biographical drama film produced by Walt Disney about the life of Phiona Mutesi, a Ugandan chess player who participated in the 39th World Chess Olympiad in Khanty-Mansiysk, Russia, the 40th World Chess Olympiad in Istanbul, Turkey, and in the 41st World Chess Olympiad in Tromso, Norway. In the film, Lupita Amondi Nyong'o plays Phiona whose story is much more than just chess. [youtube
The Queen of Katwe movie
is scheduled for release in the United States on September 23, 2016. Some 117th U.S. Open attendees will get a chance to view a screening of the movie next Saturday, August 6th, at a theater near the venue of the U.S. Open, the Indianapolis Marriott East. Transportation from the hotel to the movie theater, starting at 6:30 p.m., is being arranged for US Chess delegates, committee members and players, and the movie is scheduled to start at 7:30 p.m. Those who would like to see the screening should RSVP by emailing Cheryle Bruce, cbruce@uschess.org. Find an
US Chess video featuring US Chess editor Jen Shahade and Phiona Mutesi here
and
Phiona's magazine cover story here (login as a member to view the full contents). 
Look for
news on Queen of Katwe here
 and find them on
facebook
and
twitter here. 
Look for news on the US Open, Denker, Barber and NGTOC here and on the results page. Also follow live updates starting on Monday from Pete Karigianis on our facebook and twitter accounts, and get involved using the hashtag #USChessOpen.