Fabiano Caruana
,
Wesley So
,
Hikaru Nakamura
,
Sam Shankland
, and
Ray Robson
. Actually, in many ways, it is a greatly improved team due to its members recent achievements, such as Caruana earning the right to challenge for the World Championship and Shankland winning the U.S. Championship and crossing 2700 for the first time. With an even stronger U.S. Team than ever before, what teams will prove to be their greatest rivals in their quest to defend their title at the strongest team tournament in the world?
Russia
Line-up:
Sergey Karjakin (2760)
Ian Nepomniachtchi (2768)
Vlaidmir Kramnik (2779)
Nikita Vitiugov (2726)
Dmitry Jakovenko (2747)
China
Line-up:
Ding Liren (2804)
Yu Yangyi (2765)
Wei Yi (2742)
Bu Xiangzhi (2712)
Li Chao (2708)
Azerbaijan
Line-up:
Shakhriyar Mamedyarov (2820)
Teimour Radjabov (2751)
Arkadij Naiditsch (2721)
Rauf Mamedov (2699)
Eltaj Safarli (2676)
India
Line-up:
Viswanathan Anand (2771)
Pentala Harikrishna (2743)
Vidit Gujrathi (2711)
Baskaran Adhiban (2668)
Krishnan Sasikiran (2672)
Ukraine
Despite a team rating average of slightly under 2700, Ukraine was the U.S. team's main rival in the 2016 Olympiad. The two teams were tied in total match points, but the U.S. edged them out by tiebreaks.
Line-up:
Vassily Ivanchuk (2710)
Pavel Eljanov (2703)
Yuriy Kryvoruchko (2695)
Ruslan Ponomariov (2681)
Anton Korobov (2685)
Armenia
Line-up:
Levon Aronian (2780)
Gabriel Sargissian (2691)
Hrant Melkumyan (2660)
Robert Hovhannisyan (2621)
Haik Martirosyan (2597)
---
The Olympiad takes place from September 24-October 5 with rounds everyday at 7 a.m. EDT (except for September 29, the rest day).
Find bios on all the U.S. team members in our Top Players section or click through to find out more about Caruana, So, Nakamura, Shankland, and Robson.
Make a donation of any amount to our Olympic teams using our secure online form.
Look for daily recaps on the Olympiad from Grandmaster Alejandro Ramirez, as well as video updates from Grandmaster Maurice Ashley. 
---
ABOUT THE AUTHOR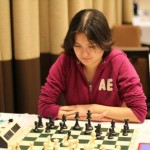 Vanessa West
 is a regular writer and digital assistant for US Chess News. She won the 
2017 Chess Journalist of the Year award
. You can follow her on Twitter: 
@Vanessa__West