The gold-medalist U.S. Team is returning to the Olympiad as the Defending Champions with the same line-up: Fabiano Caruana, Wesley So, Hikaru Nakamura, Sam Shankland, and Ray Robson. Actually, in many ways, it is a greatly improved team due to its members recent achievements, such as Caruana earning the right to challenge for the World Championship and Shankland winning the U.S. Championship and crossing 2700 for the first time. With an even stronger U.S. Team than ever before, what teams will prove to be their greatest rivals in their quest to defend their title at the strongest team tournament in the world?
Russia
A lot previews seem to be counting Russia out as one of the top contenders because they haven't won the event since 2002 despite consistently being the top seed, but I'm not sure I agree. Although the first board Sergey Karjakin's results haven't been too impressive recently, one can't underestimate a player who's won the Candidates Tournament (2016), the World Blitz Championship (2016), the World Cup (2015), and Norway Chess twice (2014 and 2013). Along side him is the always formidable 14th World Champion, Vladimir Kramnik on board 3. And their board 2, Ian Nepomniachtchi recently won the incredibly strong Dortmund Chess in July.
Line-up:
Sergey Karjakin (2760)
Ian Nepomniachtchi (2768)
Vlaidmir Kramnik (2779)
Nikita Vitiugov (2726)
Dmitry Jakovenko (2747)
China
China won the 2014 Olympiad. In addition, their top board, Ding Liren is currently at an all time peak, breaking 2800 earlier this year to reach #4 in the world. Like Russia, the rest of the team is all 2700+, including Wei Yi and Yu Yangyi, who were both a part of the winning 2014 team along with Ding Liren. Yu Yangyi not only clinched the top third board prize to play a huge role in the team's victory but also achieved the highest performance rating in the entire event (2912).
Line-up:
Ding Liren (2804)
Yu Yangyi (2765)
Wei Yi (2742)
Bu Xiangzhi (2712)
Li Chao (2708)
Azerbaijan
Azerbaijan is led by the ever-stronger World #4, Shakhriyar Mamedyarov. In addition, Azerbaijan is a neighboring country to the Olympiad location of Georgia, giving the team the advantage of less travel time and not having to adjust to a new time zone.
Line-up:
Shakhriyar Mamedyarov (2820)
Teimour Radjabov (2751)
Arkadij Naiditsch (2721)
Rauf Mamedov (2699)
Eltaj Safarli (2676)
India
The biggest news for the Indian team is the return of the 15th World Champion Viswanathan Anand, who hasn't competed at an Olympiad since 2006. The next two highest Indian players, Pentala Harikrishna and Vidit Gujrathi, make the team incredibly formidable.
Line-up:
Viswanathan Anand (2771)
Pentala Harikrishna (2743)
Vidit Gujrathi (2711)
Baskaran Adhiban (2668)
Krishnan Sasikiran (2672)
Ukraine
Despite a team rating average of slightly under 2700, Ukraine was the U.S. team's main rival in the 2016 Olympiad. The two teams were tied in total match points, but the U.S. edged them out by tiebreaks.
Line-up:
Vassily Ivanchuk (2710)
Pavel Eljanov (2703)
Yuriy Kryvoruchko (2695)
Ruslan Ponomariov (2681)
Anton Korobov (2685)
Armenia
Armenia is known for their fantastic team spirit and has won the Olympiad a number of times, including 3 of the last 6 events in 2006, 2008, and 2012. Despite their sub-2700 rating, I consider their team, led by World #6 Levon Aronian, another top contender for medals.
Line-up:
Levon Aronian (2780)
Gabriel Sargissian (2691)
Hrant Melkumyan (2660)
Robert Hovhannisyan (2621)
Haik Martirosyan (2597)
---
  The Olympiad takes place from September 24-October 5 with rounds everyday at 7 a.m. EDT (except for September 29, the rest day). Find bios on all the U.S. team members in our Top Players section or click through to find out more about Caruana, So, Nakamura, Shankland, and Robson. Make a donation of any amount to our Olympic teams using our secure online form. Look for video updates from Grandmaster Maurice Ashley.   
---
ABOUT THE AUTHOR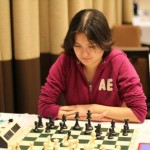 Vanessa West is a regular writer and digital assistant for US Chess News. She won the 2017 Chess Journalist of the Year award. You can follow her on Twitter: @Vanessa__West