Grandmaster Irina Krush didn't lose a single game in Berkeley. The seven-time US women's champion kicked off the Berkeley Summer IM Norm Tournament weekend with a 21-board simultaneous exhibition where she won 19 and drew two national masters.
Berkeley Summer International Norm Tournament
, scoring 7/9 to share first place honors. She tied for first place with 17-year old Annie Wang, who earned her IM title two weeks ago when she won the Pan-American U20 Championship in Bolivia. Third place went to International Master Lisandra Ordaz from Cuba, who scored 5.5 points.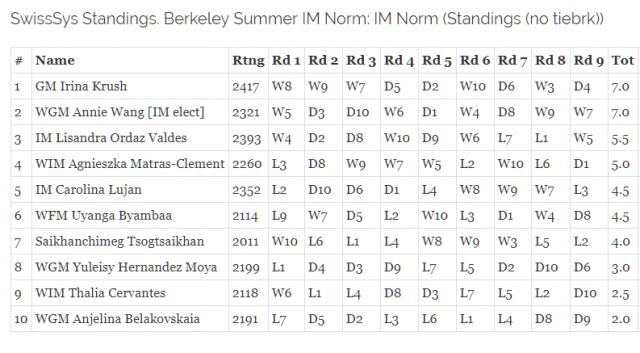 The Berkeley Chess School was the organizer of the IM Norm tournament. 10 women from five countries had the chance to play in this unique event that aimed to promote visibility of women in chess and also give the opportunity to women to fight for norms. Heading into the last day of competition, three players (WIM Agniezska Matras-Clement, WFM Uyanga Byambaa and Saikhanchimeg Tsogtsaikhan) had norm chances. With 4.5 points, two-time Northern California women's champion WFM Uyanga Byaamba achieved a Woman International Master norm. This was Uyanga's first norm. Uyanga needed 1.5 points in the last two rounds to achieve her goal. She started with a victory against WIM Agniezcka Matras-Clement. Needing a draw in the final round, Uyanga played the Dragon against WIM Moya and got an advantage. Later, Moya got some counter play and eventually the game ended in a draw, a result which left Uyanga visibly pleased. In an upcoming article, Uyanga will share with us what this norm meant for her and discuss her future plans. Although GM Krush and IM Wang tied for first, they played a blitz match (2 games) to determine the winner of the plaque. Krush won the blitz playoff against IM-elect Wang, minutes after describing her first blitz playoff at the 2003 US championship in Seattle. "That was funny," she said. "We were just talking about blitz playoffs, and then I had to play one." "It becomes easier after you've done it a few times. It's great for the spectators, though. I'd prefer not to play in blitz playoffs, but I'll always watch one!" https://twitter.com/berkeleychess/status/1164016688959905792 As a child, Krush said, she studied Botvinnik's selected games and also cited Tal, Fischer, Karpov, and Capablanca. "Tal definitely saw things in his own way," Krush said, while referring to her knight sacrifice in round 8 against IM Lisandra Valdes. "I was thinking Tal would've done that in a second, but I'm not Tal. I had to think about it for 25 minutes." Krush played 15...Na5!? enables the pawn fork 16. b4, then 16...Ncb3 17. bxa5 Nxa1 18. Qxa1 Qf6 19. Kd2, when White's exposed king stares across at four long-range pieces. Valdes, who avoided the issue by declining the knight offer with 17. Bb2. This tournament was possible due to the vision of Elizabeth Shaughnessy, Executive Director of Berkeley Chess School, who at age 82 keeps working towards the goal of women´s empowerment. The Berkeley Chess School staff supported Elizabeth´s vision and broadcasted the games on Chess 24 and Followchess. They produced interviews and updates on social media, and coordinated all the logistics related to bringing some of the best women in the Americas to play in this event. Elizabeth´s dream to organize this tournament was sponsored by other visionaries, including the US Chess, Jim Eade and the US Chess Trust. Executive director Elizabeth Shaughnessy summed up her thoughts by saying "I hope this tournament will inspire other organizations to hold similar tournaments catering to both elite players and women players who are working toward earning FIDE titles."
---
Interview with IM Elect Annie Wang https://www.youtube.com/watch?v=Hoacj4tBssE   Interview with Irina Krush https://www.youtube.com/watch?v=S6t0v7c3IUc
Krush continued her run of good form at the