Today strong players are produced all over the United States, but it wasn't long ago that New York City was by far the number one chess center in the country with a huge gap between the Big Apple and the next city. One contender for number two from roughly 1946 to the late 1990s was Cleveland. Why Cleveland you might ask? Consider that in the 1990s Grandmasters Alex Yermolinsky, Gregory Serper and Anatoly Lein, International Masters Calvin Blocker and IM Dmitri Berkovich, Women Grandmaster Camilla Baginskaite, US Chess Hall of Famer Milan Vukcevich, and Senior Master Boris Men all made their home in the city on Lake Erie. While this might have been the period when Cleveland had its strongest players, the city was also a hub of chess activity in the 1970s when it hosted a 16-player Grandmaster Invitational
(
The
Plain Dealer International)
in 1975 and nearby cities (Oberlin and Mentor) hosted two U.S. Championships - in 1975 and 1977 respectively. Adopted son Milan Vukcevich, a Grandmaster of Chess Problem Composition
who was nominated for the Nobel Prize in Chemistry, took third in the earlier Championship. Cleveland chess shined even earlier. It hosted the 1947 U.S. Junior Open won by Clevelander Larry Friedman over Jim Cross and future U.S. Champion Larry Evans and hosted well-established chess clubs for kids and women in the 1940s. When the U.S. Open was held in Cleveland in 1957 (Bobby Fischer's first big victory), many out-of-towners were surprised to discover that Cleveland had a full-time chess center.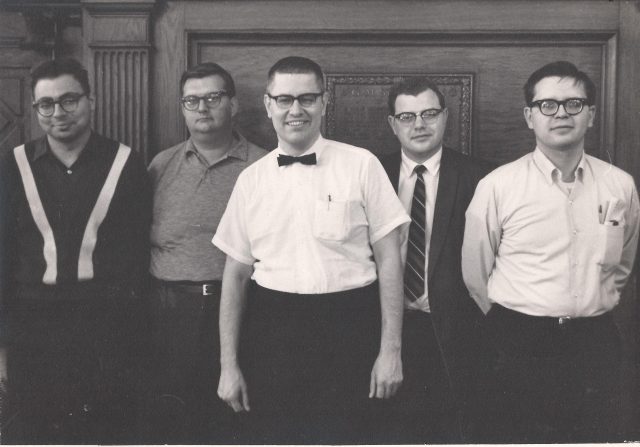 Giants of Cleveland chess (left to right): Andy Wishnek, Richard Kause, James Harkins, Richard Noel and Tom Wozney
One man lived through all of this: James Harkins Jr.  Affectionately known as "The Hawk", Jim was a native of Cleveland who made the city his home his entire life. His death on July 27 at the age of 87 is deeply felt by his many friends there. A graduate of Case Western Reserve Law School and The Hague Netherlands Academy of International Law, Jim worked most of his life for the City of Cleveland, but chess, bridge, and opera were his passions. Jim developed into a strong player at the Pawns Chess Club held in the Treasure Room at the John G. White Collection, part of the Cleveland Public Library. This club for junior players also produced Larry Friedman (U.S. Junior Champion in 1946 and 1947), twin brothers George and Harald Miller – the latter Ohio state champion in 1951. William Granger, one of the first strong African-American players in the Midwest and one of Ohio's best in the late 1940s and early 1950s, also played there.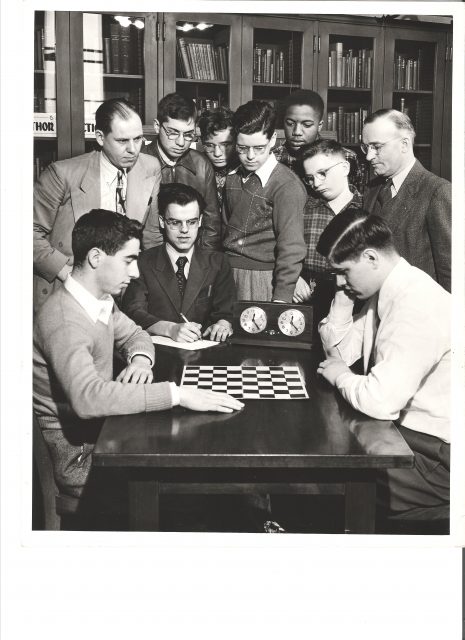 Larry Friedman (left) and James Harkins engage in a blindfold game while onlookers struggle to follow the action. This photo, taken during a session of the Pawns Chess Club at the John G. White Library, was published in Chess Review in July 1948 (p. 5)
Harkins would go on to become a National Master and win the Ohio Championship in 1964, 1968, and 1973 (he tied for 1st in 1954 but lost on tiebreak). Of his many fine achievements in chess, perhaps the most impressive was his draw in 1958 with Pal Benko (then living in Cleveland), who qualified for the Candidates a few months later. Jim played quite well into his eighties and was rated 2088 a few months shy of his 85
th
birthday.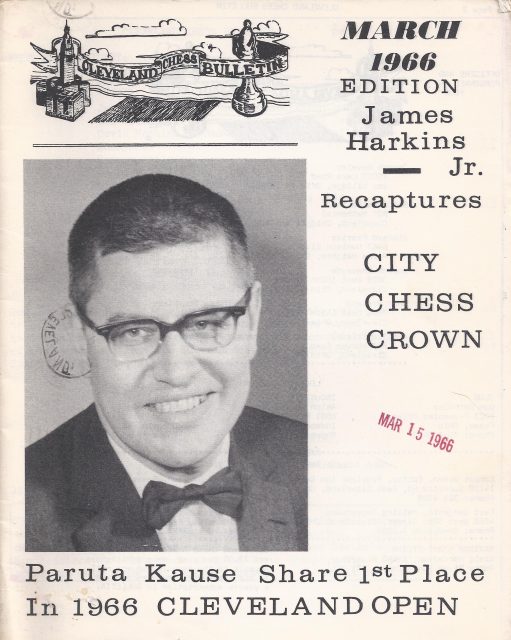 Jim Harkins recaptures city chess crown is the headline from this 1966 issue of the long-running Cleveland Chess Bulletin.
Fellow National Master David Presser, a good friend of Jim's, reflects on Jim's character:
Jim was an extremely generous person! He seemed to genuinely enjoy treating people to dinner. He also shared his skills as an attorney and helped me on several occasions, always adamantly refusing compensation. A Cleveland tournament organizer, James Schroeder, sometimes had low turnouts and lost money … Mr. Schroeder told me that Jim Harkins was the only person who gave him some money to help defray the deficit.
Jim had a soft heart. I heart this story: during a big tournament in Milwaukee, Jim defeated a young player who cried after the game. Jim then reported the game as a win for the youngster!
The Hawk will be missed.