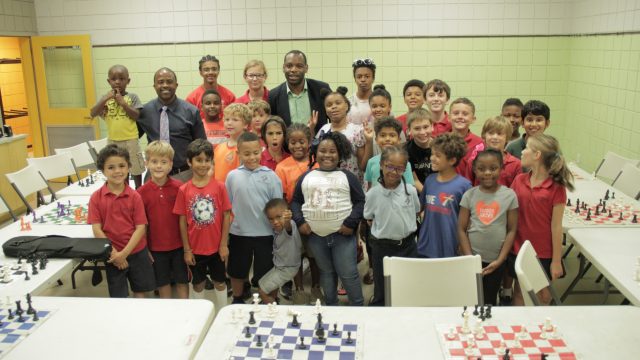 Grandmaster Pontus Carlsson of Sweden visited New Orleans for a whirlwind trip to inspire young people and advance his latest project,
Business Meets Chess & Kids,
a
program that pairs business people and kids
in tandem chess games to encourage development and communication. Pontus's week was filled with events to inspire kids and adults from school workshops to simuls to a visit to a correctional institute to encourage inmates.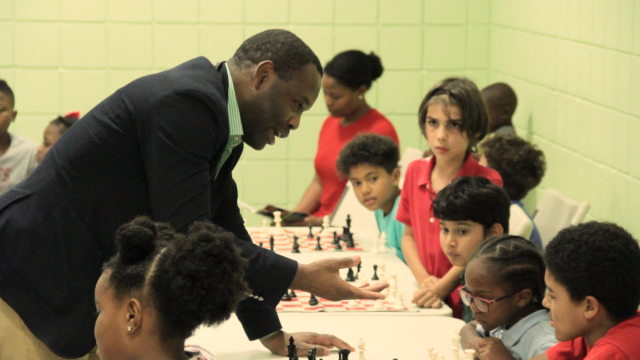 Pontus inspires young kids in one of his events to unveil Business Meets Chess & Kids
Pontus told CLO, "The joy in the eyes of both the kids and business guys when they play the tandem chess is just lovely to see. I also enjoyed the mini simul that I did against two state champions, Nick Matta and Rene Philip. Since we played blitz and I was playing them both at the same time, I did not have much time on both boards to win the games. I had to play a bit serious and that was fun." Carlsson was also moved by his visit to the New Orleans Parish Sheriff's Office and Prison to meet the inmates. "To see how they are trying to change their lives through chess and how much they love the sport left a very strong impression." Pontus sparred with a very strong player during the visit. "He was totally unschooled but still held an equal game for almost 20 moves! He also asked me questions about the Sicilian, and the Ruy Lopez. I hope that he will focus on learning those openings since if he learns a bit more he could even challenge for the state championships!" In explaining that New Orleans was a great place to introduce the concept, Pontus declared that the city has excellent food, even better music and a robust love for the royal game. "It struck me how many people actually play chess in New Orleans. Everywhere I went, I got tons of challenges for a game (with or without trashtalk) and questions about chess from people that played online or with family, friends and colleagues. Some just wanted to learn more about chess and improve their
game by joining my webinars."
In one outreach event held at a food court, Pontus also played with chess-loving cops who happened upon the event. Carlsson ended his remarks to CLO by thanking everyone who made the trip so great and the events possible including The Opera Game, Greg Ward, MD, Taurus Bailey, Tic Tac Mo and Ken Mask, Matt Dillon, Kendric Perkins from Strategic Thoughts, Wendell Pierce, Monty Ross, Marshall from Woodworth Productions and Winston Burns. On his way back to Europe, Carlsson stopped at the Marshall Chess Club in New York City. And immediately found some talented kids to play tandem chess with.
Find out more about Business Meets Chess & Kids on the official website, and read more about Pontus and his webinars on his website, http://pontus-carlsson.com/. You can also catch local news coverage of Pontus's visit here on WGNO ABC.