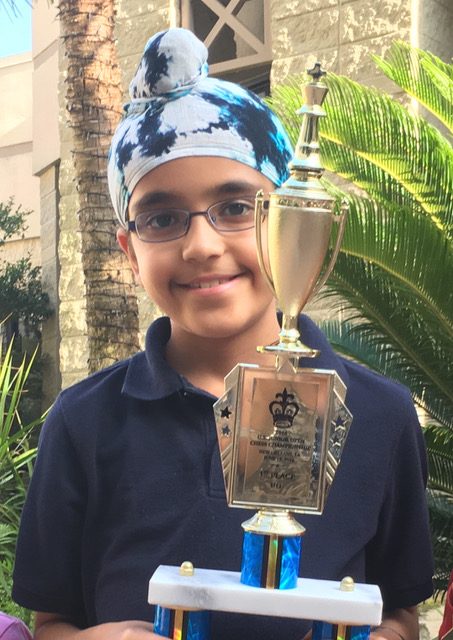 At 1:00pm on May 12, 2017 at the Opryland Resort in Nashville, TN the first round of
SuperNationals VI
will officially begin.  To the casual observer the event may seem like a self-contained occurrence.  The kids show up, play their games, and go home. However, for some of the kids the event itself is just the last step on a long journey that began much earlier.  For them the preceding weeks and months have been filled with preparation as they have specific goals in mind.  I was fortunate to speak with two of them from the Milwaukee, WI area. Gauri Menon and Hersh Singh, two kids I have known and played against for several years now, both finished in a tie for first place amongst fifth graders at Nationals in December.  For Gauri, this will be her first chance to play in the SuperNationals, but for Hersh this will be his second go round as he played in the K3 section back in 2013. I sat down to chat with Gauri on a Thursday evening before her game at the Southwest Chess Club, and I was able to speak with Hersh via email.
Chris Wainscott
: How old were you when you first started to play chess?
Hersh Singh :
I was six years old.
Gauri Menon:
I was around five when I started.  Then after a few months I started playing local tournaments and some Wisconsin scholastic events.
CW:
What was it that made you want to get better at chess?
HS:
 I didn't lose any games in my first tournament.  Winning got me hooked, and in order to win, I had to work at it.  Initially I just solved tactics, then went on to lessons with a coach and studying.
GM:
I often  looked at the games of some of the others in tournaments I was playing in and I wanted to get as good as they were so that pushed me to try to get really good.
CW:
What are your goals for SuperNationals?
HS:
  I tied for the first place in the 5th Grade National Grade Level Chess Championships in December 2016 and got a fourth place trophy on tiebreaks.  My goal for SuperNationals is to be in the top five again.
GM:
I want to do my best and try to get first place, but I'm really excited personally to be there, so my goal is just to do my best and try to enjoy it.
CW:
What other long term chess goals do you have?
HS:
  I want to become a Grandmaster by Junior year in High school.
GM:
By high school I want to try to get to Expert or maybe even National Master.
CW:
How often do you take lessons?
HS:
 Two to three hours a week.  GM Joshua Friedel teaches me in person.  I also take Skype lessons from GM Ramesh RB, who is the senior coach of the Indian chess team.
GM:
I take lessons every Tuesday.  My coach is Eric Rosen.
Eric Rosen
: I've been working with Gauri for two and a half years now.  When we started working together she was eight years old and was rated around 1000.  Now she's just under 1700. Gauri has a much more mature approach to chess that most kids her age.  She copes with losses much better than many adult players.  She is highly self-motivated and works hard both on and off the board. With these qualities Gauri has great potential.  It is always a pleasure teaching her and I look forward to watching her progress further.
CW:
How much time do you spend on chess other than lessons with your coach?
HS:
  I spend about two hours a day doing tactics, reading chess books, and sometimes playing chess online.
GM:
I try to study every single day if I have enough time because I still have school and homework.  First I'll do some tactics then I'll decide what I want to work on based on what's been happening in games I've played.  For example, if something has been going well or poorly I might decide to work on that.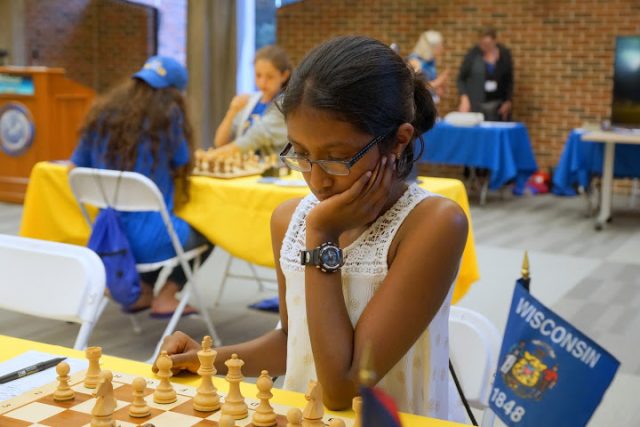 CW:
What other hobbies do you have?
HS:
  I have been learning music since I was five years old.  I play harmonium (an Indian musical instrument which is like a piano in a box.)  I recently started learning Rabab, which is an Indian string instrument.  I also like playing badminton and rock climbing.
GM:
I play violin and piano.  I've played violin since I was five and piano since I was nine.
CW:
Do you have a favorite cartoon?
HS:
  I do not watch television.
GM:
When I was younger I liked Barney and Mickey Mouse.  I still like Donald Duck!
CW:
Who is your favorite player?
HS:
 Viswanathan Anand!
GM:
That's a really hard question!  I like Susan and Judit Polgar.  I read one of their books and it's a really cool story about how they got in to chess.  I was invited to go to a camp at Webster and I got to meet Susan.
CW:
What is the best book that you have ever read that is not a chess book?
HS:
 Weird but True series by National Geographic.
GM:
Oh, Harry Potter!  That's my favorite.  Percy Jackson too.
CW:
If you could be an expert on any subject other than chess what would it be?
HS:
 Math.
GM:
Math.
CW:
What are you most looking forward to about SuperNationals?
HS:
 My younger brother who is four years old will be playing in the tournament for the first time.  I am keen to see how he does since I coach him.
GM:
Seeing everyone from a lot of different states.  Seeing everyone come together from different states to play together.  I can only imagine how SuperNationals will compare to Nationals.
CW:
What career would you like to have?
HS:
 Doctor.
GM: 
Medicine.  I want to be someone who helps people.
Register for the SuperNationals by Monday, April 25th for the lowest entry fee rate!  Follow us on USChess and share your own SuperNationals plans and experiences with the hashtag, SuperNationalsVI.