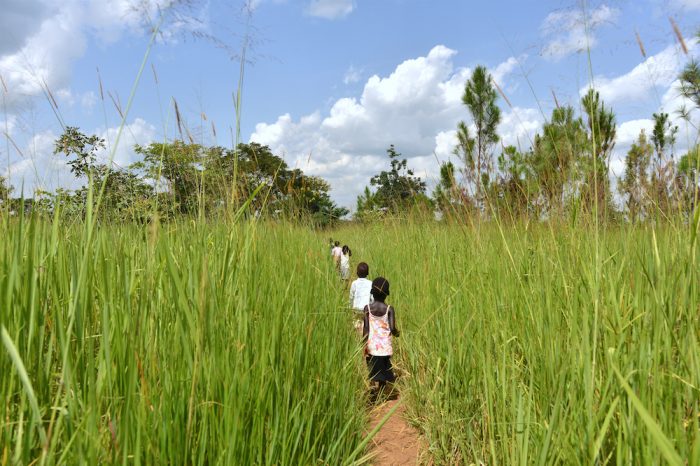 An intriguing and important photo exhibition, "Into the Human Light: Uganda," is currently on display in the Tournament Room and in the entrance hall of the Marshall Chess Club until December 5th. There is a story attached to the exhibition that is worth reading below. If you miss this brilliant show, however, you can see most of the photos on the following link:
www.LensEthics.org
A young woman named Phiona Mutesi was raised in a slum in,the area of Katwe, in the city of Kampala, in the poor country of Uganda. She dropped out of school at age nine because of her father's death, and her mother could no longer afford the tuition. Being virtually illiterate, Phiona sold corn and other products on the streets of her town to help her mother and siblings eek out a living. Because of the severe rains that plagued Katwe, she and her other family members slept in hammocks - raised as high as possible so they wouldn't drown - as the raging waters flowed through the dirt floor of their shack. It was a bare existence, more than just economically impoverished, it was a sad life.
Then she found chess.
A young missionary, Robert Katende, began to teach chess to the children of Katwe, and Phiona stumbled upon the class. She was about ten years old and within a short while became intrigued and showed both talent and promise of becoming a strong player. The rest is chess history as they say: she learned to read chess books (and other things) because of her fascination with the game and a few years later became the chess champion of Uganda, and represented her country at the Chess Olympiad held in Russia. She had never flown before, never before seen snow, and met and played people from all over the world.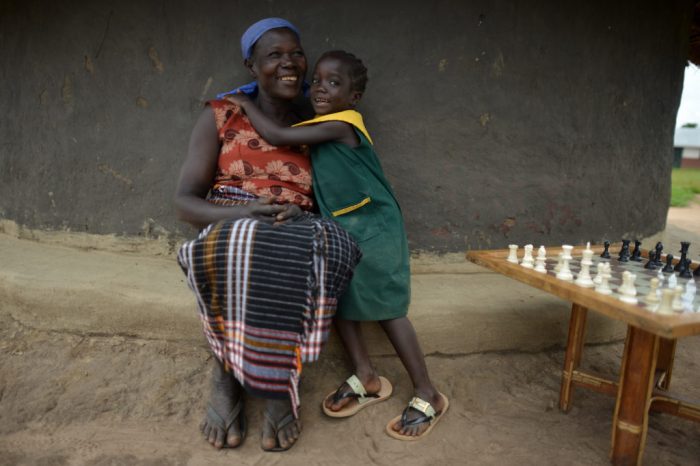 All of Phiona's story is chronicled in a well-documented book, The Queen of Katwe and in a major motion picture of the same name, recently released. Phiona has become an international celebrity, certainly of chess. "A young star," proclaimed Gary Kasparov.
Phiona's story intrigued Marshall Board member Beatriz Marinello, who is Chairperson of FIDE's Social Action Commission, and as a result she started the "Smart Girl" program in Uganda in order to give young girls the opportunity to learn the game, and eventually improve themselves academically as well. She raised funds, encouraged the children, and shipped chess sets and boards abroad. She visited the country several times to help organize the program with Katende, who was named the General Secretary of the Social Action Committee. Eventually the program was expanded to include the chess education of boys as well as girls. Marshall Club member Virginia Hoffmann also began to sponsor a young chess player from Katwe, Mirriam Apiyo, paying her annual tuition to attend school, and supplying her with chess equipment.
In 2013, Beatriz Marinello asked visual artist and photographer Dora Leticia Martinez if she would consider going to Uganda to document the progress of the program.
Dora traveled to the country three times and became creatively and emotionally involved in what she found there:
"In the far reaches of this planet, there is a village that really does raise a child. I hope to shed light on this human struggle."
She found chess students everywhere, most of whom were inspired by the success of Phiona who had become known as one of Uganda's most famous citizens.
The photos that are on display at the Marshall are not merely documentary proof of the chess activity in Uganda, but are distinctive works of art in themselves: beautifully crafted, clearly composed, colorful, meaningful, enduring. They speak of how children can pull themselves out of the dredges of poverty and work though chess, a discipline that was heretofore totally foreign to them.
The chess world and the Marshall Chess Club are indebted to Dora Leticia Martinez and Beatriz Marinello for the work they are doing in helping to bring the children of Uganda into the wonderful world of chess, and to improve their possibilities of having a fuller life.
About Frank Brady
Frank Brady (born March 15, 1934, Brooklyn, New York), is an American writer, editor, biographer, educator and publisher of international renown. He wrote one of the best-selling chess books in history, Profile of a Prodigy, the biography of Bobby Fischer, as well as countless other books and articles on chess and other subjects. A new biography of Fischer entitled Endgame: The Spectacular Rise and Fall of Bobby Fischer was published in 2011.