Chess Life editor Daniel Lucas reports on the sights and events surrounding the first World Championship match to be held in the U.S. in 21 years. Also see Vanessa West's preview and for viewing options,  Ian Rogers' "Couch Potato Guide."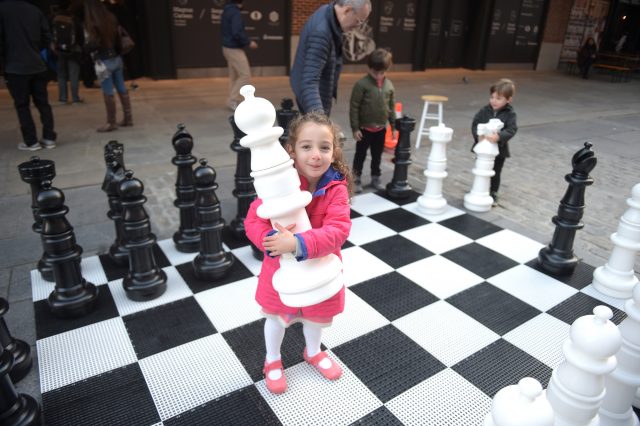 NEW YORK, NY - NOVEMBER 12: Young fans enjoy the atmosphere at the 2016 World Chess Championship at Fulton Market Building on November 12, 2016 in New York City. (Photo by Jason Kempin/Getty Images for Agon Limited)
The painter Johan Christian Dahl (1788-1857)  "is regarded as the first Norwegian Painter ever to reach a level of artistic accomplishment comparable to that attained by the greatest European artists of his day." (Wikipedia) Just a few miles uptown from where the World Championship is being contested, The Metropolitan Museum of Art, the top tourist destination in the city, houses a Dahl collection that includes his 1826 work, "Eruption of Vesuvius."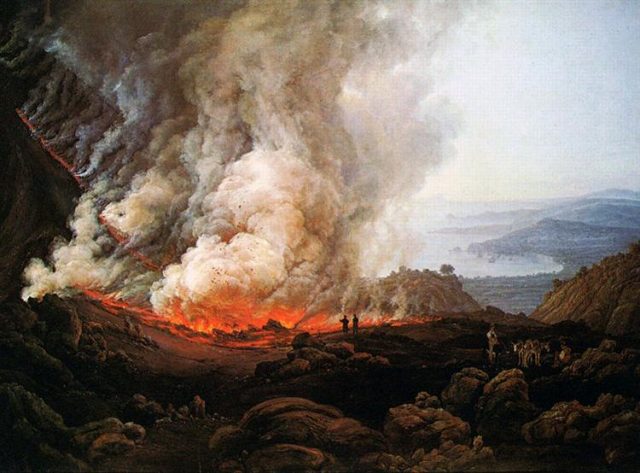 In yesterday's third-round game, Dahl's countryman World Champion Magnus Carlsen appeared ready to erupt with the first win of the match following two draws. Unfortunately for Carlsen's fans but to the delight of Karjakin's, the eruption was more Kīlauea-like than Vesuvius-like as any win fizzled out after almost seven hours of play against Karjakin's defense.
[pgn] [Event "World Chess Championship"] [Site "New York"] [Date "2016.11.14"] [Round "?"] [White "Carlsen, Magnus"] [Black "Karjakin, Sergey"] [Result "1/2-1/2"] [WhiteElo "2857"] [BlackElo "2769"] [PlyCount "156"] [EventDate "2016.??.??"] 1. e4 e5 2. Nf3 Nc6 3. Bb5 Nf6 4. O-O Nxe4 5. Re1 Nd6 6. Nxe5 Be7 7. Bf1 Nxe5 8. Rxe5 O-O 9. d4 Bf6 10. Re2 b6 11. Re1 Re8 12. Bf4 Rxe1 13. Qxe1 Qe7 14. Nc3 Bb7 15. Qxe7 Bxe7 16. a4 a6 17. g3 g5 18. Bxd6 Bxd6 19. Bg2 Bxg2 20. Kxg2 f5 21. Nd5 Kf7 22. Ne3 Kf6 23. Nc4 Bf8 24. Re1 Rd8 25. f4 gxf4 26. gxf4 b5 27. axb5 axb5 28. Ne3 c6 29. Kf3 Ra8 30. Rg1 Ra2 31. b3 c5 32. Rg8 Kf7 33. Rg2 cxd4 34. Nxf5 d3 35. cxd3 Ra1 36. Nd4 b4 37. Rg5 Rb1 38. Rf5+ Ke8 39. Rb5 Rf1+ 40. Ke4 Re1+ 41. Kf5 Rd1 42. Re5+ Kf7 43. Rd5 Rxd3 44. Rxd7+ Ke8 45. Rd5 Rh3 46. Re5+ Kf7 47. Re2 Bg7 48. Nc6 Rh5+ 49. Kg4 Rc5 50. Nd8+ Kg6 51. Ne6 h5+ 52. Kf3 Rc3+ 53. Ke4 Bf6 54. Re3 h4 55. h3 Rc1 56. Nf8+ Kf7 57. Nd7 Ke6 58. Nb6 Rd1 59. f5+ Kf7 60. Nc4 Rd4+ 61. Kf3 Bg5 62. Re4 Rd3+ 63. Kg4 Rg3+ 64. Kh5 Be7 65. Ne5+ Kf6 66. Ng4+ Kf7 67. Re6 Rxh3 68. Ne5+ Kg7 69. Rxe7+ Kf6 70. Nc6 Kxf5 71. Na5 Rh1 72. Rb7 Ra1 73. Rb5+ Kf4 74. Rxb4+ Kg3 75. Rg4+ Kf2 76. Nc4 h3 77. Rh4 Kg3 78. Rg4+ Kf2 1/2-1/2[/pgn]
The Fan Experience
If you choose to come to the championship venue in the hope of seeing an exciting game like Monday's instead of watching online, what can you expect? I'm reminded of golf and marathons, two sporting events where spectators are unable to see all the action unfold in front of them. While there is a viewing room here, it is a decidedly mixed experience.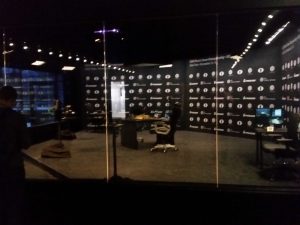 The players are angled at 45 degrees from the room, giving you a mostly rear view of one player and a mostly-head on view of the other; normally you would expect to see both players in profile. The setup is a necessity due to the second viewing area from the VIP lounge, the up-to-$1,200 per ticket area. So both viewing windows get essentially similar views. There are no seats here, so if it is crowded enough and you're unable to see over someone's head you may be blocked off from the players entirely. (For the first three rounds, the actual crowds in here have ranged from about a dozen to so many that people were lined up all the way to the cafe around a corner.)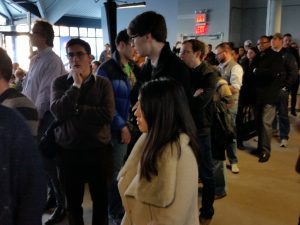 Line waiting to get into the viewing area. Photo by Daniel Lucas
Just outside the viewing room is the Press Conference area which doubles as a spectator seating area. Here the throng can hear the broadcast commentary piped in while they watch the video monitors with the game's current position. But what is the advantage then of being here over simply watching online?  
Agon Limited's Communications Director Andrew Murray-Watson tells US Chess, "Historically, spectators have to check their cell phones and must sit quiet as church mice. Here, they can follow along on their phones, can get a bite to eat, and can listen to the commentary team."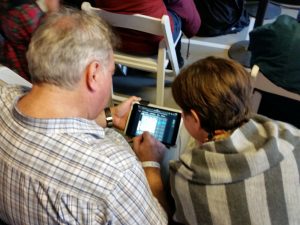 Two spectators following along on their mobile device. Photo by Daniel Lucas
Still, with roughly half a million hits on the official website nyc2016.fide.com in just the first 48 hours ("And this doesn't include our partner sites," Murray-Watson clarified) it seems that the pay-per-view model the organizers are promoting is the wave of the future for top-level chess, as  Agon Limited CEO Ilya Merenzon stated at the opening press conference. Fans who want the "skin-to-skin" contact of no glass between themselves and their heroes should bear this in mind. Carlsen and Karjakin are, however, in the same room as the spectators for the post-game press conference. Spectator amenities include a cafe that is reasonably priced for New York ($10 for a sandwich; I had the Salmon and the Veggie sandwiches and both were excellent). The merchandise shop is surprisingly inexpensive relative to other types of event souvenirs like concerts or pro sporting events. T-shirts for $25, sweatshirts for $40, ballcaps for $22, tote bags for $10, and souvenir pins for $5 are the main offerings.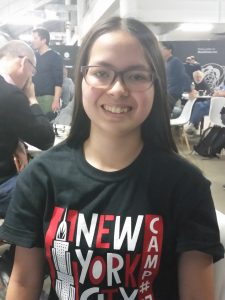 We interviewed some spectators at the Monday, November 14 round who were mostly positive about their experience at the match site (see "Press Coverage" section below for some reports of less-than-happy attendees at the Saturday, November 12 round). Sophie Morris-Suzuki  New York City, age 14, 9th grade. US Chess rating: 2125 Sophie is attending the event as part of an outing arranged by the U.S. Chess School and had followed rounds one and two online.  She says, "The experience here is really different from anything I've experienced before. It's a lot of fun seeing live play and meeting with other chess fans. It's really cool to see the players right next to where I'm standing."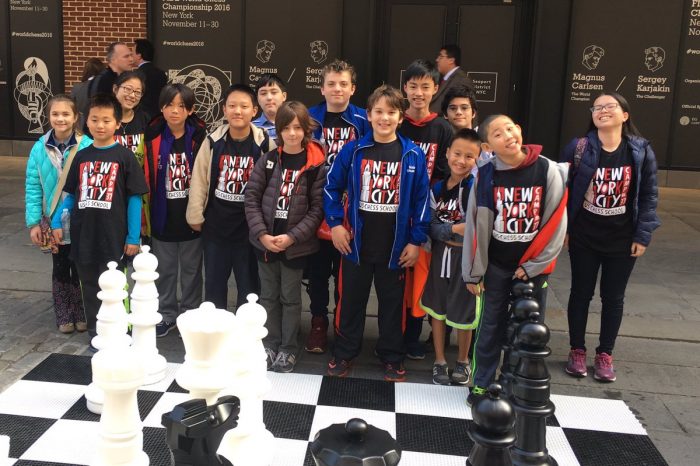 US Chess School attendees outside the World Championship venue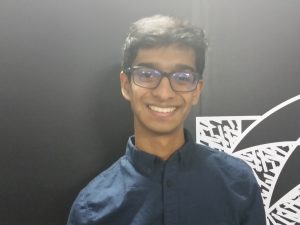 Abhinav Suresh  Attending Columbia University, originally from Omaha Nebraska US Chess rating: 1950 Abhinav was Nebraska's representative for three years running in 2014-2016 at the Denker Tournament of High School Champions. Now studying Economics at Columbia, he tells US Chess, "It is absolutely worth it to have the opportunity to see the players live. The viewing room is nice with a clear view, even though it is a little room. I like the video screen in there. I'd love to see the U.S. host the world championship again--this brings me alive as a chess player." Daniel Parmet Chicago, Illinois Strategic Pricing Director at Bleu, Tournament Director and Organizer US Chess rating: Expert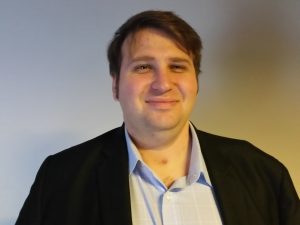 Daniel flew to New York for the World Championship, but this is nothing unusual for him although he has never been to a main-title event before. He has been to Dortmund and the London Chess Classic, even working the London event performing odds and ends. While he is happy to be here, he is somewhat disappointed in the experience: "The viewing area is dark and the players are angled away from the spectators. They were handing out paper slips that said not to be in there for more than 15 minutes. If people flew around the globe for this, they'd be disappointed." If you're not planning on attending in person but want to follow live, you can do so for free at the main site nyc2016.fide.com. For an enhanced online experience, including Video 360°, Virtual Reality, Multi-Camera View, and Commentary, you can sign up for $15 by following the link from the main site. There are higher-level packages available that allow you some other benefits and perks, including the 2018 World Championship.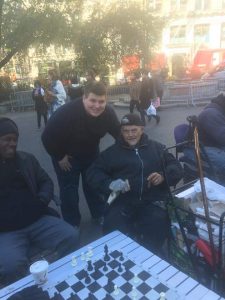 Steve Abrahams with William Lombardy. Photo by Bryan Tillis
Another benefit of travelling to New York is visiting some of the iconic chess locations. Steve Abrahams, a Florida chess coach who has also written for Chess Life, took full advantage of this with his business partner Bryan Tillis. They played at the Marshall Chess Club and also battled some of the hustlers at Union Square Park. At the park they ran into GM William Lombardy, who had coached Bobby Fischer and won the 1957 World Junior Championship (another World Junior Champion in attendance is GM Maxim Dlugy, and our current World Junior Champion GM Jeffery Xiong is our December Chess Life cover subject; the issue will be in the mail next week). Press Coverage While patriotism may be the last refuge of a scoundrel, the last refuge for a lazy reporter might be covering how other media outlets are covering the same event as the reporter. However, mainstream coverage of chess is often a topic of discussion among chess players and the organizers of the World Championship have made no secret of their desire to get as much major-market press for this event as they can. To this end, they credentialed 200 members of the media from around the world (while providing a media center that accommodates roughly 30 journalists; it is a little tight but has mostly accommodated all).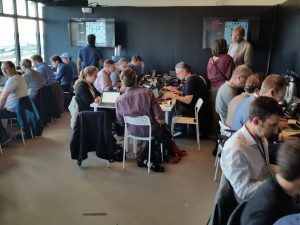 The media center at the World Championship. Photo by Daniel Lucas
  This has caused some headaches, as during the "First Move" ceremony there is not nearly enough space in the player's "fishbowl" for all the photographers that want to be there. At first 20 photographers were allowed in, but round two spectators complained that they couldn't see anything at all other than the photographers' backs. For round three, the organizers limited the number allowed in to 8. The usual, expected, subjects are here such as the crew from Chess.com who always provide top-notch coverage (full disclosure: US Chess partners with Chess.com). Director of Content FM Mike Klein is providing color reports and GM Robert Hess is providing annotations, and Peter Doggers is also doing live commentary with the event's official broadcast crew headed by GM Judit Polgar. Mainstream outlets are led by The New York Times, which is the standard for coverage in the city and which enjoys an international readership. Reporter John Leland has written a couple of preview pieces leading up to the match and was on site for the first day. Bruce Pandolfini, Chess Life's "Solitaire Chess" columnist, had been tapped to play analyst for Leland, but when he couldn't make it former New Yorker and current Arizona resident Jeff Kastner (and a former Chess Life columnist himself) worked next to the Times reporter to explain what was happening on the board. See Leland's report here. The New York Post, where current "Chess to Enjoy" columnist GM Andy Soltis was a reporter and their chess columnist until last year, caters to a different audience than the Times. A tabloid famous for such headlines as "Headless Body Found in Topless Bar," their chess coverage takes a slightly different slant: "World Chess Championship becomes a celebrity affair in New York" was the headline on 11/13. Post reporting included: "Mark Zuckerberg, Bill Gates and a slew of tech fund, hedgies and money managers are salivating over the championship, which returns to New York for the first time in 21 years." You can read their full report here. The Minneapolis Star Tribune sent reporter Dennis McGrath to New York, the only large newspaper outside of the city to do so. His report focused on the fan experience, which the headline summed up: Chess fans flood world title match, but have trouble seeing players Organizers were caught off guard by the unexpected turnout, which led to long lines, rare glimpses of the two World Chess Championship contenders and ticket refunds for some. The Tribune's report, which includes comments from both irate and elated fans, can be found here. TV coverage is still 'where it's at,' so when a network takes interest like CBS on November 14, it's a big deal.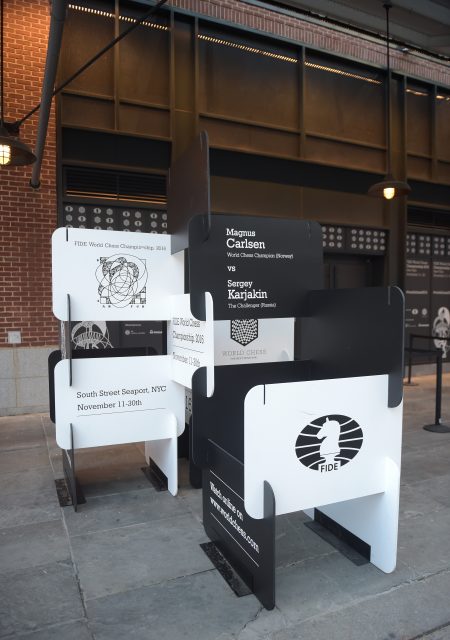 NEW YORK, NY -View outside during 2016 World Chess Championship at Fulton Market Building on November 12, 2016 in New York City. (Photo by Jason Kempin/Getty Images for Agon Limited)
Unfortunately, unlike newspapers, TV reporters have a tendency to report superficially. Apparently, it's all about the image. As an example, in this report, "So, when was the last time Carlsen lost?" was one of the questions posed. The bottom line: remember, it has been 21 years since the last World Championship to take place in the U.S. There's no telling if we'll have to wait so long again for the opportunity, so take advantage of either in-person or online attendance, and if you're unable to do either, check out all the reporting that is available.   Have you found a particularly interesting mainstream media chess report? Let us know in the comments section below. Let us know too about your experience viewing the championship either in person or online. The Met houses an extensive collection of chessboards; read about that here.