CLO is combing through its archives to bring readers blasts from the past this holiday season. Look for throwback articles throughout December.
December Throwback #6: In 2019, the chess world lost GM Pal Benko, whose contributions to chess are almost too many to enumerate. He was a pioneer in the openings, a leading authority in the endgame, and a friend and trainer to many, including Bobby Fischer and the Polgar sisters. But perhaps Benko's most popular mantle was as a world-renowned problematist. He regularly contributed puzzles to Chess Life and Chess Life Online, often tying them to a particular holiday or event. So for this throwback, please enjoy this special holiday treat from the great Pal Benko.
Bonus: Explore the evolution of the Benko Gambit: https://new.uschess.org/news/evolution-benko-gambit-nov-2019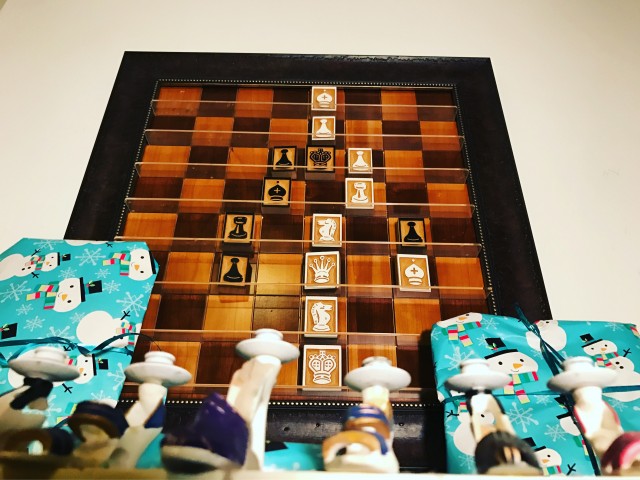 Happy Holidays from Grandmaster and composer Pal Benko, who presents Christmas tree and holiday candle shaped mates in two, three, four and five for your enjoyment this season.
Christmas Tree  
Mate in 2
1.Qc5!    
Candle 1
              Mate in 3
1.   Qe4   Kh4   2.Qf4    
Candle 2
          Mate in 3
1. Qb6  Kxg4  2.Qe3    , 1…..Kf4   2.Kh3  ,     1….Kh4   2.Kf3 
Candle 3
          Mate in 2
1.Qb6      
Candle 4
          Mate in  3
1.Qf3   Kg6   2. Qf8,     1….Kh6   2.Qf7     
Candle 5
         Mate in 4
1. Qd5  Kxg3    2. Qe4  Kh3     3.Kf2
Candle 6 (Twin)
              Mate in 3
 a) Qc7 Kh7    2.Bf6
Candle 7 
              Mate in 3
 1.Qb2 Kh6   2.Qh8+
Christmas tree
Mate in 5
1.Kd8  Kxd6   2. e8B   Ke6   3.f7  Kf6    4. f8Q+ ,or 1…… Kxf6    2. e8Q   Kg7   3.Ke7   Kh6    4. Kf8
More from Benko on uschess that you may have missed: Back to School Problems, and congratulatory problems for the US gold medal Olympic team.