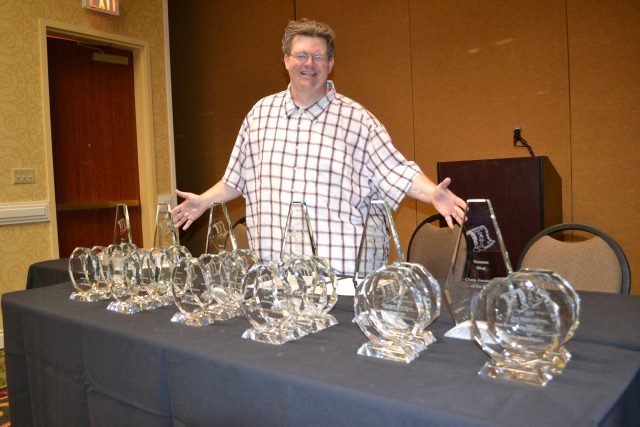 CJA President, Joshua Anderson, with the 2018 awards
Congratulations to the 2018 Chess Journalists of America Award Winners! Here are a few of the top winners with excerpts from their work.
Chess Journalist of the Year
Mike Klein
Nominating Statement by Chess.com

Mike Klein deserves to be named journalist of the year for his chess-event coverage that delivers clear and unbiased news to chess fans around the world.

The included sample story (AlphaZero) is an achievement in chess journalism. While the emergence of AlphaZero was covered by virtually all media organizations, both chess and mainstream publications, Mike Klein's report was the first and best at relating exactly why this was such a monumental achievement in chess. His piece captures the historic nature of the story and presents the actual chess played in a way that even casual fans can understand.

Story example: 

Google's AlphaZero Destroys Stockfish In 100-Game Match, Dec 6, 2017 
Best Story of the Year
Cuban Chess: Community, Culture, and Change
by Jacob Chudnovsky and Irina Medvedev
"The Trinidad Chess Club cannot boast of a large size or fancy setting. But make no mistake—inside the modest room with a cracked tile floor and a few simple tables and chairs is a serious and passionate community. We peer into the small room, and a couple of gentlemen interrupt their chess game to welcome us in with handshakes and introductions. At one table, Vladimir "Putin" Batteta projects focus and aggression in a blitz match against his partner. At the next table, Francisco Moreno, the "chess professor," patiently teaches six-year-old José to checkmate with king and rook versus king, while José's grandmother watches on. When someone at another table has a question, Vladimir gets up—in the middle of a speed chess game!—to help out. He is happy to chat between games, and the next day, Francisco and Vladimir greet us like old friends."
Best Chess Column
Looks at Books
by John Hartmann
"You might think about your experiences at large tournaments like the U.S. Open. The reputable players play their games, go back to their rooms, and get ready for the next round on their computers. Gone are the days of all night blitz benders in the skittles room. Gone are the days of the pub crawl and the hangovers destroying the next day's play. Worst of all, the post-mortem is a relic, an antiquity, offered only by the aged and accepted even less frequently. Those that do occur are haunted by a third party—the ubiquitious Stockfish app, lurking, correcting, standing as the ultimate authority. (Is this the part where I tell the kids to get off my lawn?) Jan Timman's newest book, Timman's Titans: My World Chess Champions, is many things at once: a set of sketches of ten world champions, a study of their styles and games, a catalogue of Timman's own dreams and memories. At its heart, however, I think Timman's Titans is an elegy for what has been lost, for better and for worse, in modern chess, and a deeply personal remembrance of a world that no longer exists. As with most elegies, and here I follow Samuel Taylor Coleridge, it reveals equally the greatness of its subjects and its author. This is Timman's best book to date."
Best Magazine / Newsletter
Northwest Chess Magazine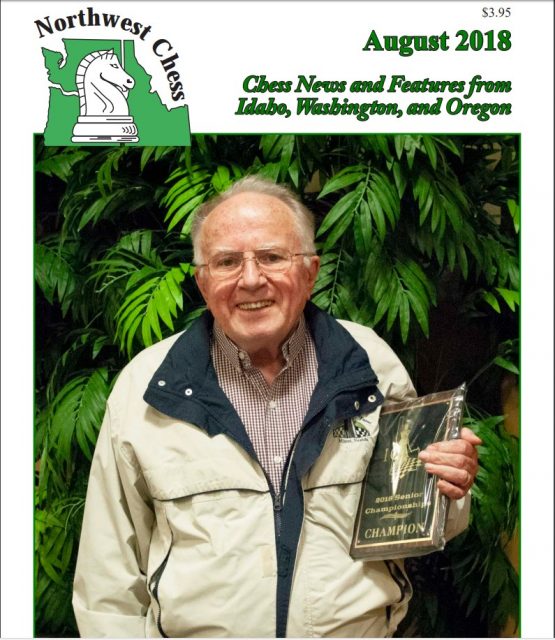 Best Book - Instruction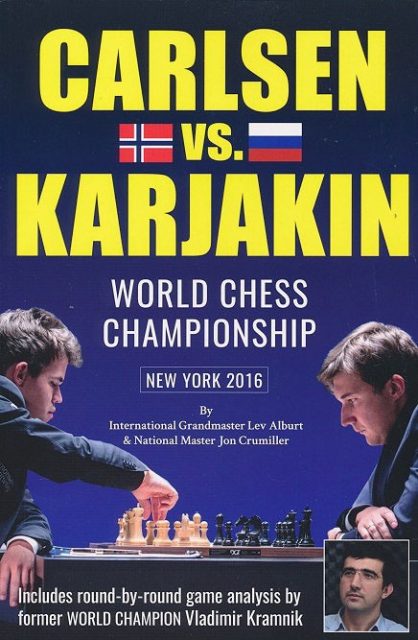 Best Book - Other
British Chess Literature to 1914: A Handbook for Historians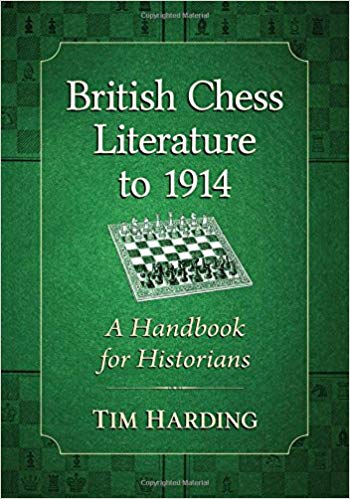 For the complete list of winners, visit: https://www.chessjournalism.org/Awards