With five days of rapid and blitz in the books, the
Champions Showdown
concluded on Sunday, February 24th. Only Fabiano Caruana had clinched match victory prior to the day's play, so there was plenty of drama on display for the spectators in Saint Louis and those watching online. The final results are as follows: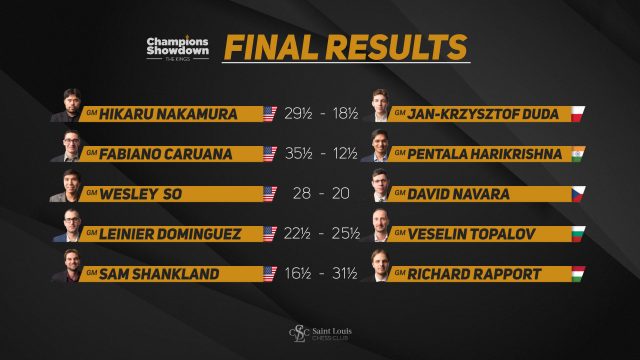 Champions Showdown Final Standings
Most of the mini-matches – the rapid and blitz components – followed form. The player who won the match won both mini-matches, with only one exception. Leiner Dominguez was able to turn the tables on Veselin Topalov and defeat him in the blitz. (Note that players earned two points for win in the rapid, one for a draw, and, of course, zero for a loss.)
Rapid
: Caruana 18, Harikrishna 6
Blitz
: Caruana 17.5, Harikrishna 6.5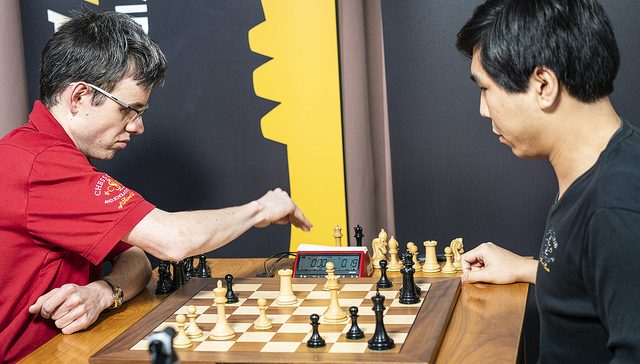 Navara-So (photo Lennart Ootes)
Rapid
: So 16, Navara 8
Blitz
: So 12, Navara 12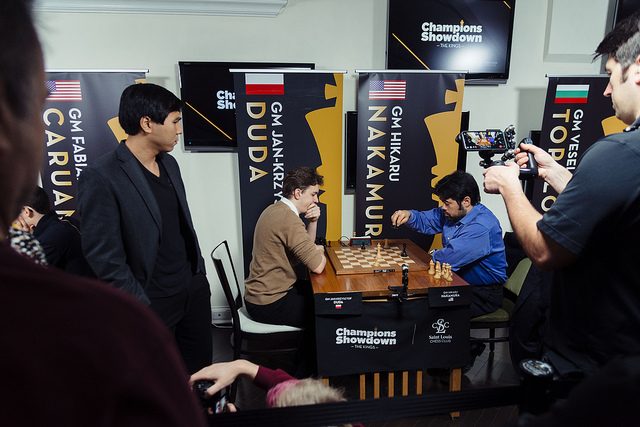 Duda-Nakamura (photo Austin Fuller)
Rapid
: Nakamura 14, Duda 10
Blitz
: Nakamura 15.5, Duda 8.5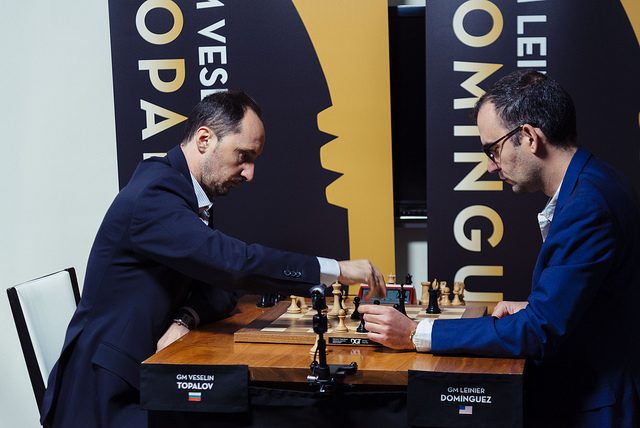 Topalov-Dominguez (photo Austin Fuller)
Rapid
: Topalov 15, Dominguez 9
Blitz
: Dominguez 13.5, Topalov 10.5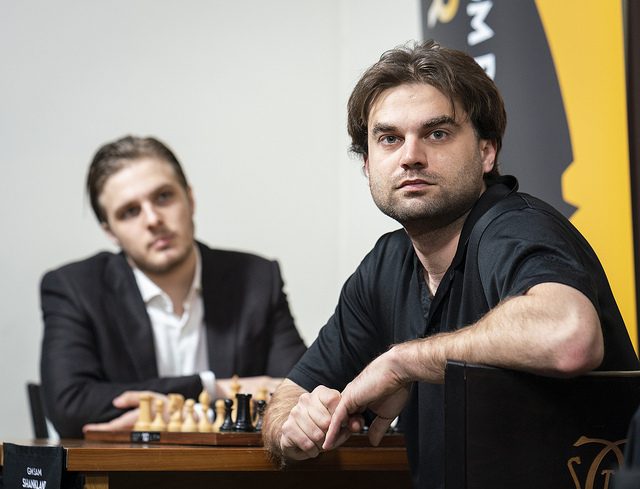 Rapport-Shankland (photo Lennart Ootes)
Rapid
: Rapport 18, Shankland 6
Blitz
: Rapport 13.5, Shankland 10.5 With $60,000 on the line - $36,000 to the winner and $24,000 to the loser of each match – the competitors were, understandably, quite serious about their games. But that doesn't mean that there was no time for fun, as these two tweets make abundantly clear. We learned that
Puzzle Rush
, the hot new fad from
chess.com
, is popular among Grandmasters. https://twitter.com/STLChessClub/status/1099098610527014913 And we learned that Hikaru Nakamura sometimes struggles to keep a poker face. https://twitter.com/LennartOotes/status/1099780871165489152 Chess fans on-site at the
Saint Louis Chess Club
were also winners. The spectator experience in Saint Louis is hard to top, with access to the playing area, top-level analysis in the Kingside Diner, and plenty of opportunities for off-hand play   Up next in Saint Louis is the
2019 Spring Chess Classic
, which runs from March 2-10. This is followed by the
2019 U.S. Championship
and
U.S. Women's Championship
, both scheduled for March 18-April 1. CLO will cover both events.