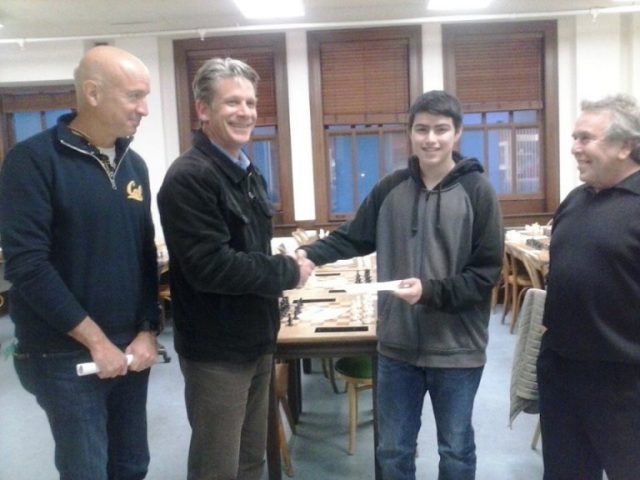 Senior Master Cameron Wheeler receives his check from Mechanics' Institute Executive Director Ralph Lewin with International Master Vince McCambridge and Mechanics' Institute Trustee Vladimir Naroditsky watching. Photo Paul Whitehead
International Master Cameron Wheeler has earned the prestigious 2017 Falconer Award given annually to the highest rated chess player under 18 in Northern California.  The junior at Monte Vista High School in Cupertino received a check for $2481, equal to his rating on the December 2016 USCF rating supplement. Cameron finished ahead of fellow Internationals Master Kesav Viswanadha and Vignesh Panchanatham. The Falconer Award is named in honor of the late Mechanics' Institute Trustee Neil Falconer, himself a strong tournament player, holding a 1900+ rating up to age 85.  Over the past 17 years, three recipients of this generous prize have gone on to earn the Grandmaster title and three more are currently International Masters.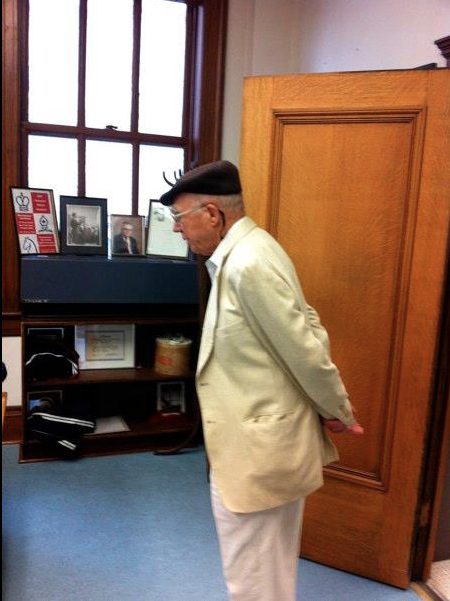 Previous Winners
2000 Senior Master Vinay Bhat
2001 Senior Master Vinay Bhat
2002 International Master Vinay Bhat
2003 National Master Michael Pearson
2004 National Master Nicolas Yap
2005 National Master Matthew Ho
2006 National Master Matthew Ho
2007 National Master Nicolas Yap
2008 National Master Sam Shankland
2009 International Master Sam Shankland
2010 Senior Master Steven Zierk
2011 Senior Master Daniel Naroditsky
2012 International Master Daniel Naroditsky
2013 International Master Daniel Naroditsky
2014 Senior Master Yian Liou
2015 International Master Yian Liou
2016 Senior Master Cameron Wheeler
2017 International Master Cameron Wheeler
The Mechanics' Institute Chess Club of San Francisco, the nation's oldest founded in 1854, is busier than ever.  The Tuesday Night Marathon, possibly the largest ongoing weeknight tournament (eight consecutive Tuesday nights five times a year) in the United States, has held 12 consecutive tournaments with over 100 entries dating back to late 2014.