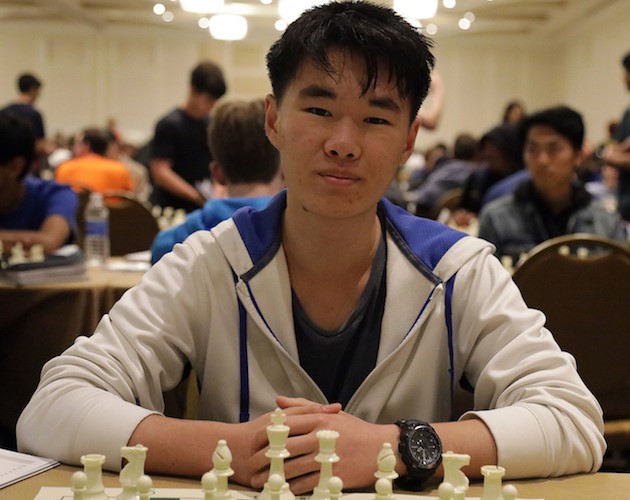 Ethan Li,
Stony Brook University is conducting a brain MRI study of expert versus novice chess players and you can help. The benefits of chess include improving memory, critical thinking, and spatial visualization. This study investigates the structural and functional changes in the brains of master chess players as a result of hours of practice and dedication to the game over many years. Researchers hope to pinpoint the neural circuitry responsible for the acquired expertise.
We are seeking masters (>2200 USCF rating) and beginners (<1000 USCF rating) to have their brain imaged while they solve chess puzzles. MRI provides non-invasive images of the brain structure and function without using ionized radiation. The study takes approximately 1-2 hours. Participants will be compensated for their time and provided with MRI pictures of their brain.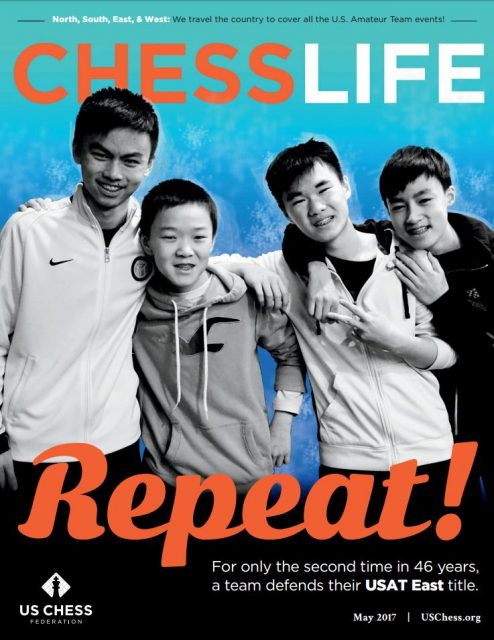 Ethan Li, (second right), on the cover of the May 2017 Chess Life Magazine
Ethan Li, a FIDE master and a high school senior at Ward Melville High School, is conducting this study as part of the Simon's Research Program. He is a member of the All-American chess team, and he was the captain of the back-to-back champion team of the US Amateur Team East tournament. After playing and studying chess for over a decade, he is now interested in the neuroscience behind the game.
If you are interested to learn more, please contact Ethan at ethanli.az@gmail.com. This study is approved by the Institutional Review Board. The principal investigator of the study is Dr. Tim Duong (Tim.Duong@stonybrookmedicine.edu), and the co-investigator is David Ouellette (David.Ouellette.1@stonybook.edu).