IM and PRO Chess League commissioner Greg Shahade contributes his annual blunt predictions on the US Chess Championships, coming up in Saint Louis from March 28-April 10. Don't agree? Comment below or share your own opinion on twitter or facebook. Next up: Vanessa West's preview on the US Women's Championship, held concurrently.
The U.S. Championship is coming and in this preview I'm going to be very blunt with you:
One of three players is going to win this tournament. No one else has much of a chance.
The three contenders are: Wesley So, Fabiano Caruana and Hikaru Nakamura Who do I think is going to come out on top out of these three amazing players? I'm going with the 2016 Sinquefield Cup Champ.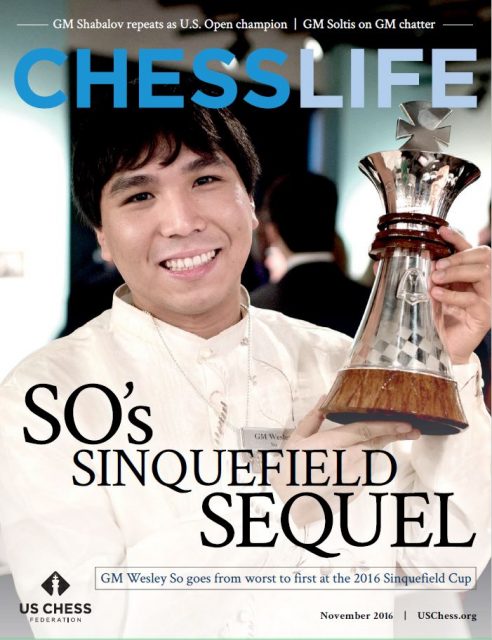 Wesley So on the cover of the November issue of Chess Life Magazine
Wesley So: I think that Wesley has a very legitimate chance to become World Champion. He seems to be constantly improving, has a somewhat similar style to Carlsen, and is three years younger. In fact if they played a 12-game match next week, I wouldn't be so confident in Carlsen's chances. Wesley just has to hope he makes it through the crapshoot that we call the Candidates Tournament, but if he can do that I can easily see him taking the title. His nerves are strong, he plays well in all kinds of positions, and is still getting stronger. Needless to say, if I think he may beat Carlsen soon, I'm going to pick him to win this tournament.
Fabiano Caruana: I give Fabiano the second best chances of the bunch. From a World Championship title perspective, I think that his style doesn't match up with Carlsen as well as Wesley's, and I have a harder time seeing him win a 12-game match. Though he did win a particularly crushing game with Black against Carlsen in the 2014 Sinquefield Cup, as referenced in Sean Finn's article on facing Fabiano himself in a recent simul. But Wesley seems to be crushing everyone right now, and is especially good at beating the lower rated players. The US Championship can easily become a battle between the top three to beat up on the other 9 players as much as possible. Based on Wesley's terminator like performance for the Saint Louis Archbishops in the PRO Chess League, I like his chances of doing so even better than Fabiano's.
Hikaru Nakamura: Of course it would shock no one if Hikaru won the tournament. But his rating is now about 30 points lower than the top two, and he can be a bit more erratic against lower rated opposition. I think we will see him focused and in top form, but I think the top two guys are in better form right now, so I put Hikaru's chances at a close third.

Hikaru Nakamura at the Paris Grand Chess Tour. Photo: Spectrum Studios
Now let's focus on the second tournament: The battle to achieve the highest score out of the remaining 9 players. I will rank them in order from 1-9:
Ray Robson: Ray has been around for a while now, and while his time trouble can be frustrating for his fans, he performed very well in last year's championship. I like Ray's chances to finish ahead of everyone else, and to perhaps squeak into the top 3.
Jeffery Xiong: The 2016 World Junior Champ is on the way up and looks to put together another solid performance at the U.S. Championship. He has extra experience from his recent tournament at Tata Steel, and is unlikely to be intimidated by such a field. I'm predicting a plus score.

Jeffery Xiong at the Saint Louis Chess Club Photo: Austin Fuller

Sam Shankland: Sam has been making big strides lately and is now firmly entrenched in his spot just underneath the "BIG 3". He will be competing for a U.S. Olympiad Team spot for years to come. Sam is also a fun player to watch, both on the board and on Kicking & Screaming on the FOX reality TV show that is currently airing.

GM Sam Shankland on the FOX reality show, Kicking and Screaming

Gata Kamsky: Clearly Gata is not in the same shape he was 5 years ago, but he still brings a wealth of chess knowledge to the table. I'm picking him ahead of the rest of the competitors as while they may be much more active than Gata, I think the experience and understanding differential may be too much to overcome.
Alex Onischuk: Onischuk is an extremely solid player: unlikely to put together a monster performance, but also unlikely to bomb out. This seems like the right spot for him.
Yaro Zherebukh: This is Yaro's first U.S. Championship. Yaro is a talented Ukranian born player, who is attending university in St. Louis at SLU. I'm giving him the nod over the three players lower rated because it's his first time in the event and maybe he's a little more excited and pumped up because of this. Admittedly however, his chess playing may currently be taking a backseat to his studies.
Var Akobian: Var has come very close to winning the U.S. Championship on a few occasions, even getting to the tiebreak showdown against Gata Kamsky and just falling short. The field has been rapidly growing in strength since his 2014 tiebreak however, as neither Caruana, So or Nakamura were in the field that year.

Daniel Naroditsky at the US Amateur Team West

Daniel Naroditsky: Daniel is another very talented player who is spending more time on schoolwork than his chess study. He has played almost no FIDE rated games in the past year. He did make a surprise appearance at the US Amateur Team West, which GM Cristian Chirila covered. Unless Daniel finds a way to warm-up against top opposition, I put his chances lower than more active players.
Alex Shabalov: Alex has made it to another U.S. Championship! Alex used to be a perennial favorite in the U.S Champs, but my how things have changed. Now he requires the help of the U.S. Open to qualify. Alex is always a fun player to watch because no matter who he plays he aims towards sharp and exciting play. Due to his relatively lower rating he will have a tough task ahead of him, but I'm looking forward to an upset or two along the way.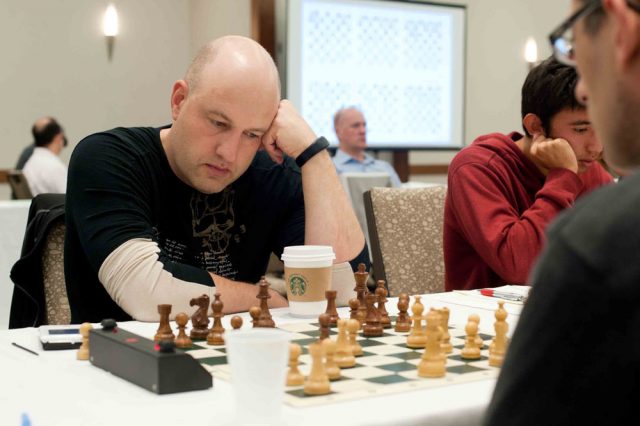 GM Shabalov, Photo Betsy Dynako Zacate
Follow the US Championship starting on March 28 at uschesschamps.com.