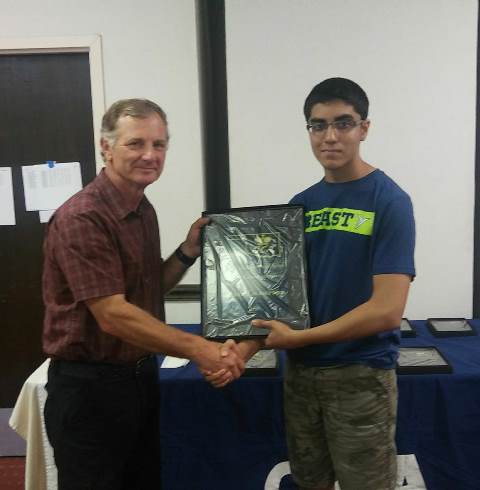 Vice-President of US Chess Federation ,Chuck Unruh, and NM Advait Patel
Oklahoma chess prodigy 14-year-old National chess Master (NM) Advait Patel from Carl Albert High School won the annual Oklahoma Open State Championship for the 4th consecutive time with a perfect 5.0 score. The 72nd edition of the championship was held this past weekend , June 24-25, 2017 in Tulsa, OK.  Patel is the first Oklahoma player to win the state championship four times in a row consecutively.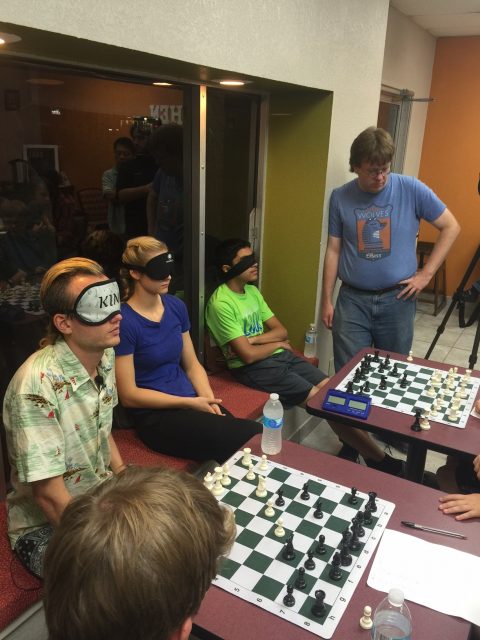 GM Timur Gareyev, top rated Olkahoma female Expert Veronika Zilajeva and Advait. Blindfold exhibition held at Fusion Kitchen, Advait's parents' restaurant
Just a week prior,Advait won the Dallas Chess Club's FIDE Open  June 17-18 with a score of 4.5 out of 5 points giving him a current 2504 United States Chess Federation (USCF) rating. Patel is the first Oklahoma chess player to break the 2500 point level. His shining moment from the event was defeating Grand Master (GM) Julio Sadorra rated #16 in the US and the top seed at the event. For Patel, this is his second rating record. He was the first Oklahoman to ever possess a USCF chess rating of over 2400.
Find Advait's US Chess rated history here.