After ten exciting weeks of regular season play, and two knockout rounds,
the final pairings are set
for the
2019 Pro Chess League
Semifinals and Finals this coming weekend.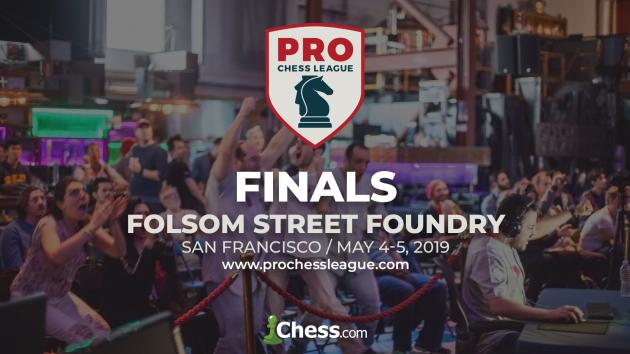 The Baden-Baden Snowballs will face the Chengdu Pandas at 10am PDT on Saturday, May 4th in the first semifinal, while the Armenia Eagles take on the St. Louis Arch Bishops at 2pm. The winners will meet on Sunday at 2pm to determine the 2019 Pro Chess League Champion, and all of the weekend's activities will be
streamed live
from the Folsom Street Foundry in San Francisco, California.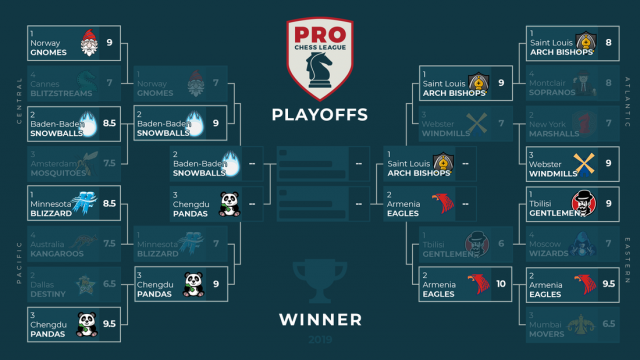 Now in its third season, the Pro Chess League is the largest international chess league, featuring 32 teams from around the world. Born from the ashes of the
US Chess League
, the Pro Chess League is led by league commissioner IM Greg Shahade and hosted by chess.com. While the regular season and playoffs were all contested online, this weekend's semifinals and finals brings the competitors together under one roof for a unique e-sport spectacle. Players, outfitted with soundproof headphones, will make their moves online, but in the presence of a live audience that is
"expected to be loud and cheer for [their] favorite teams and players!"
Here are the team rosters for the weekend: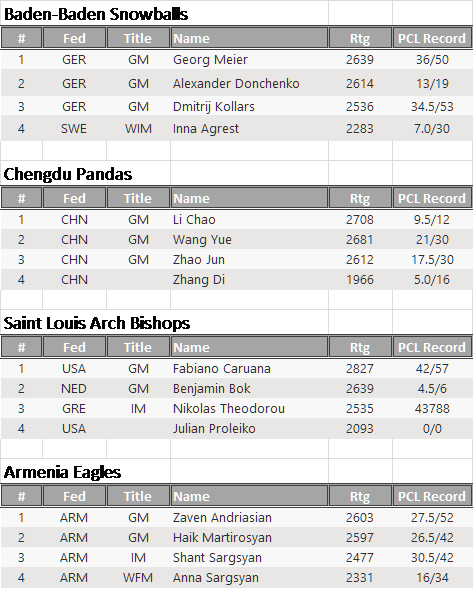 Chess.com has produced a video introduction to the teams and the event:
Be sure to watch online at
twitch.tv/chess
, or in person at the Folsom Street Foundry.
Tickets may still be available!