Event Overview
June 3, 2023
25th Anniversary!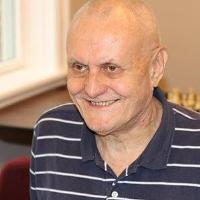 Remembering Klaus Pohl
$900 b/50 4 Rounds Swiss: G/70;+5 3 Sections: Klaus, Pohl, U1000

Klaus (Open) 
$120-80, U1800: $50, U1600: $50
Pohl (Under 1600)
$120-80, U1400: $50, U1200: $50
U1000 (Under 1000)
$120-80, U800: $50, U600: $50


Entry Fee (Klaus, Pohl, U1000): $30 All entries include $8 campground fee Byes: one ½-pt bye available any round, declare by round 3 Registration: online or by mail by 9:00 pm Friday, June 2; on-site by 11:00 am with 1st round bye Rounds: 8:30 – 11:30 – 2:30 – 5:30 Chief Organizer Cindy Hyde; Chief Arbiter Kevin Hyde Pairings – Accelerated with cuts at 1800, 1400, 800 Enter: Checks payable to Cindy Hyde, 705 Old Mountain Page Rd, Saluda NC 28773 Online entry available at https://achievementtesting.info/wp/product-category/orchard-lake-chess/ Info: chess@achievementtesting.info https://achievementtesting.info/chess for updates and flier with details
Orchard Lake Campground 460 Orchard Lake Rd, Saluda NC 28773
Facilities at Orchard Lake Campground include swimming, boating, fishing, 9-iron par 3 golf, horse shoes, hiking, volleyball, basketball, soccer, zip line, and more. Take your family camping for the weekend!
Campground Information: http://orchardlakecampground.com 828-749-3901
Directions to site: From downtown Saluda, head west past fire station on Greenville St which becomes Mtn Page Rd. After 3.5 miles, turn left onto Mine Mountain Rd. Go 1.5 miles to campground entrance.
North Carolina's Most Scenic Tournament
Address:
460 Orchard Lake Rd
Saluda, NC 28773
United States
Residency Restriction:
No
Organizer Overview
Email:
chess@achievementtesting.info