Event Overview
June 4, 2022
Four FIDE-rated rounds in one day in remembrance of Klaus Pohl.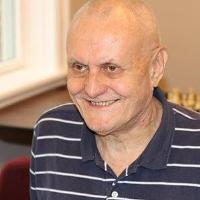 $900 b/50 (top 3 guaranteed)
10 Grand Prix Points (Enhanced)
4 Rounds Swiss: G/85;+5
2 Sections: Klaus, Pohl

Klaus (Open, FIDE-rated) 
$150-100-50, U1900: $50, U1700: $50, U1500: $50
Pohl (Under 1500)
$150-100-50, U1300: $50, U1100: $50, U900: $50

Plaque to 1st in each section
Entry Fee (Klaus, Pohl): $30
All entries include $8 campground fee
Byes: one ½-pt bye available any round, declare by round 3
Registration: online or by mail by 9:00 pm Friday, June 3; on-site by 11:00 am with 1st round bye
Rounds: 8:30 – 12:00 – 3:30 – 7:00
FIDE rules in all sections
"Default Time" is 1 hour (forfeit when 1 hour late). Cell phones may be kept in bag in playing room if powered off.
Games with a player FIDE-rated over 2400 will not be rated by FIDE.
Chief Organizer Cindy Hyde; Chief Arbiter Kevin Hyde
Pairings – FIDE Baku Accelerated using USCF ratings
Enter: Checks payable to Cindy Hyde, 705 Old Mountain Page Rd, Saluda NC 28773
Online entry available at https://achievementtesting.info/wp/product-category/orchard-lake-chess/
Info: 828-674-6073, chess@achievementtesting.info https://achievementtesting.info/chess for updates and flier with details
Orchard Lake Campground
460 Orchard Lake Rd, Saluda NC 28773
Facilities at Orchard Lake Campground include swimming, boating, fishing, 9-iron par 3 golf, horse shoes, hiking, volleyball, basketball, soccer, zip line, and more. Take your family camping for the weekend!
Campground Information: http://orchardlakecampground.com 828-749-3901
Directions to site: From downtown Saluda, head west past fire station on Greenville St which becomes Mtn Page Rd. After 3.5 miles, turn left onto Mine Mountain Rd. Go 1.5 miles to campground entrance.
North Carolina's Most Scenic Tournament
Address:
460 Orchard Lake Rd
Saluda, NC 28773
United States
Residency Restriction:
No
Organizer Overview
Email:
chess@achievementtesting.info